This research paper aims to outline the main characteristics and indicators of the lottery market in India. State-run lottery schemes are the main legal option for most desi players, although there is growing awareness of online retail options and better insights into illegal lottery markets (including old-fashioned Satta Matka circles).
Accounting for market size – by State and overall – demographics, logistics, legal and technological elements, we will provide a comparison between the traditional paper-based lottery industry and its online counterpart.
Careful analyses of the trends and factors that influence both lottery types will allow us to draw rationalized conclusions and forecasts as to the future of the Indian lottery market and its development potential.
The Lottery Business in India
Running a lottery in India has been a regulated industry for just over half a century. Playing lotto games and betting on numbers drawings, on the other hand, have their deep roots in desi culture. Traditional and old-fashioned versions of such games of chance have been around since ancient times.
While other forms of gambling may experience cyclical popularity in India – e.g., Teen Patti getting more attention around holidays like Diwali or Holi – betting on random numbers has remained the main type of gambling in India. Matka (or Satta) which first involved betting on cotton rates, then drawing of random numbers from a clay pot, remains hugely popular in many parts of the Union despite being largely outlawed.
During colonial times, the infamous Public Gaming Act of 1867 prohibited any games of chance except for lotteries. This was the first time legislators recognized that certain traditions come with the culture. Being practically impossible to remove, lotteries in India were delegated as State matters and left to regional leadership for further regulation.
Exactly a century later – and two decades after national independence – Kerala was the first state to formally abolish any private draws, establishing its own State Lottery in 1967. Pretty soon, it was followed by other territories around the young nation.
Recognizing the importance of chance drawings, States strived to bring under control Satta Matka games (known previously as Ankada Jugar and run by Matka kings). With the new laws, authorities gradually started driving out illegal gaming circles and imposing the reputation of a Government-run lottery.
Out of all Indian States, 13 have allowed and regulated their official Government Lotteries. Arunachal Pradesh, Assam, Goa, Kerala, Madhya Pradesh, Maharashtra, Manipur, Meghalaya, Mizoram, Nagaland, Punjab, Sikkim, and West Bengal. Meghalaya is the latest addition to the list (2019), while the Union Territory of Chandigarh also allows the State Lottery of Punjab, being a joint capital of the same State and Haryana.
Andhra Pradesh was recently reported to consider lottery draws and offshore casinos as well in an attempt to boost its tourism industry and public finances.
Operational Basics
The state governments that chose to regulate their lottery markets have had somewhat different approaches to the overall management and daily operations. Nevertheless, there are some similarities throughout India – for example, the two classic types of lottery draws, regular and the so-called Bumper. In addition, almost all lotteries end up printing and distributing paper tickets to this day. 
Regular drawings happen often, usually daily, often even several times per day. Prizes are also more modest. Bumper lotteries are rarer, usually only a few times in a year, and on the occasion of major holidays. Both tickets and prizes are higher as well, with famous big jackpots reserved for Bumper lottery draws.
Government lottery in India gained easy and quick adoption because of its affordable tickets and widespread availability. The fact that public authorities administer the schemes via top-down operations and as part of public finance offices also grants them credits of trust.
Indeed, while casinos, horse races, and other legal gambling forms are usually privately owned, lotteries are run by the States. Local legislators pass appropriate Lottery Regulations and Rules. Dedicated government Directorates organize the printing and wholesale of tickets, run the actual drawings and monitor the entire process that brings substantial funds to the public coffers.
The mid-level operators are known as stockists – they provide distribution support to thousands of small-scale retailers, often individuals. Stockists also contribute to marketing exposure of the official lotteries, although the Governments also do a lot to advertise their official drawings. 
On the ground, lottery tickets are sold primarily through lottery stands on sidewalks and small family-owned stores. Individual vendors buy batches of tickets and resell them to end-users, keeping a percentage of the turnover as commission. Retail vendors are easy to find in states with legal lotteries. Illegal and private lotto circles are not readily apparent.
As for wholesale operations, there have been a few important players throughout the years. The Pan India Network company held the "Playwin" brand for a number of years, including online network operations. It has undergone bankruptcy procedures and is unlikely to resume activity.
Sugal & Damani is another major player, still around and more prosperous than ever. They have been around for decades and currently cover a 65 percent market share of the "online" lottery business, with around 25 thousand terminals across India and 18 million daily transactions.
Overall, estimates place around 10 lakh people (one million) as dependent on the lottery industry in India for a living. The Sugal & Damani CEO has openly admitted to lobbying with the Prime Minister about the sector's economic and social potential for the Union. Over the years, it has brought between Rs 35,000 crore and Rs 50,000 crore to public finances annually. Besides being an important revenue stream, if regulated well – and on a national level – lotteries have shown their potential to meet public welfare objectives and generate local employment.
Goods and Services Tax on Lotteries – Introduction and Recent Concerns
In mid-2017, the Central Government finally introduced a nationwide Goods and Services Tax (GST) of 28%, passed by Parliament almost 17 years after its initial proposal. Much like the Value Added Tax in other economies, this indirect tax replaced various duties and taxes on state and country levels.
Like other entertainment and gaming sectors, state lotteries also had to accept the new levy. However, the unexpectedly high rate of GST gave rise to illegal lotteries, among other non-regulated gaming practices. This led to a draining of transparent government revenue from the industry (and the public domain) into the fragmented private black markets.
Initially, there were dual tax rates agreed upon and imposed by the GST Council. State-administered lotteries without external (private) distributors or marketers had to add on a 12% GST. A higher tax rate (28%) was reserved for those that operated via private whole- and retail resellers. In effect, this meant that most intra-state lotteries had a 12% GST imposition while those that spread beyond state borders (inter-state) were in the 28% tax bracket.
Controversially, such differential tax rates affected smaller states more than they did larger ones. Losing a proportionally higher share of their public revenues – whether as taxes to send to the Centre or as lost sales due to higher ticket prices – states like Sikkim, Goa or Nagaland repeatedly demanded a uniform GST rate on lottery products. In their hope to achieve a compromise (possibly around 18%), they reminded the goal of GST: to make India a wholly integrated market with uniform indirect taxes.
In the end, all lotteries (and gaming) operators ended up having to pay the higher rate, 28%. The issue was ultimately settled in December 2020, albeit not by Central legislators but by a Supreme Court decision. Considering that the GST is set to impact such a large economic sector, State Governments and lottery ticket resellers needed to carefully approach the issue of not stifling a successful business.
States had two possibilities: passing on the GST excise to the lottery players or reducing the prize money. The second option was not deemed pragmatic, as the game's attractiveness depended on these sums – and for many daily draws, they were not that considerable, to begin with.
Finally, the 28% GST was added to the face value of the tickets and caused a "massive decline" in sales. This trend affected thousands of small retail distributors and was the main reason behind the shutting down of Playwin operations.
Overall, industry analysts cite an overall average tax incidence of around 6.71% on most lotteries before 2017. The fixed 28% GST was a major setback for many along the distribution chain, and the industry is still regrouping to accept the new reality. The Covid-induced series of lockdowns only added another critical dimension to the recent industry decline.
Despite having quoted industry estimates of the total Indian lottery markets, the above developments added to a dynamic scene that does not allow for precise calculations on lottery market volumes. Reported declines in sales are yet to be assessed in their long-term stability, while plenty of unregistered "hawala" transactions and offshore operations undermine both current appraisals and any forecasts. Our research efforts have taken notice of the fact that individual operators provide fragmented data if any, while third-party estimates remain the norm in financial matters related to the lottery industry in India.
Another distinction also needs to be made at this point: the difference between the traditional, mainstream, paper lottery market in India and its online version (or counterpart).
The lottery segment is an important part of many online gambling markets – 15.1% globally and 15.4% in the UK (as per 2020 data). As consumers stayed home for a large part of the past year – and possibly as a repeated general trend for the near future – many international lottery operators managed to transition heavily (if not yet completely) toward online platforms. With digital environments becoming decisive for business sustainability, lottery apps and mobile versions became a necessity.
The Indian lottery industry has not managed to transition, as we will see in more detail below. While paper-based State lotteries continue to offer cheap tickets through a million small retail points, some have closed, and others might have been tempted to sell fake tickets to make up for declining sales.
An efficient online lottery distribution, on the other hand, would speed up sales and payouts, even if it leads to somewhat more expensive tickets and a relative tech barrier for some users. However, provided that the average desi consumer feels comfortable using a mobile phone in this day and age – and that the demand for lottery games should be a constant in the long run – many States need to reconsider their stance on an online and mobile lottery if they are to make up their losses and prepare for the future of legal lotteries in India. 
The Current Size of Online Lottery in India
Attempts to assess the scope of the Indian lottery market more precisely meet some objective difficulties – rooted in the sheer size and cultural and linguistic diversity of the Subcontinent. However, the pivotal factor which impedes more accurate estimates and instrumental segmentation is the inability of State lotteries to digitize their operations, even as India has grown into a true global power in the online economy.
Public statements of industry players and media reports have consolidated the understanding that in the late 2010s, the overall market size – pre-GST – of Government-run lotteries in India was around Rs 50,000 crore per year (USD 6.7 billion at the time of writing). Post GST introduction, it is tentatively estimated to have shrunk to about Rs 15,000 crore. The drastic decrease is attributed to the above sales drops and illegal competition.
We could also go by Sugal & Damani's claim that their two-thirds market share of the online lottery segment is carried over 25 thousand point-of-sale terminals and 18 million daily transactions. (Such figures were updated from earlier assertions of 75% market share via 20,000 terminals and 15 million transactions).
The reference to "sale terminals" when outlining online lottery operations, on the other hand, leads us to an important consideration of India's understanding of such operations. The definition is not entirely what foreign industry experts might understand – "Online lottery means it is a retailer assisted lottery ticket being sold at the retailer but controlled through a central server by the concerned state government," as per Sugal & Damani's CEO explanation.
The ability to manage, distribute and provide (internal) transparency does not constitute true online operations in the eyes of global lottery players. This obscures the market scope and size inevitably. In addition, illegal lotteries – which were on the decline for many years – are estimated to still account for about a half of the market, even 60%, and around USD 2.6 billion yearly. These figures place the total market size at around USD 5 billion, yet it is better to take such calculations with a pinch of salt.
The nature of traditional Indian lottery operations, as seen above, places "true" online lottery at a fraction of the total market. To verify the argument, our research is aided by previous ENV Media publications addressing the types and volumes of organic search traffic as reported by Guide2Gambling.in and SevenJackpots.com.
During the first eight months of 2020, Google Search Console data had shown the following user acquisition shares via organic traffic for SevenJackpots.com: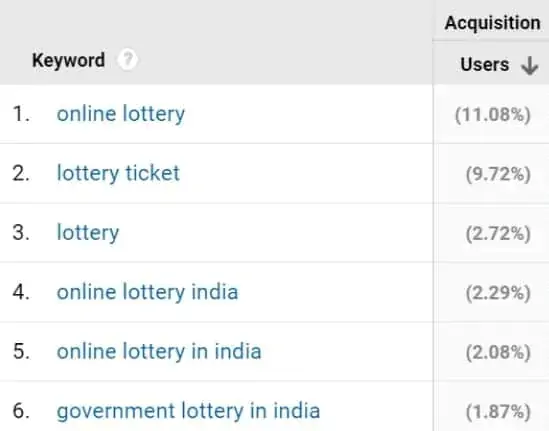 We see that over 30% of all organic search received was related to lottery terms. All keywords and combinations of lottery search terms dominated traffic volumes and user acquisition (as a separate gaming "genre"). Indeed, from mid-March until the end of August, 60.35% of all organic traffic ended up at the /lottery/ landing page.
These acquisition trends confirm preliminary expectations that users revert to familiar consumption patterns during isolation and overall uncertainty, and there is little more traditional in Indian gaming than lotteries.
Despite these confirmations of a perennial demand for lottery, we need to confront the reality of old-fashioned paper lotteries when matched to online lottery (in the decentralized sense). Anticipations of much greater demand and market size for "offline" lotto games will be verified through search volumes and trends reported by Mangools.com.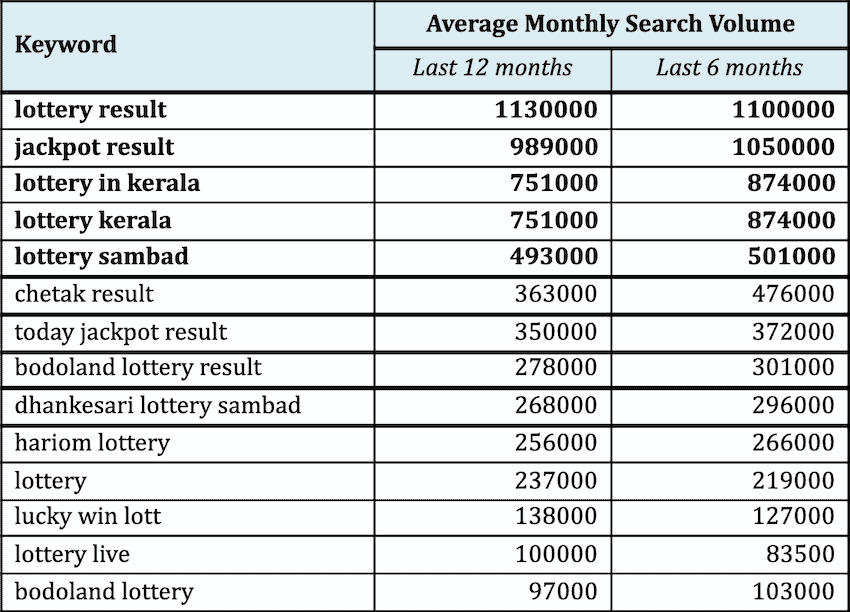 Top "lottery"-related search terms: from India, in English, via Google. Source: KWfinder by Mangools.com
The total average monthly search volume for only the above 14 search terms equals to 6.2 million lookups. Extending the list to the first 30 keywords, the monthly volumes surpass 8 million searches. This is validated as a stable trend, both over the past 6 and 12 months. If anything, the average monthly search volumes have even been higher in the past semester (6.64 mln for the above leading keywords).
If we consider search trends specifically related to online lottery (including keywords suggested as related), we see the below figures: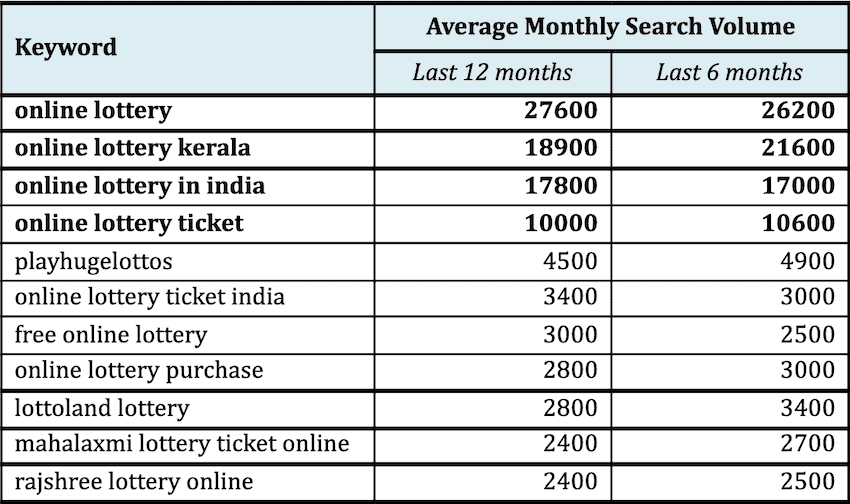 Top "online lottery"-related search terms: from India, in English, via Google. Source: KWfinder by Mangools.com
We see that both over the past 6 and 12 months, there are less than 100 thousand searches for keywords aimed at online lottery. These monthly averages are unambiguously negligible for a market like India. Even the first 500 keywords and their combinations produce at best 300 thousand monthly lookups in a nation of 750 million internet users who love to play lottery.
While somewhat expected, these figures are surprisingly low. This leads us to some tentative conclusions that might explain the vast difference in demand for information related to "classic" compared to "online" lottery.
One rationalization points to the use of local languages by States and ethnic groups instead of English. While still a "lingua franca" for many Indians, KPMG reported that around 12% of the population is familiar enough with English to use it interchangeably. The same study pointed out that Hindi has already overtaken English while leading languages like Bengali, Tamil, Telugu, and Marathi accounted for another 30% of the online user base. More importantly, an estimated 70% of desi users consider local language content more reliable than English content.
While this is not enough to explain the huge margins between the above search trends, it is worth emphasizing that most new internet users (9 out of 10) join the online community in their local language rather than in English. And these are the young, new generations that traditionally drive online markets up.
Other factors point to more simple explanations – habits and daily surroundings have taught Indian lottery players that tickets are found offline, in their neighborhood, and at the local convenience store. An insignificant minority might consider searching for ticket retail services online in English. Moreover, the fact that "online" lottery means assisted sales via terminals connected in a network (as detailed above) alters the general perception of the business model.
Few players would know or care which State allows their local lottery, what the specific limitations are, which jurisdictions may have a say in actual lottery ticket distribution, and so on. People see ticket vendors on the street, and they play. This is a cultural aspect that might take some more time to change when compared to other online gaming segments.
Every once in a while, there is news that the Centre might ban online lottery and override the States in choosing whether to do so explicitly. A similar nationwide prohibition would mean an even more extensive use of paper-based lotteries. This would be a further setback on trying to control printing, stocking, and distribution. Industry leaders remind of problems with illegal tickets in the recent past, some unresolved to this day.
Monitoring and control challenges are illustrated by the West Bengal and Kerala cases. Both states allow only paper lotteries. Their tickets are regularly smuggled over to other states, many of which do not have or allow a legal Government lottery – e.g. Karnataka, Andhra Pradesh, Tamil Nadu, Jharkhand or Bihar.
A State by State Outline of Indian Lottery Markets
To obtain a complete understanding of the Indian lottery market, we need to elaborate a separate outline for each State lottery, if and where there is a legal drawing. We will provide basic figures, where possible, and main specifics shaping up a given Government-run lottery.
Kerala
The first State lottery in India was established in 1967. Operations are run and monitored by the local government's Lottery Department. The Kerala Lottery is reportedly the largest public lotto in the Union. It includes various games for the different days of the week, all with distinct payout schemes. Ticket prices go from Rs 30 to Rs 50 at the time of writing. There are also Bumper Lotteries offered at select times of the year, e.g., New Year, Summer, Vishnu Bumper.
As the most prominent lottery in the country, the Kerala Lottery receives media and industry attention, making it somewhat more transparent. There are between 35 and 40 thousand mid-level sales agents and a total of more than 100,000 individual resellers. Estimates place ticket sales at around 70 lakh (7 million) daily, and studies confirm that anywhere between 4 and 4.5 crore (40-45 mln) paper tickets are sold every week.
Financial reports are scarce and inconsistent, yet Kerala is one of the few states which discloses such data. The financial year 2017 (FY17) revenues are cited as Rs. 7,400 crore (~ USD 1 billion), with the State lotteries estimated to have grown to roughly Rs. 8,700 crore the year after (FY18). GST alone is in excess of Rs 1,200 crore on an annual basis since its introduction in 2017. National media report that the Kerala government expects to collect more than Rs. 10,000 crore annual revenue in the coming years.
Estimates about player spending on lottery tickets are also available up until 2018. During the same year, divided by its population (33 mln) and household units (8 mln), an average household in Kerala has spent between Rs 12,000 crore and Rs 15,000 crore on lotteries. This is translated into 79 million lottery tickets sold every week or about 500 tickets per household. These estimates are higher than the 45 million total weekly tickets reported a year before (see above study).
Over a 10-year period, Keralite households have contributed to an astounding growth in lottery spending and State revenues – from only Rs 625 crore annually to the current figures. Keralalotteries.com reported profits of only Rs 100 crore in 2011, while current amounts are incomparable.
Thus, the Kerala State lottery is not only a source of entertainment and occasional wins for its population, it is the backbone of its economy by all accounts. The government's non-tax revenues from lottery ticket sales have increased from 13.4% in FY1981 to an estimated 80.5% in FY17. The State social welfare programs are funded primarily through revenue and contributions by the lottery business of the authorities.
Nagaland
The Nagaland Lottery is another important public game with national-level relevance. It runs three daily draws, and various Bumper draws during the year. The Directorate in Kohima makes the Dear Lottery brand available to residents of Sikkim, West Bengal, and Nagaland.
The Lottery Sambad brand is also among the most played lotto games in India. It has agents and vendors in all 13 States which allow lottery sales: Madhya Pradesh, Maharashtra, Nagaland, Manipur, Kerala, Mizoram, Goa, Assam, Arunachal Pradesh, Sikkim, Punjab, and West Bengal. The three daily draws are accessible through really cheap tickets, last reported at 6 rupees, aiming at mass-market adoption. The morning and evening draw is held in Nagaland, the afternoon one in West Bengal.
Maharashtra
The Maharashtra State Lottery is also prominent, being in existence since April of 1969. The State Finance Department created the lottery to protect its population from the numerous private and illegal gambling circles (mostly offering Matka), which more often than not were fraudulent.
Today's State lottery is run from Mumbai and has the reputation it needs to maintain important levels of financial performance. Like many government lottery schemes, it markets the game as an "investment" and an "opportunity" to pursue one's dreams. However, the Government uses the revenue, among other things, to finance health, infrastructure, agriculture, and education projects, especially ones related to women and children.
There are four daily draws, all in the afternoon, after office hours. Before GST introduction, the industry was reported to take in around Rs 60 crore (~USD 8 mln) every day in the State, while after FY18 daily sales have dropped to only Rs 5 crore. The concerns of industry professionals are that the missing sales have been funneled to illegal markets. 
Punjab
The Punjab State Lottery is also one of the early followers of Kerala's regulation actions, opening up the year after in 1968. Unlike its counterparts, the government lottery in this state focuses exclusively on Bumper schemes – bigger, more expensive, and with irresistible jackpots. Draws (held in Ludhiana) follow important annual events like Holi, Diwali, or New Year. In effect, the Dear Bumper Lottery is similar to monthly draws, with holidays and occasions scheduled at mostly regular intervals.
Dealers report that around 0.9 million tickets are sold for each draw, worth around Rs 22 crore (~USD 3 mln). Media reports speak of three wholesale agents, and at least 4,000 computer sets installed for individual small retailers.
Sikkim
The Sikkim State Lottery, traditionally, offers both daily draws and Bumper games. The latter are allowed a maximum of six times per year, as specified by the 1998 National Lottery Act. There are also occasional Jackpot Specials, e.g., the Bigwin Jackpot – run by Sikkim but sold in Maharashtra. All draws are held in Gangtok, with the Dear Labhlaxmi draw taking place daily at 6:00 pm.
In 2017, the Comptroller and Auditor General of India concluded that Sikkim Lottery had no transparent selection and contract procedures with marketing agents. There were also problems with collecting full sales proceeds, verifications of actual prize payments, and the utilization of revenues (for good public causes, as required). Distributor and sub-agent activities were subjected to insufficient monitoring aimed at disclosing irregularities. Despite the existence of centralized server-assisted operations since 2001, the Directorate of Sikkim State Lotteries had no ICT experts employed until that year.
Goa
Goa has been famous for its casinos for more than two decades. However, the Directorate of State Lotteries was established even before them, in early 1995. Now including Small Savings schemes, it runs up to 4-5 daily lottery draws from the Capital Panjim (called Labhalxmi, Rajshree, and Golden Dhanlaxmi).
There are also Bumper draws around holidays and festivals. A monthly Baisakhi draw is named Golden Gudipadwa. In fact, Goa is possibly the state with the highest number of draws across India.
An interesting fact is that despite the widespread availability of all legal gambling forms, lottery is not only popular, but it has its old-fashioned competitors in the likes of (illegal) Matka (or Satta). Indeed, surveys of goa gambling communities have shown that Matka is the game played with the highest frequency in Goa, with roughly 40% of all players still choosing these traditional drawings.
West Bengal
The West Bengal legal lottery was introduced early, in 1968, with the establishment of the WB Directorate of State Lotteries. There are six Bumper draws for each major Indian holiday – Diwali, Puja, Rathayatra, Nababarsha, Holi, and New Year. Additionally, seven weekly lotteries were introduced in 2018, known as Dhankesari.
Dhankesari, on the other hand, is part of the Lottery Sambad brand, distributed in various states across the Union and run together with Nagaland (see above).
According to West Bengal's Finance Department, the State Lottery drew in only Rs 18 crore annually (~USD 2.5 million) before the introduction of GST. Recent management changes have pushed a more comprehensive market strategy, resulting in Rs 200 crores of non-tax revenues alone, in addition to State GST of Rs 2000 crores per year. The Lottery Directorate expects to maintain ticket sales levels of around 3 crores (30 million) per drawing.
There is one major lottery stockist (wholesale) operator that works with the State. The company is responsible for signing up actual retail sellers and the entire "business-like atmosphere" needed to grow the State Lottery market shares. Some of the innovations included live casting of draws via YouTube and Facebook to ensure transparency and trust.
The large volumes of tickets and data have also forced the authorities to plan for a massive digitization project, dedicated online software, and a better database system.
Madhya Pradesh
The Government of Madhya Pradesh has entrusted the Directorate of Small Savings and State Lotteries with the organization and daily operations of the State lottery. Up until the summer of 2021 the MP lottery was abolished, when the State government decided to exclude it from a ban imposed in 1993 and allow draws to resume.
Currently, there are three lottery schemes drawn every day in Bhopal and published in leading local newspapers. Everything is entirely on paper, with no official website available.
Meghalaya
The Meghalaya State Lottery is a recent addition to the Indian lottery scene. It markets itself with three daily draws under the name Future Daily Lottery. A morning, noon, and evening draw is held in Shillong. The results are also published in newspapers but also on the website.
The Meghalaya Lottery Rules were approved only in 2019, after repeated attempts to revive its predecessor. The lottery company which partnered with the authorities failed to meet financial obligations to the Government and was closed in 2005 after operations had started in 2001.
The Meghalaya Regulation of Gaming Act (2021) is more relevant to the State's plans to allow and regulate various gambling activities besides lotteries. However, the Act includes the creation of a Meghalaya Gaming Commission. As a State-level regulatory body, it should be responsible for all gaming activities, including licensing and monitoring of compliances under all existing acts. It is therefore also expected to have jurisdiction over the State's lottery and its third-party business relations.
Manipur
The State Lottery of Manipur is drawn three times a day in Moreh and Chandel. The Directorate of State Lotteries issues the gaming license but operates the schemes together with Singam Lotteries (a Singaporean company).
There is a live streaming broadcast of the draws. Results are published in leading local newspapers and the website.
Mizoram
The Mizoram State Lotteries runs both daily (afternoon) and monthly draws. The "Magic" series offers different prizes for each day. One monthly draw is added to the annual Bumper Lottery run near the Basant Panchami festival.
The Institutional Finance and State Lottery directorate of the Mizoram Government runs a decent website with exhaustive information on acts, rules, draws, and results.
Arunachal Pradesh
The Arunachal Pradesh State Lottery has three daily draws carried out in Itanagar, also shown on live video feed. Results are published on the official website, as well as via a mobile app.
The State had two separate wholesale distributor agents – stockists – and one reverted its online lottery distributorship to the paper lottery in 2018. A High Court decision in 2021 confirmed that operations will continue regularly in this manner.
Assam
The Assam State Lottery Rules were introduced as early as 1969 when a dedicated Department was set up in Guwahati. Today, the Bodoland Territorial Council Secretariat administers such draws every afternoon, and the lottery itself is known as Bodoland (found at BodoLotteries.com or AssamLotteries.com). Lottery distribution rules (Net Profit Rules) were also adopted in 1973. The latest Amendments to the State Lottery Rules were passed in 1994.
The State of Assam runs eight daily lottery draws. Bodoland daily draws are split into series, e.g., Singam – Kuil or Rosa – Deer. They are all drawn in Kokrajhar, albeit without live video coverage.
Additional State-level Considerations
Previously, Karnataka and Tamil Nadu also had their successful lotteries but have since banned the sale of lottery tickets altogether on their territory. Karnataka has excluded lotteries from a recent ban on online gaming for money, making them effectively possible but only over the internet.
A closer look at some State-level industry figures shows that the infamous GST has not always been a cause for concern. Indeed, sales slumps may have been temporary, while a big part of the post-GST period has seen society struggle with Covid-19.
The leading nine states have been reported to rake in around Rs 5,800 crore in GST. While these amounts have been more substantial for some States rather than others, they have served as important revenue streams to pursue social welfare and other schemes for the public benefit. More precisely, these states collected Rs 3,948 crore in GST revenue in the first nine months of FY18 after GST rollout in July 2017. (N.B. Financial/Fiscal Year in India starts on the 1st of April and ends on the 31st of March).
West Bengal topped the list when only GST was considered, with Rs 2,150 crore. Kerala and Maharashtra came second and third with Rs 908 crore and Rs 797 crore, respectively, over the same nine-month period. Overall, however, Kerala added other tax-related revenues that took its total to Rs 2,607 crore. West Bengal moved to second with a total of Rs 2,182 crore. In any case, these states show that they have been able to develop their legal lotteries to significant volumes and have been able to collect considerable amounts in above-board taxes and revenues.
Distribution disputes between States have not been uncommon as well, beyond their sales and GST issues. A recent (2021) High Court order shows that the Government of Kerala has been prevented from interfering with the sale of Nagaland state lottery tickets on its territory. The court also said that the way Kerala amended their Paper Lotteries (Regulation) Rules had been made beyond its powers.
Kerala has the best performance among all States when it comes to lottery. Its state minister called the infiltration of another state's lottery tickets a "lottery mafia" and promised an appeal. Besides public revenues, the legal lottery business is a source of regular income for 100 thousand modest resellers on its territory, an economic effect that Kerala does not want to lose or stifle.
While true online distribution and expansive mobile services are likely to stir the market in the near future, it remains to be seen whether such lottery wars will agitate the market or the Centre will step in with more regulation instead of the courts.
The Relevance of Operators and Intermediaries
While official state lotteries are administered and supervised for the most part by local government Directorates and agencies, in most cases, licenses and contracts are granted to intermediate-level operators, wholesale distributors, or network sales agents.
We already highlighted the importance of Sugal & Damani (S&D) on a national level. Boasting a large market share, the company notably runs the Goa, Sikkim, and Arunachal Pradesh state lotteries and is looking to join state operations in Punjab, Maharashtra, and Mizoram. S&D also ran twice for the license of the UK National Lottery operator.
Over the past couple of years, S & D has been reporting efforts to grow the share of its online lottery services for better UX and efficiency, including through mobile apps. These services still only forward and record the purchase of paper lottery tickets but are a step in the right direction.
Playwin was also a famous lottery brand run by the Essel Group, licensed by Sikkim State authorities. Being a lottery operator with almost two decades of experience (since 2001) it had consistent results and a notable market share. However, GST introduction and sales drops were given as the reason for their financial troubles starting in 2017-2018, even before the coronavirus pandemic hit the market. On the 1st October 2020, the Group's Pan India Network Ltd. (the actual company managing Playwin) began an insolvency process.
Among other retail agencies, we might list the Singaporean Singam (seen above with Assam and Manipur) and the Indian MandCRetail, incorporated in Mumbai. The latter company has an important presence in Maharashtra, Punjab, and West Bengal, running the Dear Lotteries brand through a joint license by Nagaland, and Sikkim. Some digitization advances include more user-friendly websites offering direct purchase, even if this only includes home delivery on the territory of Maharashtra.
Some smaller companies have tried to explore the online and mobile boom that India has enjoyed over the past decade, with payments and withdrawals posing the main problem as they are traceable, and in most cases, illegal. In 2019, authorities in Tamil Nadu decided to limit GooglePay and ban its Scratchcards service in the State. In reality, payments to online lottery circles were made via these channels since there was the possibility of rewarding users with scratch cards and Google Pay Diwali stamps.
Both Karnataka and Tamil Nadu have explicitly and completely banned all lottery draws, including online. Google Pay usage was found to violate this rule, in effect in Tamil Nadu since 2003, encouraging its citizens to "take chances for a reward."
Who Plays Online Lottery in India?
An important aspect of the Indian lottery market is the demographic layout of the lottery players. Secondary research sources and official reports are scarce on gambling in India as a rule, and there is even less literature on State lotteries.
A 2019 study in Kerala depicts the typical lottery punter as a married man around or slightly under 30 years. A "wage laborer" (i.e., low and unstable income), he is likely to rent a small place for his family (with a kid or two). A previous ENV.Media research piece on gambling in Goa also cited a correlation between lottery playing (and gaming in general) and drinking habits.
We are reminded that these observations are not the result of systematic large-scale research efforts. But such findings are supported by commonplace "anecdotal evidence" and empirical observations.
Another shared conviction of industry analysts is that those who play the lottery are very often engaged only in this type of gambling and exclude casinos, online or private betting.
Various states have different approaches and intensities of promoting their government lotteries. Arguably, Kerala has the most successful Lottery, and the state advertises heavily in broadcast and print media. Slogans often claim that the product is "trustworthy, democratic and transparent." And in the State with the highest life expectancy (74.9) and literacy rates (96.2%) of all the Union, these aspects are evidently more important than having the cheapest ticket price of the highest jackpot.
Another study from 2019 – on gaming demographics in Goa – reveals that lottery is the most frequent gambling form, enjoying a 67.8% share among those who indulge in gaming (roughly half of all Goans). The same survey also asserts that with age, Goans turn increasingly to lottery games.
To this date, Goa has the highest per capita State Domestic Product (~USD 6345) and is among the best developed States in the Union. So it comes as no surprise that such high lottery adoption rates are seen in other emblematic markets – albeit much more sizable and developed – like the United States, where lottery is the most popular form of gambling, with as much as 49% of all adults reported buying lottery tickets. 
We can supplement this research by a series of primary datasets provided by traffic, and acquisition analytics of two ENV Media properties – OnlineLotteries.in and SevenJackpots.com.
The chart below represents the segmented aggregate user data for 78 thousand users that accessed the SevenJackpots.com lottery page in the first four months of 2021. The following data shows leading States by geo-referenced organic traffic, their behavior and conversion indicators.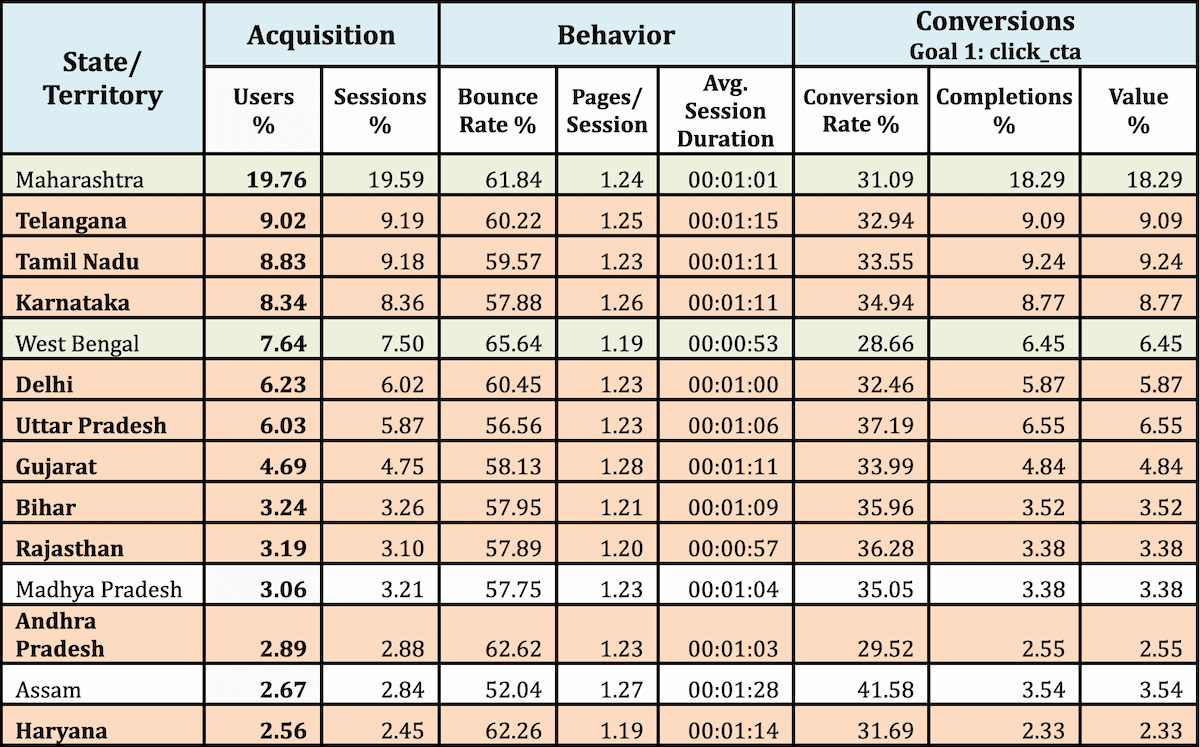 We can see that Maharashtra – given its size, development, and the presence of Tier-1 cities like Mumbai and Pune – is always a market to be reckoned with in online gambling, providing almost 20% of all user traffic and value. But apart from Maharashtra and West Bengal, almost every other State which provided player traffic does not have a legal lottery on its territory.
If we look at the same type of datasets for OnlineLotteries.in, even in the span of a greater period (1 January to 12 July 2021) for 58 thousand users' acquisition, behavior and conversion, we can easily spot the confirmation of the above trends.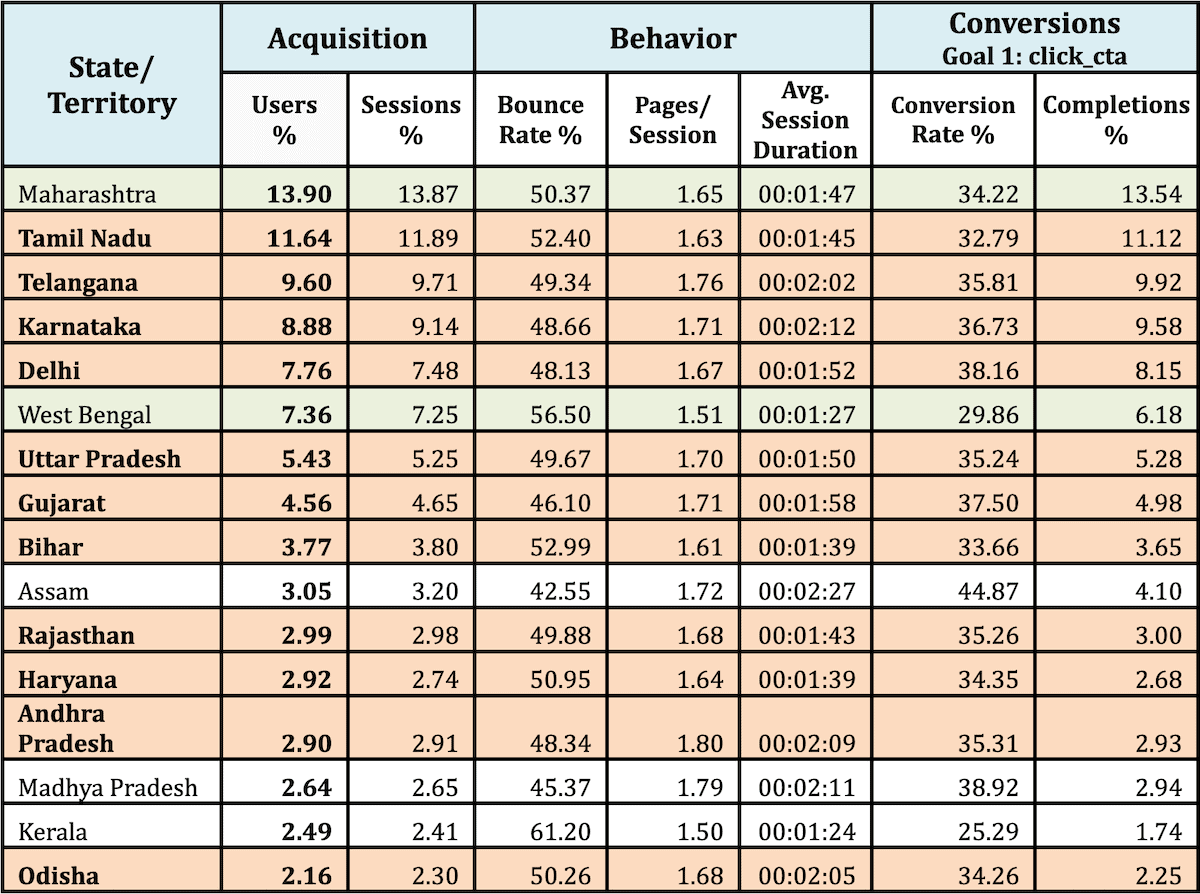 Maharashtra dominates the scene (with just under 14%), as it is followed by the same states in the Top 6, even if in a somewhat different order – Tamil Nadu, Telangana, Karnataka, West Bengal, and the National Capital Territory of Delhi. Moreover, these States include seven out of the eight Tier-1 cities – Mumbai, Pune, Kolkata, Bengaluru, Hyderabad, Chennai, and Delhi.
Once again, States which do not have their own legal lottery (paper-based or not) dominate the Top 15 list and take up around 56% of the overall user volumes for the site.
Large and well-developed States and Cities count as much as consumption habits and cultural patterns. These main factors seem able to overcome various barriers and challenges, e.g., legal and distribution coverage issues.
However, it is just as undeniable that large areas of India that do not have access to legal State-run lotteries are likely to seek alternatives, whether online or on the black market.
Age and Gender
Naturally, lottery tickets are not sold to minors. We have seen some age estimates on typical desi lotto punters in the above demographic profiles, but they were based on perception rather than objective statistics.
These are provided by OnlineLotteries.in from their organic search aggregated data between the 1st of January and the 12th of July 2021. Where possible to tell (e.g., via registrations), the most active age groups looking for online lottery were thus distributed: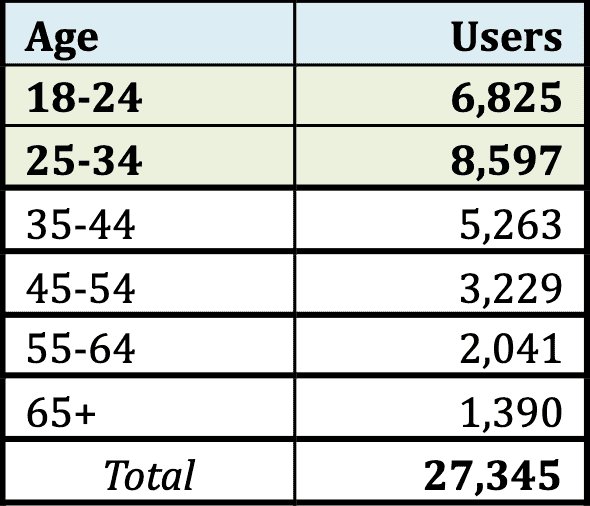 We see that the youngest group of adults (18-24) already make up a quarter of all registered users (24.96%). The second age group (25-34) is even more relevant, making up 31.44% of all users. Together, under 34 year-olds account for 56.40% of the registered user base. While this is valid for online lottery players only, not regular paper lottery, the above references to typical players slightly under 30 are not far off the mark, statistically speaking.
When the same user groups are segmented by gender, we see that males dominate the scene, with 79.24% of all registered users.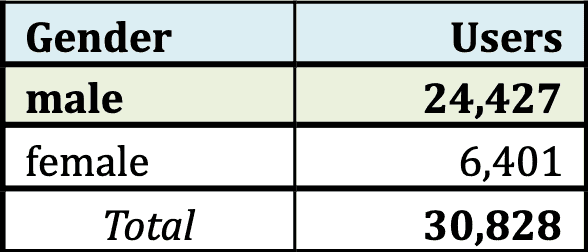 Altogether, we can probably claim with a high degree of certainty that the above profile of the typical lottery player in India may be accurate in terms of these basic demographics – young, male, living in a big city.
Devices Used
While not a simple task to differentiate user groups by devices used to gamble online, ENV Media has produced an exhaustive research piece on (mobile) device types that Indians use for this purpose specifically, as well as in general.
We can add the primary data provided by OnlineLotteries.in for the same time frame (January to mid-July 2021).

It is evident that smartphones dominate the market. Players that use desktop computers tend to spend a somewhat longer time on the website (before moving on or deciding to play) and visiting marginally more pages per session – an anticipated trend backed by UX and age groups that might prefer a computer. However, higher conversion rates, completion, and value indicators all confirm the fundamental role of mobile phones in accessing online lottery markets. 
Social Class
Another challenging (and sensitive) segmentation category is represented by social class. Traditionally, paper-based government lotteries are considered more suitable for players with limited access to technology – about half of the adult population – and typically have little disposable income. Street vendors serve that dominant group, as many State lotteries offer tickets as cheap as Rs 5-6 (never under Rs 2, as per the 1998 Lottery Act).
Online lotteries – in the sense of decentralized lotto operations, often offshore – should result more appealing to players with a busy lifestyle, adept in (mobile-first) technology use. Both "true" online lottery sales and online-intermediary facilitated paper-ticket sales end up being more costly; therefore, tickets are less affordable for many. Jackpots, on the other hand, also tend to be more consistent.
A 2003 media publication states explicitly that paper lotteries are for low-income groups while online versions target "more affluent classes." This may not be a straightforward case anymore, but a combination of the above factors determines sub-groups of users that find one type of lottery appealing over another. Naturally, these choices include whatever is available in the State in question, including legal, offshore/online, or illegal drawings.
State governments position their lottery draws according to the same parameters – ticket price, required technology use, and jackpot size. The public image also serves as an important strategy, defined by promises of quick (or big) wins, reliability, and accessibility. Thus, different lottery administrations aim to cover their preferred user market, with some lotteries striving to cover all user bases with diverse drawings and schemes.
Industry analysts emphasize that blanket bans on lotteries in more than half of all States have not been effective. Players turn to online distribution platforms, offshore operators, or black market retailers. Where the State does not cover its user bases – or prohibits their access to their favorite lottery – desi players will provide for themselves one way or another.
Recent Development of the Indian Online Lottery Market
The above consideration on search volumes, legal and technical availability describe the demand and supply trends related to online lottery in India. Once again, it is crucial for a brief reminder that the definition of "online lottery," in this case, is a computer-assisted retail sale of paper tickets, usually available within the surrounding State limits.
For India's age-old passion for number-extractions to evolve from Matka – to paper – to an actual online sale of randomly generated e-tickets will certainly take more of a cultural rather than a technological transition. Such predispositions also explain the high amounts of search volumes and SERP results for all Satta-related search terms.
Even so, there are some glimpses of innovation in the sector. Tombola, for example, is gaining popularity as a lottery alternative offered by cryptocurrency gambling platforms. We should also expect other blockchain-enabled games of chance, albeit as niche markets at first.
One way or another, the awareness – and respective demand – for online lottery is destined to increase in the coming years. Where paper-based lottery is still the norm, online distribution will also make it more efficient and easy to access. With the constant levels of lottery demands and rates of technological adoption across the Union, draw-based games (e.g., online bingo) are likely to evolve rather than shrink in market size.
The Playwin brand (see above) at one time had the label of being the leading online lottery in the nation. Around the time of its demise (and years after implementing server-based distribution), in 2018, Sugal & Damani launched their first mobile lottery app called Luckykhel. As of 2021, the website claims that it is undergoing upgrades but lacks some basic functionalities. Draws are officially suspended, and the app's future is unclear.
The perception of most lottery players about their favorite game, on the other hand, leaves fewer doubts to industry experts and government officials. When NITI Aayog, the Centre's think tank, presented its draft guidelines for the regulation of Fantasy Sports, it noted that for many (if not most) players, gaming is seen as an "investment opportunity," "means of earning a livelihood" and a "source of sustenance."
Speaking of digital gaming and online lottery, in such a paradigm, draws easy comparisons to stock exchanges and digital trading platforms. The ease of access and relatively low prices have rendered online lottery platforms a preferred choice for those players that have discovered offshore lotteries.
Online Lottery Market Leaders
In India, on the ground, physical sales are facilitated by stockists. At the same time, individual small resellers and associations cater for end-user distribution. Lower-level agent commissions are around 20% as an industry standard, making paper ticket distribution a sought occupation for many.
On the other hand, these commissions may be lower for some online operators, despite variations in business agreements and the higher ticket prices that consumers usually pay to take part in an international lottery draw.
A number of dedicated sites offer such offshore lotteries to Indian players. One of the market leaders is

LottoSmile

, giving access to more than

50 different lotteries

from around the world. Registered users can purchase and receive digital copies and scanned paper tickets for leading American, European, Asian, and Australian lotteries (e.g., MegaMillions, Powerball, EuroMillions, SuperEnalotto, EuroJackpot, El Gordo, etc.). Besides standard entries, LottoSmile supports

syndicates

(group purchases for greater chances to win) and personal

bundles

(same logic but an individual purchase). The company is registered in Cyprus.
Lottoland.Asia is another major international operator which promotes and distributes around 30 lotteries online. LottoLand offers detailed tips, winning odds and strategies, and other crash courses via a blog. The operator also ventures in casino games and sportsbook bets. LottoLand has a user-friendly mobile app for Android (and considering that iOS has a marginal presence in India, that is not a major obstacle). The company is registered and licensed in Gibraltar.
Other notable operators with a global presence include Lotto247, MultiLotto and PlayHugeLottos, all operating under offshore licenses.
The Legal Landscape
The main objective of the 1867 Public Gaming Act was to discourage and outlaw most forms of gambling. Lotteries were treated as a case aside among games of chance, leaving the possibility to expressly regulate them later on.
The main legislative act of the Central Government is the Lotteries (Regulation) Act of 1998, a code that frames the Indian lottery market and its development to this day. It gives basic instructions on:
Lottery definitions and basic schemes;

Prize distribution;

Bumper draws (e.g., festivals or special occasions, no more than 6 per year, with greater prizes than ordinary draws);

Numbers drawing and frequency of draws;

Printing and sales;

Destination of proceeds;

Prohibition jurisdiction (e.g., of other State lotteries)

Penalties for agents, promoters, traders, and players.
States may choose to exploit these rights and rules or not; they may adopt additional rules, restrictions, and licensing regimes; but they cannot contravene the definitions and fundamental indications of the 1998 Act.
Most importantly, the Lotteries Act authorizes States to formulate their own legislation on lotteries, ranging from running their own to prohibiting any such chance games. This nation-level legal stance gave the power to the above-listed 13 States to administer their own government lotteries. The rest have a prohibitive position, more or less rigid.
An important aspect is that the Central Government does not hold or promote any lottery draws. Any claims to the contrary are false, although often seen in advertisement messages. Nevertheless, New Delhi has the ability to interfere with State policies if officials consider laws to be violated.
One illustrative example comes from inter-State ticket sales. Typically discouraged, it requires a formal agreement by authorities on both sides. (Naturally, this is impossible where the lottery is not legal.) Such cross-State sales can lead to disputes if not regulated in a timely manner – see above case between Kerala and Nagaland. Both the Central Government and High Courts have the power to solve such disputes.
Other important Acts regarding lottery include:
These four main legislative acts will not be included in individual State considerations, as they are binding for all subjects on a national level, provide the legal foundation for all lottery operations in India, and no subsequent laws or rules can contradict them or elude their jurisdiction.
While some states have provided for wide-scope gambling regulation, others have specific legislation for lotteries only. The below table presents the legal landscape for all 13 States (and one Union Territory) which run their own government lotteries or permit other States' ticket sales on their territory.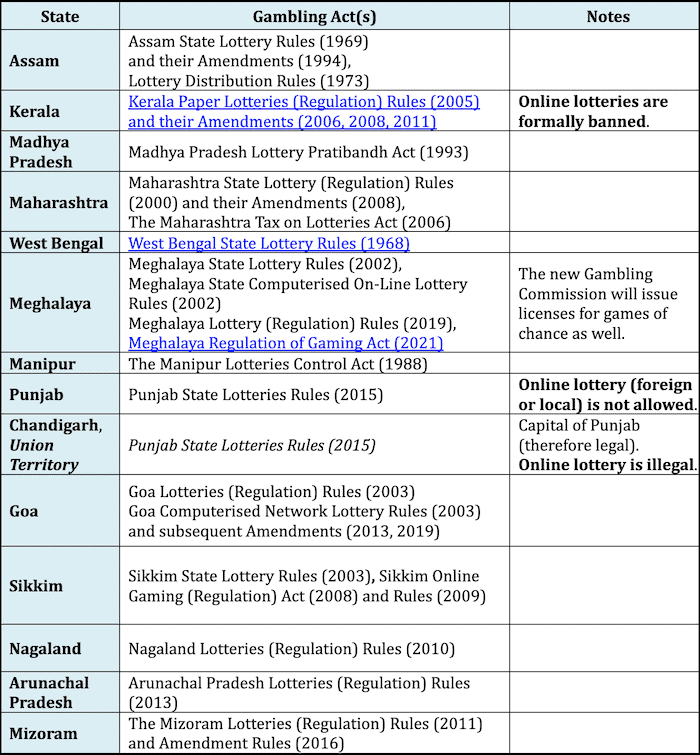 A complete understanding of the legal landscape regarding India's government and online lotteries requires some knowledge of taxation regimes. Having analyzed the introduction and effects of the GST, income taxes remain the main concern of all parties involved in the lottery business.
The Income Tax Act states explicitly that all gambling income should be taxed in India. Section 115BB makes no distinction between lottery income and other gambling winnings – online or offline, legal or even illegal. The 30% flat tax has been examined in detail in another ENV Media publication.
Lottery winnings are among those rare cases where one-time earnings might exceed Rs 50 Lakhs, triggering a surcharge of 10% on the normal tax rate. In case lottery winnings exceed Rs 1 Crore, the surcharge is 15%. In addition to the 4% Health and Education Cess, these surcharges make the final tax rate above the said thresholds 34.32% and 35.88%, respectively.
Projected Trends of the Indian Lottery Market
Long-term estimates on the size and scope of the lottery market in India involve assumptions on several levels. On the one hand, given its stable demand and deep-rooted cultural foundations, the total industry size is likely to grow proportionally to India's population and inflation figures.
On the other hand, the profound transformation of all economic sectors caused by mass digitization is expected to alter the structural relation between offline and online lottery segments, albeit more slowly than other gaming and entertainment sectors.
Payment channels and means also produce an economic impact. The overall ease of purchasing becomes a factor in entertainment consumption, ultimately involving both parallel lottery "dimensions." Desi consumers have gone beyond bank cards even in rural communities, with fintech solutions available to most of the 750 million internet users in the Union. The digital boom is likely to put further pressure on paper-ticket retailers and test the habits of many lottery players to rely mostly on their local sales point.
Eventually, national and global economic cycles will also find their reflection in the lottery market dynamics. The current downturn is attributed to the global force majeure events in the wake of the Covid-19 pandemic, with physical location closures questioning the economic survival of many small-time retailers.
Then again, studies have found that during and after a crisis, gambling consumption increased and mostly in the lottery segment (including bingo and scratch tickets as similar instant-result random-event games). Conversely, machine-assisted gambling declined; there was no change in problem gaming figures before and after the last financial crisis (the survey explored the 2007-2011 time period).
The possibility to improve one's economic situation via lottery winnings (and modest "investments") is an enticing proposition to many. A study by Kantar in Australia revealed that lotteries are more relevant than ever in uncertain times because of their potential for fueling optimism. We can safely claim that Indian players are no exception to this trend. 
UK National Lottery sales have also shown that digital channels have the capacity to compensate (and even exceed) for any retail drops in physical retail locations.
All of the above facts and trends remind us that the digital dimension is essential in this day and age. While banking and fintech in India are ready for this new era, many traditional businesses (i.e., state Government lotteries) may not be there yet. An immediate example is the need for mobile apps, indispensable in any other economic and even social sector.
Government institutions tend to be large, conservative and conventional, struggling to keep up with innovation trends. Government-run lotteries are one particular industry that is falling behind India's rapid internet penetration, mobile usage, and cheap internet. That same industry receives sizable revenues from GST and ticket sales yet fails to reinvest in innovative solutions and true online operations for the dozens of legal lottery games across India.
With a definitive transition to an online environment, State lotteries will have a better chance of controlling their operations, raising safety standards, solving payment issues, creating job opportunities, and fighting gambling addiction more effectively.
Should the major Indian and global trends continue developing along the same lines, we expect to welcome more online lottery games in the near future. Lotteries bring enormous revenues to state governments, and this segment will not be left behind in this transition. Fine-tuning taxation issues (e.g., GST) and pushing for mass-digitization can go a long way toward settling some of the structural barriers to grow India's lottery market further.
Ultimately, developing a national gambling strategy is the proven way to go forward for the Indian gaming industry, not only the lottery segment. An independent regulator in the form of a Gambling Commission (under whatever name it might be) could oversee such cyclical and structural difficulties and propose expert solutions. It could help minimize social harm and promote sustainable lottery development.
While all of the above may be logical and advisable, being representative of good practices in other developed markets, they are unlikely to occur all at once or in the short run. However, the general expectation is that these trends will gradually lead the Indian lottery industry into higher performance levels within a new digital dimension.