The aim of this study is to outline the factors which generate an audience for online casino products in India and, in a related context, for real-money gaming services. This will allow us to trace an outline of the profile of a typical or average online casino player in the country.
As the real money gaming industry proceeds with its growth of around 20% on an annual basis – regardless of global or national socio-economic conditions – it is important to segment and understand the various consumer groups of the Indian scene. Boosted by improved internet access and a host of enabling technologies, these user groups have become more transparent and accessible for operators, as well as for the purposes of our study.
Key report findings:
As spending increases across a wide demographic, the younger user groups remain most active –

aged between 20 and 40

;

Numerically, most players are located in the

South

(e.g.

Chennai, Bangalore, Hyderabad

), joined by the three biggest agglomerations in the country –

Mumbai, Delhi and Kolkata

;

Although rural users have benefited more from affordable tech and data, it is

young metropolitan (self-employed) professionals

who make up the larger part of online casino consumers.

Most RMG players prefer

skill games

with customised Indian contents; they enjoy new

technology

.
An Overview of the Indian Passion for Gambling
The utility of the present analysis is more evident to stakeholders outside the direct online casino industry circle, quite likely. Foreign companies involved in marketing and trading (including cryptocurrency and forex, even binary), as well as mobile gaming developers can make good use of a consolidated profile of the typical Indian online gambler. Culturally specific conclusions may surprise some of them and will definitely provide valuable insight into the nature and motivations behind an Indian player's actions.
Online casino management and content teams, on the other hand – even those entering the Indian market at present – are aware of the background for most phenomena. Most of it comes back to some famous historical references indicating the Indian subcontinent as the cradle of the majority of present-day table games. We have written several detailed pieces on the country's product preferences and gaming history.
Whether it's cards, chess or ludo (pachisi), Indians have been known to play for money or fun but always with passion. Dice have led to wars and breaking up of kingdoms, as per the epic Mahabharata; while the holy Ramayana recounts the casual tradition of social gambling. Thousands of years of gaming traditions stand to prove that Indians perceive the clash of luck and skill not merely as a pastime, rather as a metaphor for life and fate, for the battle between good and evil.
Later on, British and European influence linked existing passions to horse betting and contemporary card games, as the two worlds merged. However, this complex relationship left the country with fragmented and outdated laws, with only some Union Territories (Daman), former enclaves (Goa and Diu) and the least populous state of Sikkim enjoying a certain liberty with gaming.
Fortunately, as slowly as a nation's culture evolves, perceptions related to consumption patterns in India are somewhat more liberal. For products and services relying on technology, the desi society is increasingly curious, savvy and well-informed, rather than conservative.
That is exactly why yesterday's physical presence of casinos – in tourist-mostly areas and their sin-city context – seem to fade away in the collective imagery of the younger generations. The ancient customs, the temptation to bet on anything and anywhere is alive and well, migrating to virtual platforms and friends' chat groups. From election results to Indian Premier League (IPL) cricket matches, from a family Teen Patti game over the holidays to a poker game with the colleagues – it all comes down to increasing accessibility and the lack of specific laws to control online gambling.
Even though there are some more recent legislative acts (i.e. the IT Act of 2000) and timid pressure groups calls to outlaw online gaming altogether, authorities are still undecided between capitalizing on the industry and caving in to popular election slogans.
And online gaming in India flourishes more than ever.
The SERP in a Historical Perspective
India's first ever land-based casino was opened as recently as 2011, in Sikkim's capital, Gangtok. Many of the country's habitual players are not used to what we consider traditional casino games for their gambling needs. In turn, this translates into a rather different landscape when it comes to internet gaming trends and search results.
On the other hand, Indian lotteries have been around for a long time. Formally, Kerala was the first state to abolish private draws and establish a State Lottery in 1967, soon to be followed by other territories. Nowadays, state governments in Punjab, Goa, Sikkim and many others run their lottery programs, daily or weekly.
A historical check shows, however, that extracting "lucky" numbers has been an age-old passion for many. Betting on cotton stock exchange rates or other randomly generated numbers is known as satta – or matka – and although officially illegal, is immensely popular in India to this day. This explains the extremely high amounts of search volumes and respective SERP results for any satta related search terms. And even though the satta market is largely underground, informal and unrecorded, this can be exploited for SEM and positioning. Ultimately, however, it does not define the interests of the typical gambler who is after quality online games.
Instead, on a more pertinent note, we have already observed that gambling on random numbers and outcomes may be considered a form of investment in India, as wildly as it sounds. This understanding is traced back to the famous distinction between luck and skill, reflected even in gambling laws today. Still, it is habits and popularity of games above all that drive gaming demand, both online and offline.
Certain "inherited" tastes merely switch over to new mediums, whenever they can. While Westerners frown upon binary options as a form of gambling, Indians regard binary trading as a form of investment. High potential returns, simplicity and quick turnover cannot seem to offset the huge unjustified risks. And even though binary trading is illegal in India, many cannot distinguish such offers from straightforward gambling.
We must emphasise that here, again, there are shades of legality and visibility within the online gaming ecosystem. Skillful odd traders are employed in illegal betting businesses while offshore sports betting platforms simply attract cricket enthusiasts to unregulated and unrestrained betting practices. Moreover, this type of gambling can be linked to the same passion that players pursue with poker or blackjack. Blurring the boundaries of investment and gambling is not strange for these user groups, it is the norm.
The same subtle distinction between skill and chance can be sought at the basis of the Indians' belief – frequent enough if not universal – that a player can "break the bank", out-knowledge the casino. Recognising a gamer's ability and intelligence extends into rewarding astute behaviour beyond logic. Audacity in itself is a value in this context; it has been stimulated by the Mother Goddess of Hinduism, Parvati, who played dice with her husband, Lord Shiva and proclaimed that gambling on Diwali brings prosperity in the coming year.
Historically, since pre-digital times, Indians have played mostly Teen Patti, Rummy (or Paplu, a version), Matka, Andar Bahar, Texas Hold'em Poker and Roulette. These tastes and bottom-up demand have been translated into an interest for the games in an online version or a way to access them in one form or another. That might just mean reaching out to an online community which gathers illegally afterwards; sharing contacts and group tips on WhatsApp; or posting YouTube instructional videos for Teen Patti and Andar Bahar (in Hindi, e.g.) on how to "hack" the game and beat the operator. In a larger context, these follow the same historical and cultural guiding beliefs rather than logic, quality and legality.
Cultural Specifics and Public Opinion on Gambling
With all of the above insights in mind, we need to bridge these factors to the much more pragmatic view of a contemporary online gambler. If we were to draw a line, gaming in all shapes and forms has largely been somewhat a taboo in Indian culture but not necessarily a negative activity in absolute terms.
First encounters with gambling are as early as six or seven years: ludo or marbles, carom or cards, families transpire certain gaming habits around holidays such as Diwali or Holi. Kids get sweets or merely the thrill of participating in family traditions.
Gambling as a Status Symbol
It comes as no surprise, therefore, that success in gambling is respected and admired, be it among colleagues or when attributed to public figures. After all, Jaydev Mody, the Chairman of the Delta Corp. – the country's largest offline casino operator – has been featured in Forbes India as a former gambler and "always a measured risk taker."
It is easy to pile on the success stories and the heroic status that high profile gamers have even to this day. Aspiring to a high-risk and high-reward lifestyle is not at all foreign to Indian culture – even without the global Hollywood icons, Bollywood has its own movies about gambling where the villain is outmaneuvered and outwitted, where the hero pulls that extra ace to save the day and bring home the stash. Less sentimental but higher profile examples range from a classic in The Great Gambler to a more recent Teen Patti with Ben Kingsley.
The cultural perception and mentality is unaltered from decades and centuries ago – gambling is more of a mind game than a question of luck, even if it simply is. Challenging the fate elevates the context; reading the face and body language of one's opponent makes all the difference in the gambling world and may determine one's fortune, above and beyond what destiny may have in store for them.
Tacit Acceptance
We took note how the gods were seen gambling ever since antiquity, therefore devotees can also do it. At first it's around the holidays – gambling peaks between Dussehra and Diwali, or Holi, especially for traditional games such as teen patti. But those are extraordinary periods of the year, when you can experiment with taboos. Yet, things never seem to go back to a different routine for most, even for casual and social gamers.
Many gaming practices have become socially acceptable, and not because they've been linked with Krishna or favourite religious festivals. For many, taash bashes (card parties) are an important social event, a networking opportunity or simply a pleasurable pastime with friends. Because having a few state-organised lotteries is not enough, it is simply not thrilling enough. One does not have an immediate access, captivating graphics, the social media integration that younger generations expect and need.
Nowadays, gaming platforms and operators have become emboldened. Nobody seems surprised that Jeetwin had an ex-pornstar as an ambassador or that Betway recruited a Bollywood beauty for the job. Many local operators – although not based in India for legal reasons but targeting exclusively the local market and relying on alternative traffic sources – have begun placing more visible ads playing subtly with sin and taboo imagery (e.g. khel9.com. Ekbet.com).
We must not forget that India has the world's largest youth population and the second-largest internet penetration. This is namely the type of Player profile that is present, pertinent, that counts.
There is another truth which convinces operators to focus on user numbers and not (only) on lifetime player value. High rollers are typically older, more conservative, and they have largely established their habits some years back. When there were but a few accessible casinos, mostly abroad, all offline.
They fly into topical destinations simply to play or for the satisfying old-fashioned environment. When they cannot put aside the time, they would rather try illegal casinos or organise games behind closed doors with their peers. Numerous media reports testify to police officials having detained businessmen, entrepreneurs, brokers or other affluent persons. Frequently gathering by the dozens, they travel to the nearby big-city gambling den or get together in hotel suites.
Traditionally, high-rollers still tend to travel to Goa or Daman. Although mostly regarded as tourist destinations (average locals are often unable to enter), the big casino establishments there are a mixture of European heritage and local ethos, and conservative gamblers seem to enjoy the atmosphere enough to not need an online substitute in between their trips.
Although the Deltin Group moved quite swiftly into the online casino sector – divesting into Adda52 as an early and large poker platform – they are not a leading online casino and internet gambling provider, just one of the many. Deltin holds the majority (if not all) of the physical tables, satisfying most of the demand for Western casino gambling in physical locations.
Deep-lying gambling traditions continue to determine the demand for gaming, after all. Just less frequently nowadays in terms of modes and platforms. And then, beyond cultural norms and personal motivations, comes the convenient access which makes fantasy leagues, e-sports and social gaming more of a popular entertainment form rather than a gambling expression.
A prominent example comes from the IPL. For most Indians this is the top sports tournament on Earth – they cannot get enough of it. Whether it's completely legal or not, more contents and any kind of virtual contact with the League is stimulating enough. For others, being part of a community following real-time first-person shooting battles (e.g. PUBG, see below) satisfies their social and entertainment needs at the same time.
Ultimately, what sustains the gaming industry growth in India is the attitude of young users (everywhere) and lower middle-aged ones (mostly in urban settings) who prefer competing for some prizes or real cash instead of spending their online time watching movies or playing less popular games with no rewards.
Segmenting Indian Online Players
A World Bank study indicates India's population under 45 as passing 1 billion back in 2016. Currently more than three quarters of Indians are below 45, practically making it the market with the biggest online gaming potential. The same source puts their total urban population as above 1/3 back in 2017.
Additionally, India's per capita GDP growth leaves more people than ever before with a disposable income to channel towards needs and wants which mirror largely a globalized consumerist behaviour. More importantly, Indian spending "has shifted from need-based choices to more aspirational consumption patterns", almost doubling the latter type over a period of a few years.
Important industry surveys are carried out practically on an annual basis. One of the more relevant gaming studies in 2018 profiled quite profoundly the Indian online gamer based on a collaboration between Google, the Rummy Operators' Association and KPMG. According to the report, the average Indian online player:
is predominantly a

male between 20 and 44

; the most frequent demographic indicates males around and

below 24

;

comes from

South India

;

is introduced to online gaming by

friends, family and peer

groups;

engages in gaming for

stress relief

and

social interaction

.
To be more precise, we have already analysed the geo audience split of the largest online gambling communities in India. They result dependent on overall socio-economic development, and as such are centered around the major urban agglomerations, most notably the top 6 – Mumbai, Delhi, Kolkata, Chennai, Bangalore and Hyderabad (even as traffic is grouped by states: Maharashtra, Delhi, West Bengal, Tamil Nadu, Karnataka and Telangana).
For a number of years the figures quoted around the total size of the Indian online gaming market pointed to around INR 60 billion. A recent KPMG analysis updates that number for 2020 as INR 89.9 billion (growing about 45% on a year-to-year basis), with about 30% coming from non-fantasy Real Money Games (RMG), that is those more closely associated with online casino platforms. Those numbers are comparable to online fantasy leagues and indicate that, in general, players are willing to spend on their favourite games, even when they are not classic gambling genres.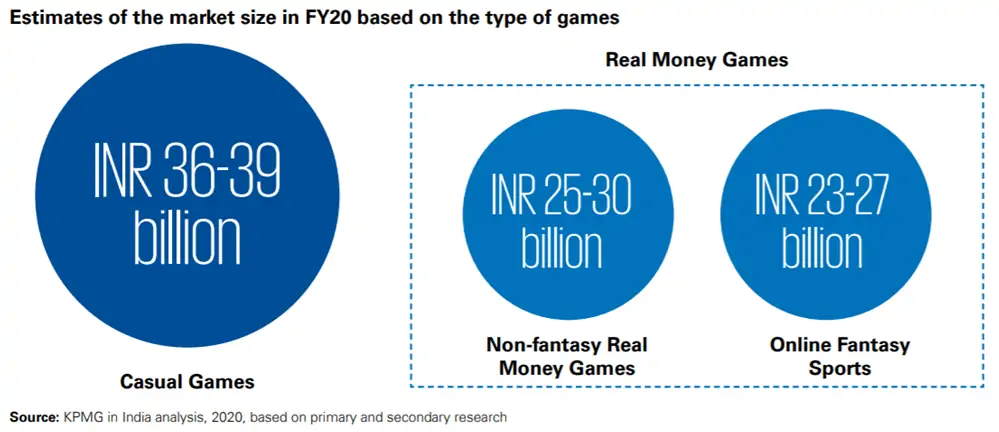 As of the Summer of 2020, the total number of online gamers in India, across all genres, is estimated to have reached nearly 400 million. The above figure shows clearly that casual games remain the most popular, even if less easily monetised. Probably exactly because of their freemium nature, they have the lead, especially during and after Covid-19 lockdown when many players were literally looking for some casual entertainment.
We have seen an important growth in non-fantasy real-money games and card games during that same period, according to traffic and subscription data. As much as this general framing of a typical gamer may leave the open potential for any game preferences, the same survey states that "Puzzle, Action and Adventure are the most preferred genres, across demographics and engagement levels".
There is one common denominator linking game genres – monetisation is key. Although 86% of gamers were reported to be (willing to) pay for games, many of those transactions are predominantly related to App download and in-app purchases and upgrades. But monetisation is truly the reason why different games are monitored with much attention even when not directly attributable to an online casino spending pattern. For players who are at ease with paying for content and entertainment, switching over between game types and platforms translates mostly into a challenge for operators.
Most industry workers cannot predict the evolution of gaming genres with precision. For casino operators, however, the hope is that penetration and proliferation of "quick, easy and accessible game alternatives" will lead gamers to explore and experiment more. If only because heavy gamers, even currently, reportedly "engage in gaming over a wide range of genres".
The typical player spends over 30 minutes daily on online gaming, with the average time being 55 minutes over 11 sessions (5 minutes per session).
Operators can also rely on the connectedness of the gaming ecosystem. All segments are brought together by mobile usage, with India officially the fastest growing market in mobile game installs, having surpassed the US in 2019 as the second largest App market, with 20 billion application downloads (~10% of the global total).
We are also witnessing a functional convergence. Even though online RMG are a widely defined category, online betting is a definition used for a number of those: from fantasy sports platforms to pay-to-play games like cricket, rummy, poker, teen-patti or blackjack.
RMG are also becoming more visible as they are promoted by celebrities. Social media seems to have given online gaming a boost. With numerous ads and promotional campaigns, the big challenge for many users will be to decide their game of choice.
By Type of Gaming Category
One trend is unquestionable in online gaming and India is not an exception. The traction that the macro category of skill gaming has gotten over the past few years is evident. There are huge numbers of fans everywhere who play and follow others play the top games of the moment.
Fantasy sports is a prime example: when the Covid-19 emergency hit the first time, soon live sports and all events were shut down, making the e-sports genre a natural substitute. Now that many sports have restarted, even behind closed doors, fantasy platforms rule the collective imagination.
That is especially true of fantasy cricket, being a virtual reincarnation of the fans' contact with the IPL. Dream11 is the leading operator and is associated with as many as six IPL clubs. Even more, it holds the sponsorship rights for the entire IPL championship. The Mobile Premier League is far behind in market share but still quite present.
For Indians, cricket is not just a sport, it's a religion. Merging the two passions of gambling and cricket is a powerful vehicle and investors know it. The Dream11 franchise has nearly 100 million users and is backed by Tencent, while Alibaba and the Japanese SoftBank Group invest in all the leading gaming Apps.
Rummy, in its present form, has also been popular for over a century in India. Currently, depending on a gaming platform, it is reported as a stable presence in all top 10 skill games rankings. Online presence is growing constantly, as searches link to both sites and apps such as Adda53, Ace2Three and Deccan Rummy.
We have already analysed in detail why and how traditional desi games such as Rummy and Teen Patti lead in overall App performance – both free and paid. These rather solid bases in player preference keep classic skill games such as Rummy almost constantly in the Top 10 free casino games in India's Google Play rankings, landing more than 100 downloads as a genre. Rummy also follows closely the leading Poker App in the card segment of the top grossing Indian Apps.
The same survey above showed clearly some player preferences: "Rummy" searches outperform "Casino" easily, roughly three times. It is the only game consistently outperforming single game genres such as Poker, Teen Patti, Roulette, and towering crushingly over traditional Western casino games such as Slots.
Accounting for all regional and State differences in player preference, our analysis makes a strong point why concentrating on Western product offers – slots, bonuses and the like – is pointless and unjustified.
Digging deeper into the penetration of various gaming macro categories allows us to have a better understanding of the average player's profile. A 2018 survey conducted by the Mobile Marketing Association of India reveals namely those preferences among mobile gamers. With the majority of users confirmed as being under 24, the distribution among all age groups is as follows:

We have already made reference to the above numbers in our previous research piece. A further confirmation of the fact that casino, card and even betting game categories are not leading in any age group of users. The truth is that mostly mature gamers (by Indian standards, 25-34) enjoy casino and card games more regularly, and lead also in betting.
Another factor – already revealed in our territorial penetration study – is that consistently high numbers are mostly observed around big metropolitan areas. This brings us a step closer to defining the typical Indian gamer. Male smartphone users also outnumber females significantly in card games and time spent with those, as well as across all other categories, according to recent Nielsen data.

Once again: deviating from our focus on online casino gamers is merely instrumental in understanding the features which attract players and find their applicability in Indian online casino games and related gambling platforms. It appears that gamers expect their product not only to be "social" and relatively quick to play through – offering local content becomes the new norm in online and mobile gaming. Indian themed mobile-centered games dominate the scene, while for the casino segment that means relying on traditional desi games as a driving force for the whole platform.
Such considerations serve our purpose, if only to illustrate exemplary cases in which certain game genres capture more players in comparison to other online casino games. However, genre boundaries are blurred in gaming, and the only common denominator is the possibility to monetize. The highlights of popular skill games remain: graphics, social presence, connectivity and ease of use. For one genre those may mean a light rummy app, for others – a quality video stream shared on social media. And let us not forget that much of the visibility and popularity of skill gaming is based on the simple fact that it is legal in all of its shapes and platforms.
Willingness to pay for content, in one form or another, ranges between familiar schemes – freemium and pay-to-play gamers show a preference for adventure, racing, strategy and casino games. More importantly, gamers who download paid games are more likely to play casino games than other user groups.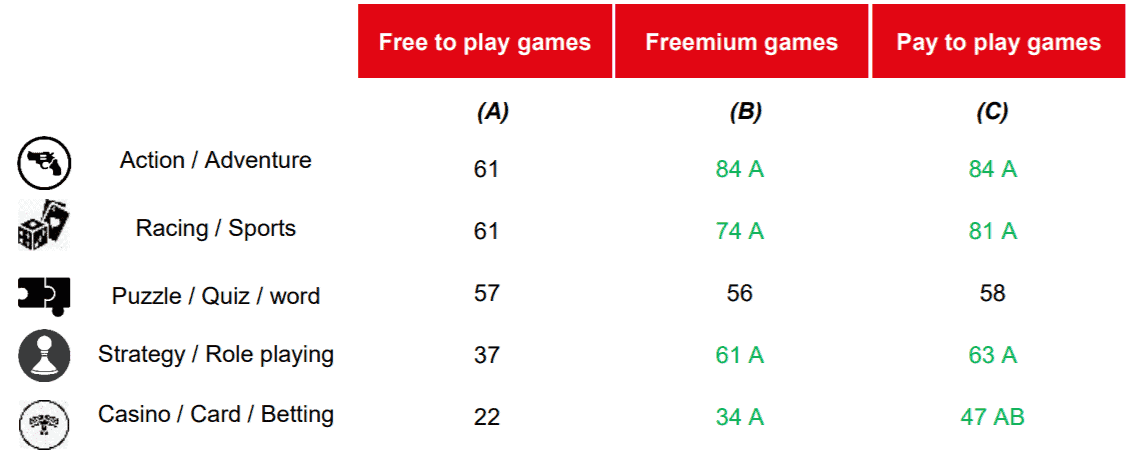 Hence, to the above characteristics of the average Indian online gamer (being a young male Southerner in a big city; introduced to gaming by family and peers; playing to relieve stress or simply for fun) we can add their preference for quick fun, easy action and a certain integration with social platforms.
Such trends are verified by operator statistics. Specialised media publications estimate the total consumer base for social, skill and fantasy gaming apps (such as Dream11, Play Games24x7, Paytm First Games, FanFight but also Rummy and other Indian card classics) at around 300 million players, mostly app users. Operators expect these numbers to grow exponentially in a period of increased isolation.
This brings us to a question we'll briefly touch upon, as it has the potential to shape player interests and demand to a certain degree. Vertical integration becomes more important in India's gaming market, as the big Asian tech companies begin exploiting its huge potential. A glaring example is SoftBank's digital payments subsidiary Paytm – it is a joint owner of Paytm First Games, formerly known as Gamepind. This is a self-standing app offering 200-plus games, including Fantasy Cricket, Rummy and Poker. As the platform is raising more investors and attracting dozens of millions of users, its CEO has recognised that "gambling makes up more than 40% of all revenue earned by games". Allowing a highly diversified app with a bundle of games lets players try, pick and choose but ultimately it exploits their readiness to pay for certain content – in one form or another – as they jump over between gambling and non-gambling genres.
How does that relate to online casinos? It simply indicates where the majority (or at least a considerable number) of players prefer placing their time and resources, as online mobile gaming cannot be held to rigorous definitions and static categorization.
By Type of Platform Medium
This segmentation is relatively straightforward to rationalise. Mobile devices are preferred over laptops and desktop computers, with only more advanced gaming experiences and heavy usage over time warranting a bigger screen and a more sedentary position. The head of Media and Entertainment division at KPMG India estimated that as much as 90% of gaming in India is experienced on smartphones.
As for the distinction between App or Website access, the former meet little competition when it comes to regular access and not explorative contact with a certain game. India has already surpassed the US as the second largest App market, with 20 billion App downloads in 2019 alone (equal to approximately 10% of the global total). International and local competition between App and content developers reached new highs in 2020, as the Covid lockdown made India's half a billion of mobile internet users increase considerably the time spent with gaming applications and services. Consequently, India was the leading market App globally in Q2 of 2020 with 7 billion downloads.
Over the years, data costs were a major factor for choosing Apps over direct website access. Nowadays, data package costs in India have become incredibly cheap, with some estimates placing it as the top of such lists. But habitual App usage only points in the same direction as above – online casinos may have their smooth running sites but the average Indian gamer prefers accessing their favourite games through Apps, stimulating the creation and proliferation of multifunctional Apps containing a multitude of games and services. 
Profiling player expectations in that sense leads us to the logical conclusion: India's young gamers demand an immersive experience from their entertainment and gaming choices. Certainly more integrated and immersive than passively watching movies or TV, as we noted above. Thus, top grossing game Apps include a mixture of first-person shooters, social games (a.k.a. mobile-centered), fantasy sports and the classic Teen Patti and Rummy Apps realities. Specific mention goes to massive multiplayer mobile games such as PUBG and Fortnite. The former is immensely popular in India – with some of the world's best players being Indian. There was a major social media outcry when the Government blocked access to it (and other circa 100 Chinese apps and services) following tensions with China in July and August of 2020.
The good news for casinos is that many offshore and traditional operators in the sector have already acquired experience with multi-feature/multi-genre Applications, present in more than a few casino operations online.
A prime example of a hugely successful app which integrates such player choices is Teen Patti Gold. The App combines 3 Patti, Rummy, Poker and Cricket functionalities. As a result, it has always been in Google Play's top ten in the past couple of years, regardless of seasonal preferences, sports leagues and Covid-related factors.
If we take a look at more encompassing Real Money Game (RMG) platforms, we see that most of the top performers are namely Multigaming platforms.

Not surprisingly, such platforms offer the integration of RMG in addition to casual games. WinZO and MPL are exemplary in that aspect, "baiting" players with fantasy sports and classic card games but adding RMG elements to the mid-core game category (mixing casual gameplay with more immersive sessions). In short, successful operators rely on the same principle we noted above: regular gamers are ready to try different genres and are more easily convinced to pay for content or for gaming sessions if they like the experience.
By Visibility: Volumes, Frequency and Influence on Market Offers
Mobile gaming companies try their best at developing specific products for the local market. Sometimes they offer successful products from other markets with supposedly universal appeal. The same goes for any other gambling stakeholders and marketers in their efforts to develop services.
However, the truth is that the search volumes and the popularity trends paint a clear picture: all those operating in India need to shape their expectations with a bottom-up approach. Simply because the average Indian player knows exactly what they want. If we look at monthly Google.co.in search volumes, they speak louder than the keywords which they rank: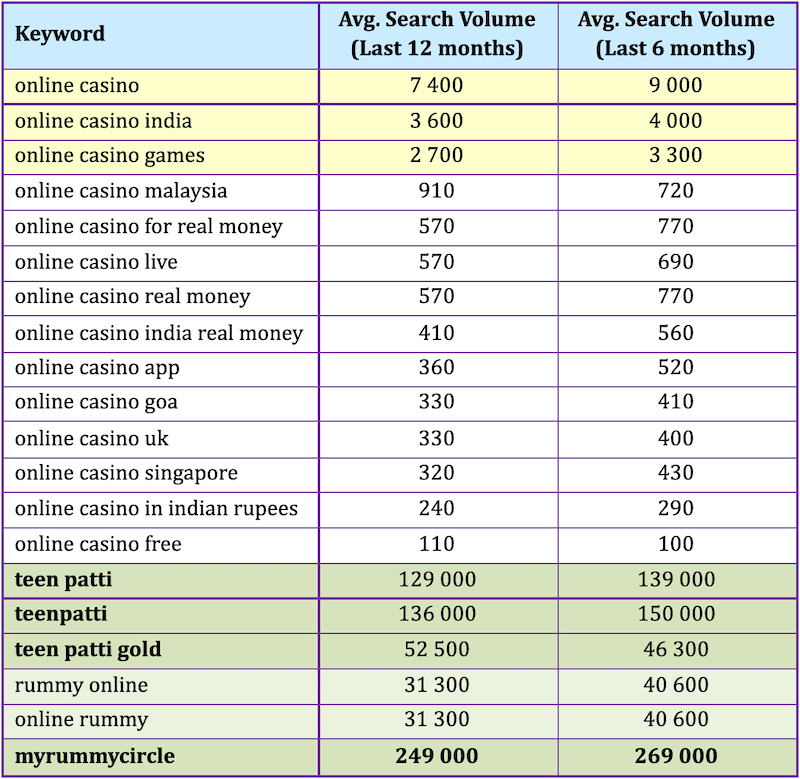 Source: Mangoools.com KW Finder
We will not see any searches for Bonus or Slots. We see local favourites, few general casino terms and people going directly after specific games, sites and Apps. Of course, we cannot compare separate card games to the local religion of cricket – IPL-related searches reach at least 33-37 million queries monthly, even in the off-season. Casino operators need only keep in mind what we wrote in our study on Bonus offers for the Indian market: unique Indian games always outperform Western game types and "traditional" foreign promotion campaigns are simply and largely ignored.
And when it comes to what non-fantasy RMG move in terms of users, turnover, time and overall visibility, the 2019 M&E report by KMG India offers some more concrete numbers. The average Indian gamer spends 6.92 hours each week playing online games. In comparison, the global average is 7.11 hours, so more or less the same.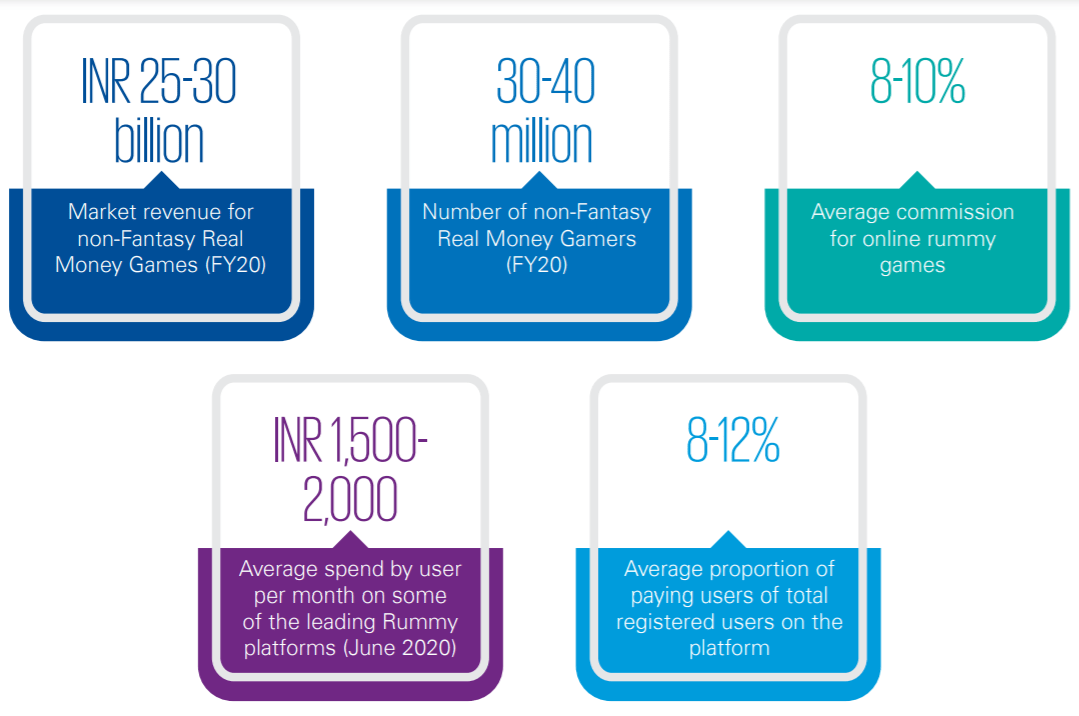 The numbers reveal the unexplored potential of the huge user masses. Those that are considered RMG gamers at present are a minor portion (~10%) of the total gaming market. Yet they bring in those estimated 40% of revenues.
Despite a particular year on a global level – and maybe even because of it, with lockdowns bringing consumers close to online entertainment – the 2020 Media and Entertainment report of the same consulting giant reveals that gaming not only did not lose traction but rather increased its growth and visibility. Online gaming as a whole registered a 45% rise in revenues and RMG is quoted as booming for both its card-based and fantasy niches.
With increased crossover integration and better monetization schemes (in-app and subscription top the list), the gaming world can soon expect to drop the "gambling" qualification and still be happy with the numbers.
Current Macro Factors Affecting Gambling Trends
Legal
Let us retreat to our starting point: many of the RMG and gambling offers exist and function on the fringes of the law, exploiting the lack of explicit bans. That has been a considerable obstacle to the social perception of online casinos and gaming in general. Undoubtedly, it influences somewhat target audiences, their participation and product penetration.
But does it deter gamers from pursuing their passion? Little or not at all, it seems, as most users are young and have (likely) taken up the habit initially in a family-friendly context.
Sure enough, some online "operators" have been busted in the recent past, as they were running online activities traceable to a community of local users – not at all what an offshore or a global gaming operator does.
More to the point, some States, such as Andhra Pradesh, Tamil Nadu and Telangana, have banned online games and betting in one form or another. It remains to be seen how strictly and in what way these laws would be enforced but early reports indicate that they are intended to discourage primarily local and national Indian operators.
Crucially, sports betting, poker and casinos remain separate and very different entities in the eyes of the Indian authorities, based on the skill/chance principle. Fantasy and social gaming still falls between the cracks of any formal legality, since it also involves real money but could be very much dependent on skill and knowledge.
Technological
More than a third of India's 1.4 billion people are reportedly active internet users. Most access the web via budget smartphones and enjoy dirt-cheap data plans. Before the current Covid-affected financial year, the local smartphone market was growing steadily at a 10% annual rate.
Most of those internet users are also social media users – with 448 million defined as active. As YouTube and Facebook (including its Instagram and WhatsApp subsidiaries) lead in penetration, those are probably the most influential channels that any internet-based service should consider for metrics and visibility.
In terms of further profiling our typical gaming customer, another confirmation that he is a male comes from YouTube India – 3 in 4 views were made by males, with the News/Politics and Gaming genres dominated by them particularly. Viewership surveys quote gameplays and walkthroughs as the standout type of contents followed in Gaming, as they accounted for 99% of views in the most popular videos in March 2020. Within the genre, males are responsible for 95% of the total views.
The good news for the industry is that tech penetration is stable and improving. With around 760 million mobile device owners, it comes as no surprise that (hardware) market revenues grew at around 19% for most of the leaders – Samsung, Xiaomi, Oppo and Apple above the rest. Estimates point out to a return to good performance in 2021, followed by an inevitable marginal decrease in growth.
More importantly, with over 200 mobile phone manufacturing facilities set up in the country in the past five years, India has emerged as the second-largest mobile phone manufacturer in the world.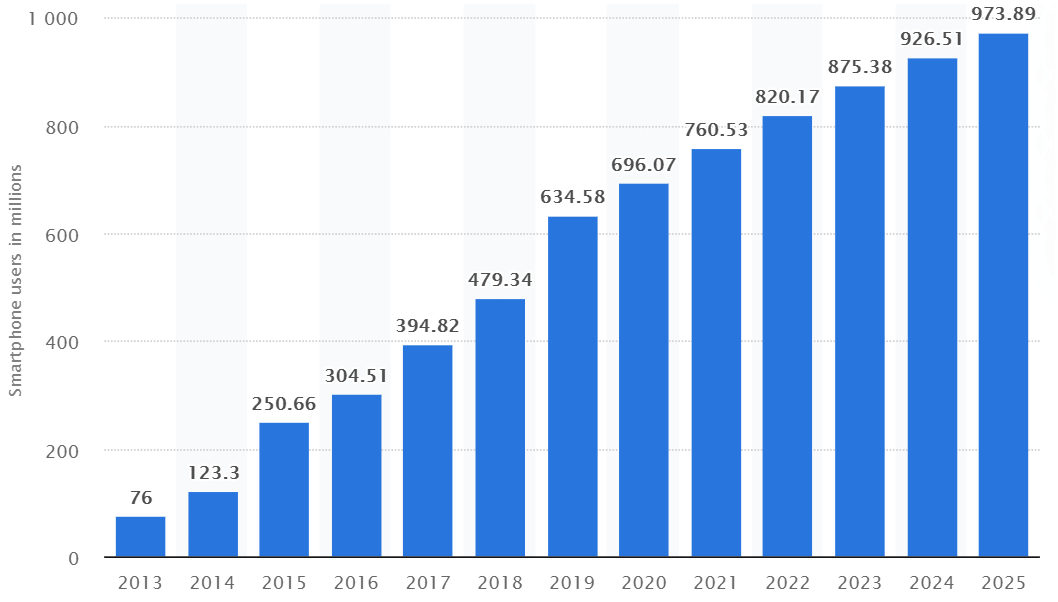 Source: Statista, 2020
According to a recent Canalys report, Xiaomi held the top spot in India with 26.1% of the market share in Q3 2020, ahead of Samsung's 20.4%.
As for App and software penetration, almost all of the 450 million social media users are also WhatsApp customers. The messaging service was downloaded 96 million times in February 2020 alone. Such numbers make India WhatsApp's biggest market globally.
Notably, rural areas have significantly improved their online access. Rural wireless broadband availability has widened, resulting in roughly 45% rural consumption of overall mobile data usage as per post-Covid-19 outbreak data.
Financial
The trends in access to financing have become multifaceted recently. We mentioned two factors above: Asian tech giants such as Tencent, Alibaba and SoftBank investing heavily in Indian apps and games in particular. And then there is the recent spat with China and the resulting ban on many services and Apps which the Indian Government claims to be compromising to national security and collective privacy.
On the other hand, investment in local content development has not slowed down its growth. Both foreign and Indian investors want to capitalize on the sector's potential – as we detailed in a separate study, major mobile gaming development companies in India have grown from 20 in 2010 to more than 250 in 2018, with more than 100 working for RMG operators.
As investment in content development grows, Indian authorities have to face the reality of losing billions in taxes annually by ignoring the online casino industry. The inability to freely offer third party services and direct online casino involvement also restrains many Indian companies, making them miss out on funding and development opportunities, marketing support, special events and customer
The entire economy is also losing money as they are missing out on providing additional services to offshore gambling companies like special events, marketing and customer support.
Political
The last argument brings us to the political side of the issue. The KPMG estimates we quoted initially see the market growing to around INR 250 billion in 2024 (a little under EUR 3 billion). Evidently a well-regulated sector has the potential to be quite lucrative for the Indian authorities.
So far they have chosen to miss out largely on such earnings. On one hand, it is believed that legalised gambling would influence society negatively. The quoted introduction of further restrictions is a perfect example of the calls for wider and explicit abolition of online gambling. As there is no reasonable way (or reason) to impose regulations which might cover technological advances in gaming, many of these initiatives seem intended for local political consumption.
Yet, although they will probably affect Indian operators mostly, such trends should not be underestimated and should be monitored closely by all stakeholders.
Going Forward – What Matters Next
Indian government is notorious for its slow pace in taking certain decisions, and online gambling might just be too far away in its priorities to get specific attention, one way or another. Internet gaming has been flying under the radar for a number of years. And even when politicians pander to anti-gambling lobbies, the general picture is not likely to chance, not quickly.
Online gaming is largely invisible to most social groups. Unlike the ships on the Mandovi river or the big resorts where most locals have never been able to enter, it relies on technology and virtual services. That same technology which is already lightning fast in some respects and sees young Indians brought up to par with most gamers in developed countries.
Even more relevantly, the Government has been pushing its Digital India agenda as a way to bring India into a new age of prosperity. This flagship government-supported program aims to transform the country into a "digitally empowered society". The plans of both the public and private sector, therefore, are for the online entertainment sector to continue growing.
The issue for online casino and RMG operators remains rooted in the opportunity to cash in. Mostly supported by in-game purchases and add-ons, monetisation has experienced an evolution and pure gambling is a step away from the other forms for many of the "trained" RMG players.
In a wider context of platform integration, India has jumped quite ahead in banking and payment evolutionary standards. eWallets are almost bypassed, as young urban Indians have completely skipped the necessity to possess a bank card and any physical means of payment. As little or as much as they might be able (or willing) to spend, the opportunity for players is there, and it's seamlessly integrated – In their GPay, PhonePe or WhatsApp Pay service.
Currently, the direct payment market is dominated by GPay and PhonePe, but not for long. Paytm is going strong, Amazon Pay has entered the scene and in Q4 of 2020 we have witnessed the launch of WhatsApp Pay in India as well. Although the National Payments Corporation of India (NPCI) allowed these tech giants to grow and operate in a "graded manner", the sheer numbers of their platform's penetration makes their success an easy prediction.
As social gaming grows in importance, peer leagues and competitions frequently lead to diversification in the types of online gaming. And gambling genres remain simply "one of the games" for most users. The industry has been transformed with the expansion of social media such as YouTube and Tik Tok. Influential gamers present their occupation from a different dimension, at another level – many former enthusiasts have established themselves as video bloggers.
More pertinently to our goals, although many such streams and vlogs upload shooter, action or social games, some share casino content and gambling, especially poker, roulette, slots. This approach spells an undeniable trend in gaming, with each of the top streamers having millions of subscribers.
Skill gaming in India is more significant, volume-wise, than any wagering genre alone. The macro category of skill gaming is responsible for an entire ecosystem which is highly innovative and attractive to venture capitalists. Start-ups have been leveraging augmented and virtual reality for a couple of years in an attempt to enhance further the skill gaming experience.
Indian-only development studios have had some success: Ludo King and CY19 have spent some time in the top 10 gaming downloads, while Teen Patti Gold has been consistently leading in revenues in its category. Others have been financed and/or developed from outside the country. The fact of the matter remains that online casino and RMG operators have realised the importance of local content and Indian favourites in their comprehensive gaming offers, including its importance in monetisation opportunities.
Considering all of the above factors and recent trends, it comes as no surprise that India's richest man, Mukesh Ambani, has affirmed that the gaming industry will soon surpass that of music, movies and TV shows combined.
Summary: An Outline of a Typical Indian Online Gambler
Substantiated by the above data, we outline a buyer's persona: A consolidated profile of the most valuable online player groups, represented by the average Indian online casino and RMG player.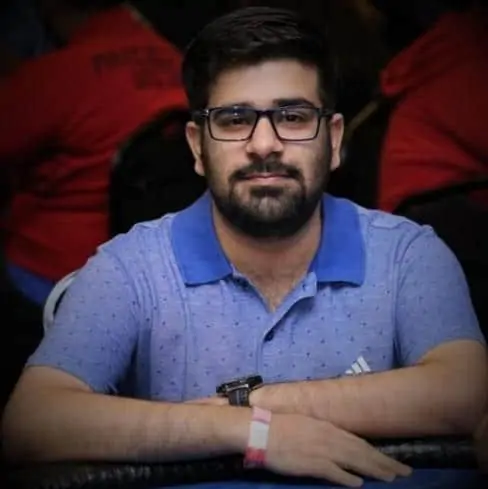 Indian Poker Player Akshay Nasa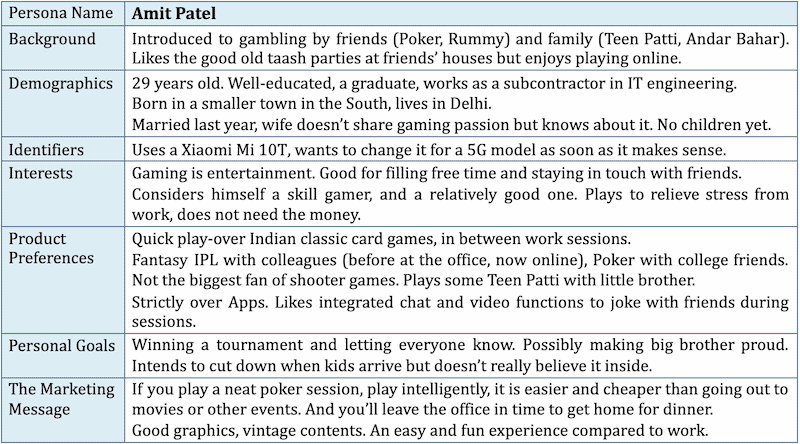 Further Reading
Skill Gaming in India: The Changing Landscape

– A joint report by Deloitte and the Rummy Federation of India; July 2018.
Covid-19: Impact on Video Consumption Trends

, 2020 Report – MindShare / Vidooly
A Year Off Script. Time for Resilience

– KPMG India, September 2020
Covid-19: The Many Shades of a Crisis. A Media and Entertainment Sector Perspective

– a KPMG Report, April 2020.
Digital in India

– a report by the

Internet & Mobile Association of India (IAMAI) and NIELSEN, 2019
Andhra Pradesh bans online gaming, betting platforms

– The Hindu, September 4, 2020
The prevalence, patterns, and correlates of gambling behaviours in men: An exploratory study from Goa, India

– Urvita Bhatia et al, Asian Journal of Psychiatry, June 2019, vol. 43; DOI: 10.1016/J.AJP.2019.03.021
Consumers and the New Reality

– a

series of reports

, KPMG, 2020.