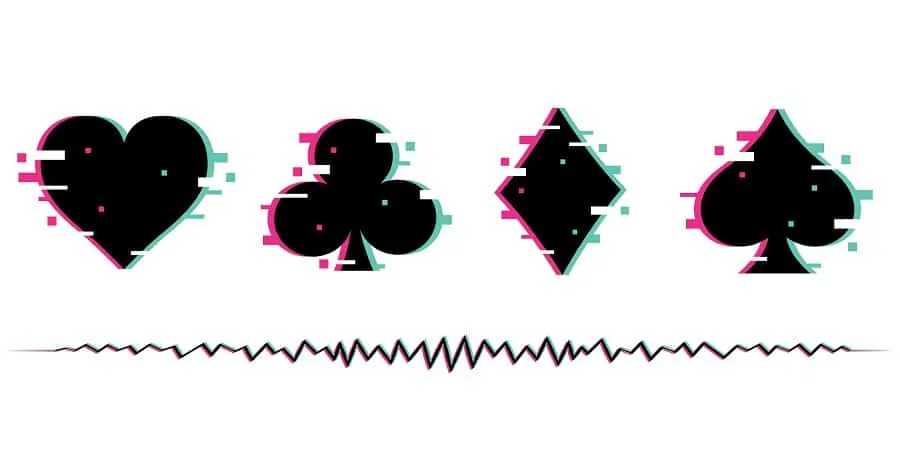 Andar Bahar and Teen Patti: The Golden Cashcow of India
The Indian gambling and mobile gaming potential have consistently been proclaimed by market experts as fantastic and ever-growing, both for local and overseas operators and verticals.
ENV Media has been providing high-quality traffic along with strategic support and analysis for over a decade. Since expert online casino guides are our bread and butter, we feel the need to "close the circle" for the above claims and put forth some statistical data and cultural links which will substantiate a profile of the topmost important games in India.
Key Report Findings
The Indian gaming market is mobile-first and well-developed through internal and external resources and companies;
While the market is fragmented, there are some profitable solid bases around traditional Indian card games such as Teen Patti, Andar Bahar and Rummy;
Western casino operators and affiliates need to understand, explore and adapt to the local demand and not look to "educate" the users to their offer; this will improve their efficiency and help them sell a wider range of products.
Aim of the Report
At ENV Media we have detected certain patterns shaping the Indian online casino market and its bottom-up mechanics. While it is our job to facilitate market entry and positioning, it is also our belief that improving the extended gaming ecosystem will bring benefits for all in the long run.
Hence, we want to share our own primary Google Search Console & Analytics data with industry stakeholders, backing them up further with secondary hard data and reputable third-party reports.
The present report intends to:
Point out and explain which are the essential products for online casino operators in India and why;
Explaining why to local desi favourites and historical cash cows (e.g. Teen Patti and Andar Bahar) are excelling in conversations to this day;
Justify our data-supported experience that traditional Indian games will help operators sell established casino games (i.e. Slots, Roulette);
Back up such local positioning through primary data and secondary research for anyone setting up shop in India
Why Online Casinos Can Stand Out
Gambling studies in India undoubtedly show a growing interest in Western products and forms of gambling. Yet, to this day, India remains one of the handful countries which do not register a steady growth of land-based casinos (along with Brazil, Japan, Mexico, Israel and Norway, to name the major exceptions).
While there are legal and technological processes in the background that aim at larger-scale societal changes, those result difficult in such a large country. Researchers agree on some notable factors which hold back casino developments:
Poverty, on top of the list. The poor still account for about 75% of the population and regional leaders remain reluctant to do anything which could worsen their condition. In this report, we will outline how to 'leverage' this.
Violence in Kashmir precludes casinos. Bombings in Mumbai in 2008 and other related concerns limit gambling developments.
Religious pressure, both from Hindu and Catholics (in Goa)
Macau and Singapore welcome Indian high rollers. However, there is little direct "border pressure" for mass gambling tourism to be lost abroad.
Online casino platforms and the entire (mobile) gaming ecosystem do not have many of these concerns. We have seen the organic proof and believe that they merely need to refocus on the established local product preferences and confirm their commitment to local gaming needs by:
Highlighting traditional games in their offer;
Promoting casual gaming for real money;
Structuring appealing offers and promotions related to such interests and products.
Sharing Some of Our Proprietary Data
Jan-Aug 2020 Google Search Console data from Guide2gambling.in & Sevenjackpots.com.
We consider our own primary data and internal research invaluable. Empirical experience and direct involvement with the product give us the insight necessary to analyse, adapt and move forward.
The below data is extracted from two of our affiliate sites catering to the Indian market.
Since the beginning of 2020, the acquisition of users through relevant keywords on Sevenjackpots.com shows the following volumes (in percentages):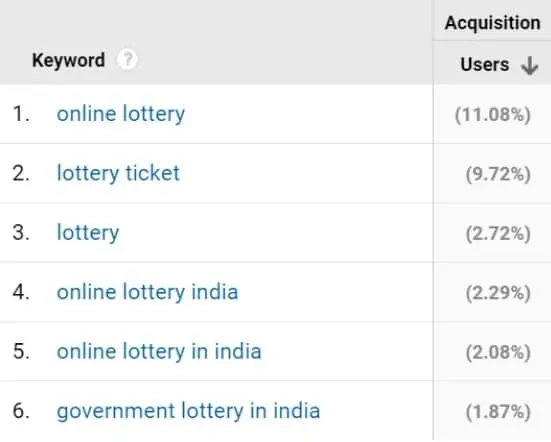 Top traffic keywords from Google Analytics Jan-Aug 2020 Sevenjackpots.com
All forms of lottery searches clearly dominate the keyword search volumes and user acquisition. (N.B. See more on Lottery and Satta below.)
If we turn our attention to the period since mid-March (when the government began urging people to stay home), we will see that the landing page dedicated to Teen Patti begins to stand out and moves to second place: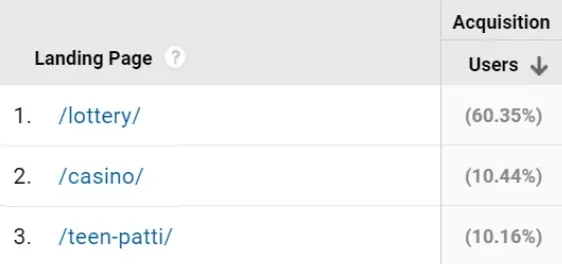 Top three landing pages – Google Analytics Jan-Aug 2020 Sevenjackpots.com
The user acquisition trend for the landing page /teen-patti/ is represented by the following graph:

Acquisition spikes during COVID-19 – Google Analytics data Jan-Aug 2020 Sevenjackpots.com
Evidently, during extended periods with the family users seem to revert back to familiar desi games online to pass the time and relieve stress.
If we look only at the Teen Patti dedicated page, the acquisition has been achieved through some logical long-tail keywords which include "cash", "real money", "app", etc: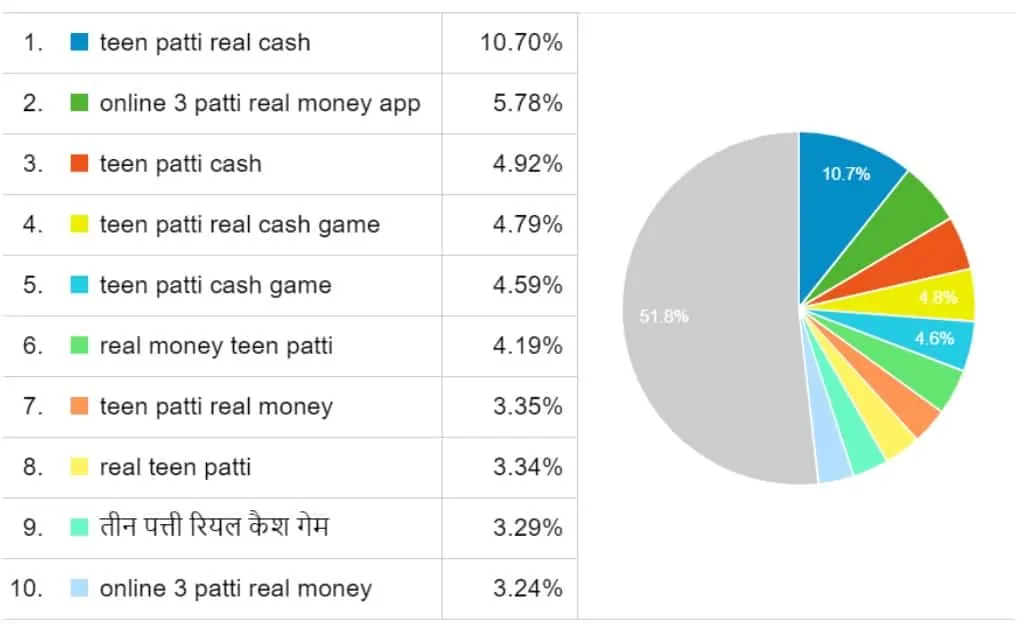 Keywords with most visitors – Google Analytics Jan-Aug 2020 Sevenjackpots.com
Seeing half of the search volume for this top favourite among desi games go towards money-related issues – true "buyer keywords", transactional high intent – instead of informational "how to" terms means only one thing:
The average user is knowledgeable and, above all, ready and willing to pay and play Real Money Game (RMG) versions.
Similar measurable resources may be brought forward for Andar Bahar from Guide2gambling.in where the game is cured somewhat better and rates well.
In 2020 it appears in 4th place overall, albeit with less than 2%: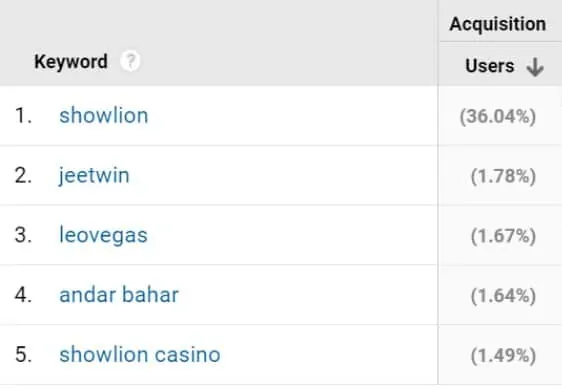 Top five keywords – Google Analytics Jan-Aug 2020 Guide2Gambling.in
In terms of landing page acquisition, /Andar-Bahar/ rates much better in 3rd place, right behind /Teen-Patti/: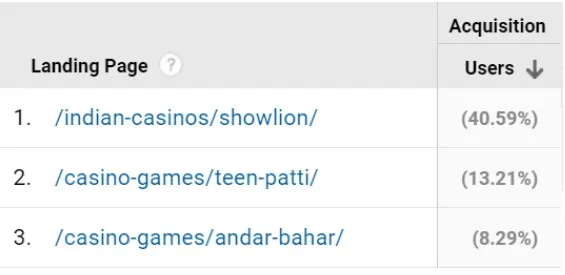 Top-performing landing pages – Google Analytics data Jan-Aug 2020 Guide2Gambling.in
While the trend over time (since March) is graphically represented below:

Similar spike as Sevenjackpots.com during COVID-19 lockdown – Google Analytics Jan-Aug 2020 Guide2Gambling.in
Again, a similar significance is assigned to high-intent (buyer) keywords directly related to Andar Bahar monetization – online cash, real money, app, etc.: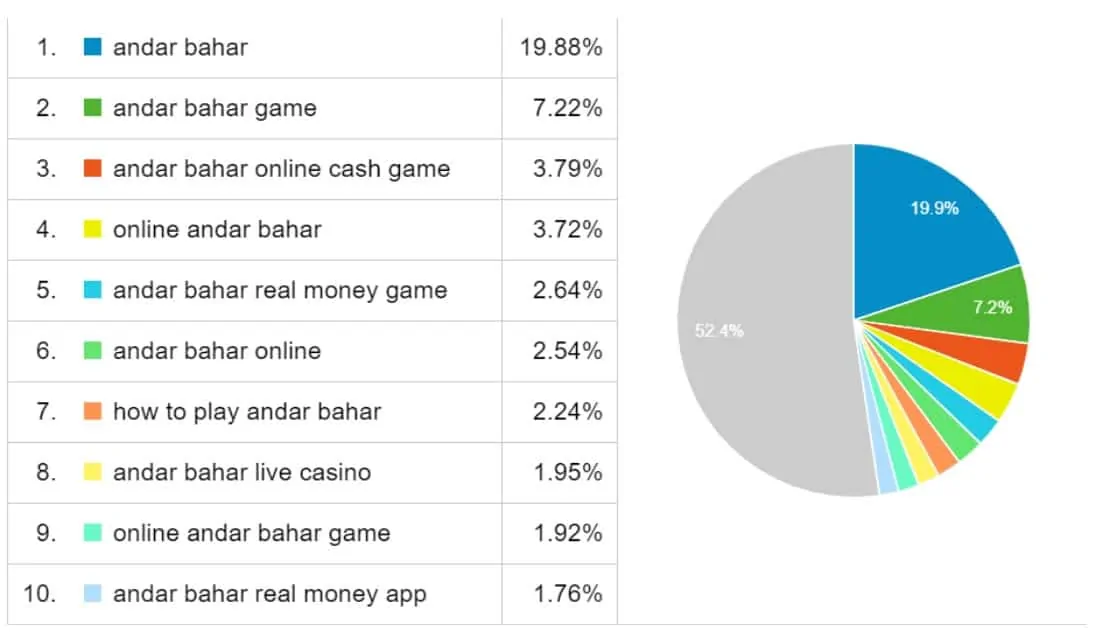 Top 10 keywords at /casino-games/andar-bahar/ – Google Analytics Jan-Aug 2020 Guide2Gambling.in
What can you learn from our data?
The sections below are backing up our thesis that Andar Bahar (AB) and Teen Patti (TP are the most valuable games when it comes to starting or promoting an online casino in India.
When we dissect the searches and user behaviour for AP and TP keywords we can see the following:
Keywords related to transactions, such as "money" & "cash" tend to show healthier user metrics, compared to informational keywords, such as "how to play" & "rules" Based on our experience from established markets in the West, its the opposite.

Andar Bahar & Teen Patti transactional keywords have better user metrics compared to informational. The data is extracted from Google Analytics Jan 1 to Aug 15, 2020, with the help of Keywordhero.com.
Secondary Market Research on Player Awareness and Product Preferences
Anthropological research has proven that Indian players have always had their strong gaming preferences and unique habits. They "overwhelmingly prefer table games" and have a strong preference for "familiar card games like roulette, blackjack, baccarat, and poker", along with traditional Indian games such as Teen Patti (a.k.a. Indian Flush, Indian Poker or 3 Patti), Rummy (Paplu) and Andar Bahar.
Moreover, recent BBC reports confirm related findings that Indian gamers do not necessarily only gamble to win, they "gamble to enjoy the thrill and excitement of the gaming experience".
What Kind of Games Are These?
In our experience, gaming professionals cannot overlook such local favourites such as the above three. Andar Bahar and Teen Patti, particularly, are two unique games for India. An average player expects their familiar presence, is readily knowledgeable and easily susceptible to reaching out to a version of those, whether free, freemium or gambling their real money online.
Both Andar Bahar (AB) and Teen Patti (TP) are high enough in the world of "family get-together" card games to be dear to all generations. (N.B.: Both Teen Patti & Andar Bahar are also movie names; searches should specify game, app, etc.)
Andar Bahar, also known as 'Katti', is a traditional Indian gambling pastime and is way too simple to present any barriers of entry. An Indian player enjoys AB tournaments, facing friends and other players, socializing and casually gambling away some small sums. Teen Patti, on the other hand, has been compared to a simplified (Indian) poker and has officially conquered the online mobile gaming industry in its segment.
Both games could be video or app-based, or even offered via live casino feeds. Newer versions and apps provide some basic analytical data which encourages players to insist and improve their performance.
Industry data shows that people tend to search for the TP and AB Apps more than this is the case for "Western" casino products. This is due to the desired convenience of having a quick go at their favourite game, even offline, between other daily tasks. The stability and possibility of playing them online for real money are also straightforward benefits pushing up App searches for both games.
The sheer success of such apps is reflected in their Google Play ranking: the Top 3 free casino game apps are Teen Patti (placing a total of 8 Apps in the top 10!) with more than a 100 mln downloads. A "scratch card" app sneaks in at 4th place, while a Rummy one goes in at 6th.
A Teen Patti App is also at #6 among all top-grossing Apps on Google Play in India, with Rummy following closely the leading Poker app in the card segment alone.
Search Trends on Google
If we take a quick snapshot of google.co.in in July and August of this year alone (after easing of COVID-19 restrictions) search volumes paint a similar picture:
"Rummy" outperforms "Casino" searches three times;
"Teen Patti" does so by more than four times;
"Andar Bahar" is comparable to "Slot" monthly user searches.
When we analyse search trends 5 years back, we see the following data:

Online casino related search trend 2015-2020 in India.
Apart from a decent average level for Roulette (due to new gambling laws have taken effect in 2016: under those, local residents and persons below 21 were not allowed to visit land casinos; that inevitably affected online searches), we see that in 2019 and 2020 Andar Bahar is gaining upon Slots and Roulette, with Teen Patti again surpassing all, as is the case historically.
Rummy is the only game consistently outperforming all of the above in search volumes, although not exclusively and originally an Indian game.

Online Rummy & Poker surging based on national legislative decisions.
Naturally, there are regional differences:
Poker is well spread out but most strongly sought in Goa (despite the number of land- and sea-based casinos);
Teen Patti also all over the country with Gujarat leading the way;
Slots are sought mostly in Andhra Pradesh and Punjab;
Andar Bahar mostly in Karnataka;
Rummy is popular throughout but Andhra Pradesh leads in search volumes.
Growing Importance of Indian Games
Mark Skaggs, the co-creator of FarmVille, was not surprised to see such trends, given the fact that he left Zynga to join Indian mobile game developers Moonfrog Labs. "Players in India like games made for people in India".
Quite importantly, a 2016 Nasscom report shows that 8% of games developed in India are casino-based card games. Those are expected to continue growing anywhere between 50 and 100 percent year-on-year. Four of the top 10 grossing applications on India's Google Play Store are social card game apps. Two of them (Octro's Teen Patti and MoonFrog's Teen Patti Gold) were stably positioned in the top 5 by consumer spending (2017), boasting together 60 million downloads and over 5 million players every day. Leading Rummy platforms are not far behind.
The growing importance of Indian card games in family settings is there, or rather, has always been there for gaming stakeholders to see.
A report by BloombergQuint emphasizes once more that people love to "bet on social occasions". Considerable business opportunities are related namely to social card gaming – TP and Rummy above all – moving "from physical tables to mobile phone screens at an unprecedented pace". The report backs up further its claims with the 2017 sectoral analysis by KPMG focused on India's media and entertainment sector.
To overcome notorious legal hurdles, gaming platforms started offering play-money versions with in-game currency. Market leaders like MoonFrog and Octro, namely, follow this model and have published profit margins as high as 35 percent, according to the same KPMG report. While according to EY and the Indian Chamber of Commerce (FICCI), online card games monetize up to 90 percent of their revenue this way.
Undoubtedly the gaming stakeholders as a whole have started to feel more confident with the above factors and knowledge acquired. The mobile gaming industry reported its fastest growth at 35.1 percent in 2017-18, leading figures in India's entertainment and media sector. 2020 KPMG data confirms that even in an "off-script year" Gaming is a strong performer, outpacing (together with OTT among digital segments) the rest of the Media and Entertainment industry.
A booming smartphone market and much cheaper data packages did the rest, pushing mobile gaming to account for about 89% of all gaming revenue. Mobile gaming is expected to continue dominating and defining the market.
Unsurprisingly, investor interest has been growing. Alibaba backed Paytm and AGTech, launching Gamepind Entertainment with $16 million. Tencent, as the world's biggest gaming firm, has also been supporting a considerable Indian gaming development team and "plans to invest up to $200 million", as per the Economic Times. Still, it's not all smooth sailing even for these giants, as we will see below.
New Trends and Industry Expectations
A joint report from KPMG and the Indian Federation of Sports Gaming (2019) reveals that online gaming revenues have doubled over the past four years, reaching INR 43.8 bn (~ EUR 0.5 bn), and are projected to account for INR 118.8 bn by 2022 (EUR 1.34 bn). Despite this, estimates report annual loss of tax revenue for up to EUR 2.15 bln due to illegal activities.
We are, however, increasingly limiting our discourse to mobile gaming when considering any forms of online gaming in India. Understandably so: its telecommunications industry is the "fastest growing surpassing Japan" to become the third largest smartphone market in the world and second by number of users. India's digital economy is essentially "mobile first" and foremost.
The dominant share of gaming revenue quoted above (89%) is driven by the increase in the sheer number of online gamers, a tenfold rise over the past eight years. Smartphone users are estimated at 760 mln in 2021. The mobile gaming market alone is already above USD 1 bln (with the number of gaming users estimated to have reached 638 million by the end of 2020, although across all platforms). Notably, apart from the much cheaper data rates and user-friendly apps, India has seen a considerable rise in women gamers as well.
This overall trend has prompted an increased investment in marketing and development of mobile gaming. We have seen a red-hot growth in mobile gaming development companies in India: reported at just 20 in 2010, surpassing 250 in 2018 – out of which more than 100 are Real Money Gaming (RMG) operators.
Similarly, mobile gaming users alone have experienced a rise from 20 mln in 2010 to over 269 mln in 2018 and as much as 365 mln in 2021.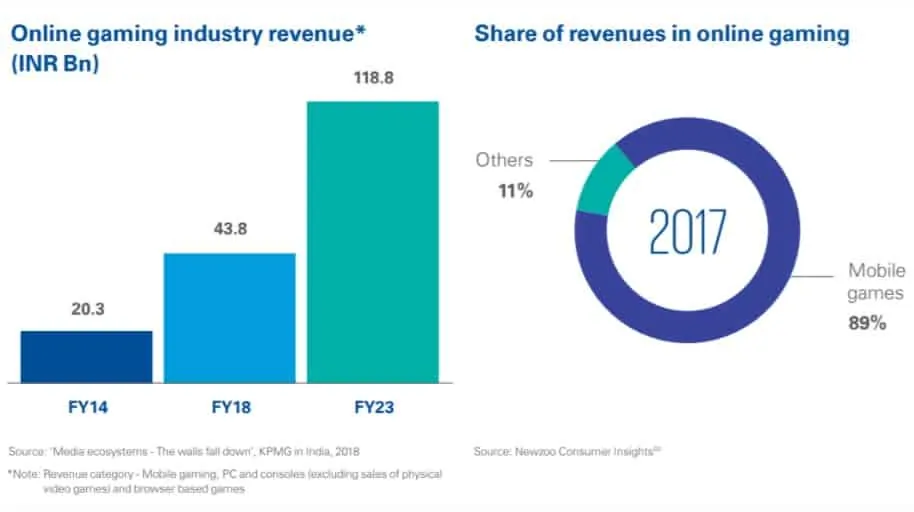 KPMG: Figures are a depiction of the online gaming revenue and the leading share of mobile games.
There are three distinct segments of the online (mobile) gaming sector:
RMG (card games lead the way with Rummy, Poker, Andar Bahar and Teen Patti; followed by daily fantasy and quizzes);
the so-called Mobile-Centric or Casual games (e.g. Candy Crush);
and e-Sports (e.g. FIFA, Counter-Strike).
Conquering the payment barrier in mobile apps
It is no secret that payments and transactions have historically been problematic in India. Nowadays, however, the "growing legions" of mobile device users are exploiting the opportunities presented by payment apps, conducting merchant and person-to-person transactions. Mobile payment services are more than ever central to daily interactions, accumulating digital data and offering flexible opportunities for a multitude of financial services (loans, insurance, etc).
S&P Global Market Intelligence's "2019 Indian Mobile Payments Market Report" shows mobile payments growing to more than 4.5% of India's GDP in Q3 of 2018 from almost non-existent levels merely two years ago. Mobile wallet transactions and interbank payment networks in January 2019 were on course for more than $200 billion in annualized payment value.
The above surveys emphasise that more than 75% of mobile payments were personal money transfers. Nevertheless, mobile payments have set foot as a principal alternative to online card payments. A 2021 report estimates that digital payments will amount to 71.7% of all transactions in India by 2025.
Most mobile transactions in India use the Unified Payments Interface (UPI) System. UPI is supported as an integrated feature in mobile banking apps but has also been opened to nonbanks – e.g. tech companies such as Google and PhonePe – that build consumer apps with payment features. Currently, GooglePay is the leading non-card payment provider, followed by Paytm and PhonePe.
Ultimately, at the intersection of stable mobile growth, substantial game diversification and many more payment options, the industry should be able to measure and rank profitability as well.
Yet again, traditional Indian games (and their many versions) have been yielding more profit. The average desi gamer and gambler has shown a growing interest in many Western games, as well. Nevertheless, games like Teen Patti, Rummy, Andar Bahar and Poker have been the top-performers economically.
The Mobile Premier League communications director, Dibyajyoti Mainak, recently expressed his view on what makes a game popular, besides quality: "For a really good game, ease of understanding has to be low, so that as many people can play it as possible". The good old Indian favourites Teen Patti, Rummy and Andar Bahar definitely fit the description.
Rummy sites also attract millions of Indian players where they can choose whether to play for free or for real cash. Poker platforms are strong and highly profitable. But the absolute leader has been Teen Patti and its numerous apps, versions and platforms.
The future of native local games looks bright. There are more than 400 gaming startups in India at present. They employ local citizens and add value to their locations. More importantly, however, they develop localised and targeted content, they know their market, their friends and customers and their preferences. A multitude of games and apps are being developed strictly for Indian players, feeding further growth and catering to the sustained demand.
What Works in Favour of Online Gaming Operators
As in many cases, one of the important barriers to healthy product development is the ability to monetize. Having moved past that (as noted above), global tech giants can help smaller players speed up game development, integration and customer acquisition at all levels.
The same tech giants control the above mobile payments for the most part. Their business interests encompass diverse financial services, along with e-commerce and online advertising. Payments are currently processed through platforms owned and supported by Alibaba (Paytm), Walmart (PhonePe) and Alphabet (Google Pay). The latter already exceeds $100 billion in aggregate annualized transaction value.
Payment providers also feature Amazon (pouring $230 mln into Amazon Pay India) and WhatsApp Pay (finally launched in January 2021), along with many already established e-wallets which are, however, less integrated into a number of games, operating on a different logical plane.
Large payment companies have gained the necessary traction and attracted millions of new and returning consumers. The apps they support are feature-rich and integrated transactions include cashback rewards and discounts. Once an entertainment app has the customer's agreement to process payments, users rarely skip the opportunity to expand this facility to travel booking or food delivery, to name some.
Game monetisation itself is promoted through in-app purchases, subscription services, pay-per-download options and many other direct gamer actions. Moveover, the in-app ads and incentives create a rich ecosystem which is actually dominated by advertisers and game publishers.
Something else becomes immediately obvious. While big players are facilitators, they often care less about local games development. This restrains certain potential but has been noted by most stakeholders. Recently, "end to end local game development" has been promoted, both top-down and bottom-up, adopting said digital payment solutions and enriching the market offer.
Also inevitably, the big tech players would help emerging technologies to become a commercial reality in India, assist with technological convergence and enable enhanced gaming experience. Translated for localised content, this could simply mean integrating AR and VR in favourite games such as Teen Patti and Poker.
Another positive aspect to gain from the flexibility of technological solutions used in the gaming sector is the relatively easy transition between subjects of betting and gaming platforms – for users, developers and any other staff or services. Many gaming companies and online platforms experienced a 3-to-5 times increase in traffic and users during lockdown in the spring of 2020. But they were able to redirect service and staff flawlessly in almost all cases. On the other hand, no real-world sporting events reduced greatly related activities and revenues but many users who used to bet on sports simply turned to casino games and e-sports as substitutes. We need to keep this in mind when cross-exploiting TP, AB and Rummy players and forwarding them towards "Western" casino games.
During lockdown as a response to COVID-19, particularly, games like Teen Patty, Rummy and Online Poker experienced exponential growth in users and session volumes. According to a Deloitte report, those are the games which had been growing "aggressively" for the past four years anyway. But the global pandemic gave them simply a further push in the right direction. We receive constant first-hand confirmation through our traffic and acquisition data at Guide2Gambling.in and SevenJackpots.com – both our sites experienced a 30% rise in traffic and nearly 25% in acquisition.
Back in February, India's richest man Mukesh Ambani (majority shareholder of Reliance Industries) expressed his belief in a talk with Satya Nadella (Microsoft CEO) that gaming will be "the next big industry in India", affirming that gaming will be "bigger than music, movies and TV shows put together."
Apparently such growth will continue for the foreseeable future. Investment in the gaming industry has seen a rise of more than 1500% in two years. Venture Intelligence (a company analysing VC/PE investments) revealed $116 mln in private investments in 2018 in gaming start-ups as compared to just $7 mln of PE and VC funds that went into the sector in 2016.
Investor interest did not decline amidst Covid concerns, much on the contrary. Between August 2020 and January 2021 the Indian gaming sector attracted an estimated USD 544 million, and is expected to double that over the next year.
The transition from Chinese to Indian Apps
In late June 2020 India banned 59 Chinese mobile applications, including top social media platforms such as TikTok, WeChat, Alibaba's UC Browser and several hit games. With about 300 mln unique Indian users directly affected, this is seen as a unique opportunity for Indian development companies to fill the void with their own apps and services.
Several hackathons were immediately launched, some even by the Prime Minister Narendra Modi. Such events and forums are. Original desi games and dedicated online content are more than welcome by the users, and are expected to boost local growth in mobile gaming opportunities. Considering that between 2014 and 2020 the Indian iGaming industry had already exceeded $350 million in investments from global companies, the forecast remained more than optimistic. Mid-2021 reports confirm investor faith, as cited above.
What Online Gaming Operators Still Need to Do
Indian players and foreign casino and i-gaming operators still have some distance to cover between themselves. It is the latter rather than the former who need to learn, adapt and grow.
Indian card games will remain the most popular games in the country. They have always been loved and will continue to support a wider product offering; it is hard and unwise to exclude them, especially considering the continuous increase in the number of people who place Teen Patti and Rummy among leaders in the segment.
A proper casino offer needs a version with a live dealer for favourite games such as TP, AB, Blackjack, Roulette, 3-card Poker, Baccarat, etc. A respectable online casino also needs multiple language support to make players feel at ease with their native language, at least covering the top 3-5 Indian vernaculars.
A detailed analysis of the typical Indian product split produces meaningful feedback which cannot be ignored. It should influence foreign gaming platforms in both their monetization and reward systems. Bottom-up examinations of existing operators frequently bring up questions we have been asking ourselves.
A prominent example: Why do many brands exclude in their T&C's traditional games such as Teen Patti and Andar Bahar from the 100% wagering contribution? Especially keeping in mind that they are way more relevant to the market than the automatically promoted Western Slots.
We already explored this aspect, being distinctly aware that existing commercial agreements with gaming content providers drive the policy of most European operators. What we can safely say is that setting up an attractive offer for local gaming content will also help sell established global content such as slots and other traditional online casino products.
Markets According to Payment Types
Cash market
Present nationally, it is evident in Goa by being accessible offline and largely legal. There is, however, an even bigger hawala market with strong ties to  product segments.
Its old-fashioned users cannot or do not want to use e-money to play online or app-based games. With a much longer "ladder of integration", conversion opportunities for online casino operators are marginal. Still, there are some high-rollers in this segment, well-to-do Indians who rarely access technological and innovative services.
At ENV Media we are seeing some Player Values exceed €450 at several brands. The challenge for industry operators would be to tap into this high-roller segment. An emblematic trait of the Indian gaming scene, it is potentially immensely profitable. Geo-targeting and informational keyword positioning could go a long way to reaching out to these underexploited consumer segments.
Credit market
Essentially card and e-wallet payments in one form or another. Mainly driven forward by the more educated middle class. The latter is traditionally interested in dynamic technological and entertainment proposals, including gaming. Even with less disposable income, they are open to exploring what the i-Gaming world has to offer.
What Have We Learned So Far?
We need to zoom back to what matters most (and overall) to online casino operators and all their partnering stakeholders.
According to Visa and Mastercard reports back in 2014, there were respectively 1898 and 1813 websites for casino games (including poker, bingo and sports) which would take money from India. Such a rich offer (although we can probably doubt the quality of the majority) is met with a complex demand-side and a multitude of player profiles.
It is essential for all verticals – especially affiliates – to know certain cultural, territorial and economic specifics on national and regional level. Even then, there are some paradoxical situations: Punjab has one of the highest incomes per capita but government finances are low (due to a disastrous 'Free Power to Farmers' policy'). Hence, infrastructural developments impede proper casino development (although allowed and existing), while locals travel to established casino destinations or look for traditional Western casino games online (e.g. Slots).
On the other hand, Delta Corp's two biggest offshore casinos along the coasts of Goa (Deltin Jaqk and Deltin Royale) dedicate tables and special rooms to Teen Patti, a.k.a. Indian Flush. They pay special attention to local player preferences and profiles, both with their physical establishments and their online platforms (Adda52's Poker and Rummy, i.e.). Their co-founder and CEO, Mohit Agarwal, said in an interview:: "Within the Real-Money Genre, there are four verticals – Rummy is the largest, then comes Poker, daily Fantasy and Quizzing". Nevertheless, since Teen Patti is considered the popular poker variant, it is extremely well-funded and developed in the market.
The Mobile Marketing Association's "Power of Mobile Gaming in India" Report has revealed that 75% of Indian gamers play mobile games at least twice a day. The MMA affirms that even "the action has shifted to mobile". The average daily time spent by Indians on mobile games has crossed the one-hour mark, which is more than the 45 minutes they spend on streaming platforms (e.g. Netflix).
Most importantly, we need to reiterate certain concepts based on our primary data and confirmed by publicly available secondary market data sources:
Teen Patti, Andar Bahar and Rummy players (mostly) know how to play online, use Apps and virtual gaming platforms;
With Western casino games online that is not necessarily the case (we see more instructional keyword searches: see below)
Foreign online casino stakeholders need to appreciate the importance of acquiring customers based on their traditional gaming needs and retaining them to cross-sell over to Western casino games which are more familiar to our vertical clients.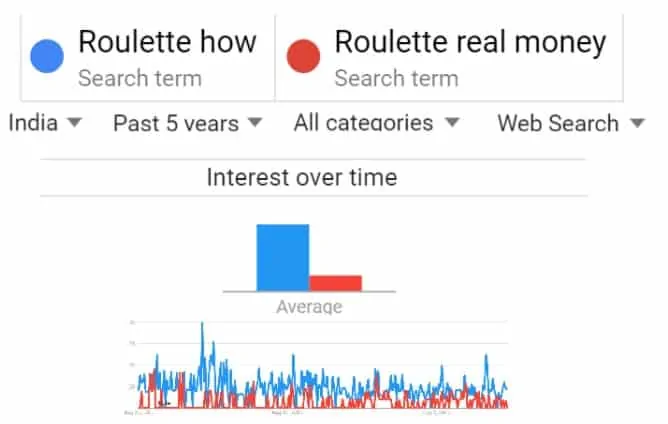 5 years search trend google.co.in; transactional vs. information keywords
How can online casino operators use these findings to their advantage?
Some of the first conclusions that can be made are that the average Indian player is "educated" enough as to their gaming needs; meaning how to play Andar Bahar & Teen Patti. While they may be lacking some information as to the how and where, or certain transactional awareness (which is the opportunity to be seized and exploited by SEM staff).
While, if we focus only on data available today, it further reinforces the conviction on how important localization is to tap into existing markets, without the need to train your customers from "Stage 1". Additionally, app-based games who are not intended primarily for paid downloads – even if they offer in-app purchases and upgrades – are extremely close to the understanding of potential monetization and are used by players who are familiar with mobile gaming and, most likely, its integration with payment options. Such users search for "Apps" related to their games (see above), followed by some real money searches directly related to online casino interests. These kinds of players already know how to make transactions to online casinos, meaning the online casino has the correct payment gateway.
In fact, in-depth keyword searches presented below lead us to the understanding that App players should be considered very valuable exactly because of this awareness and "readiness" in terms of platform integration and making payments. Their "desire" for gaming and gambling is in turn matched and surpassed by the availability of online cash games and gambling options. These players are more easily converted into roulette, blackjack or slot machine players.
The KPMG report we quoted above has a specific chapter on "Content customization for the Indian taste: the Local Brand". Online gaming has been redefined by the digitization of traditional Indian games. This is something which is explored intensively by Indian game developers, with mobile games being built in local languages (and themes). And despite the increased traction for international, Indian loyalty stays with the local content. Even international streaming platforms acquire a solid basis of local content to establish relevance to the Indian market.
What was KPMG's conclusion in 2017 remains valid today: "Acknowledging the Indian preferences, local developers and publishers are creating a niche by virtue of unique locally themed offerings. Online introduction of popular traditional games like 'Teen Patti' and 'Rummy' connects the common man to traditional social behaviour and habits.
Going forward, experts predict an even closed integration between engaged gamers, enthusiastic designers and investments which empower developers and marketers to make Indian games a local and global success.
The ecosystem will naturally support catered game guides and videos showing how to play, rules and strategies. But what we have already seen today is a significant increase in searches for transactional keywords such as Andar Bahar Real Money and Teen Patti Casino on Google, as well as support related questions.
Undoubtedly, demand and awareness around these local games are steady and growing. Last but not least, we have seen higher volumes around special events and popular Indian celebrations such as Diwali, Eid and Holi. Moreover, there are increasing options to access the games in regional languages such as Bangla, Telugu, Gujrati, and many others. Content customization is expected to continue playing a vital role with the inclusion of Bollywood movies and other local franchises.
The Bottom Line
At ENV Media we have come to believe that covering the most important bases of an online casino (such as slots, poker, and blackjack) is no longer enough for many foreign markets. Especially when we are considering profound cultural factors ruling socio-economic life in countries like India.
Andar Bahar, Teen Patti and Rummy are the anchors of casual Indian entertainment. They have been around for centuries and are incredibly popular. Such traditional card games have heavily influenced the local mobile gaming industry and social networks, with their demand and acceptance not likely to decrease. There are certain Western games with an Indian touch which are quite well accepted. But Indians love desi games first and foremost. These are "family" games that can be played and enjoyed with people of all age groups and players think little whether to engage in paid sessions if they like the game.
An online casino games operator cannot ignore or underrepresent some of the top 10 grossing games in India. Teen Patti, Rummy and Andar Bahar are truly a golden cash cow when it comes to running a quality service dedicated to the Indian online gaming market. Catering to those will allow online casino operators to exploit better their existing offer and extend their customer base considerably.