The current research aims to establish which devices are more frequently used among online gamblers in India. Findings will be analyzed in light of wider social and economic determinants leading to the current market state.
Segmentation by Operating System (OS), on the one hand, and brand, more precisely, will reveal both State and Urban areas, which contribute to significant current trends about user involvement, consumer traits, and behavior.
In light of the above research goals, the present paper will present a brief yet exhaustive PEST analysis (Political-Economic-Social-Technological) of the business ecosystem and retail consumption dynamics, which have led to the current state of India's online gambling market.
Ultimately, we will need to establish the importance of such knowledge – to offshore and local RMG operators, foreign and Indian content and platform developers, and other industry stakeholders who might find practical use of these objective conclusions.
Device Use: Frequency, Consistency, Origins
A cornerstone of our applied research is the methodology that will allow us to resolve all reported indicators favoring certain logical trends in the sector.
We will start by investigating a series of primary datasets – proprietary information and analytic feedback from ENV properties, particularly from leading Indian affiliate SevenJackpots.com. We will then compare data outcomes to secondary research data and public industry reports to verify the validity of our conclusions.
Big data facilitates such analysis – device use is revealed by brand and OS; user experience (UX) is given away by session length, pages, and CTA actions; user acquisition is viewed through the prism of ultimate conversion indicators and player value.
A broadly anticipated fact – in the gaming industry but not only – is that Android devices have a (much) larger share at this point. This is valid for India as a mobile-first and a price-conscious nation as much as for many other countries worldwide, besides the US. We need to explore and understand why Android has such a dominant share across India and which device characteristics it exploits best.
Proprietary SevenJackpots Data Breakdown
Below, we provide some primary data series and rankings as extracted by SevenJackpots site reports and analytics. The generated survey data does not have any particular sensitive consumer information included and focuses on device, geographic, acquisition and UX indicators to outline the relevant standout trends.
The accumulated data includes visits and conversions from 78 thousand users between 1 January and 30 April 2021. An overview of overall user acquisition via organic search shows the following gross device partition:

Source: SevenJackpots.com
While the above numbers are largely expected, desktop consistency is somewhat surprising. Further in-depth consideration of the importance of Tier-1 urban agglomerations and their player extraction characteristics is needed to confirm the origin of the above desktop share. Still, handheld devices approach a 90% share which is in line with global and regional consumption tendencies – both in iGaming and beyond.
Indicative Trends by State/Territory
We have extracted and verified more than 500 single "intersection" indicators between State/Territory and specific devices used. These include customer acquisition indicators such as new and existing visitors, sessions and pages per session, average session duration, and bounce rates. Conversion rates are based on Call-to-Action (CTA) clicks, completions, and subsequent user value generated (calculations based on affiliate schemes, in Euro).
For a clearer understanding of these factors, we present most indicators as a percentage share of the overall events and values. Considering the significant amount of total organic user visits, we can have a well-grounded claim to their validity over the indicated period in 2021.
Below is a chart representing the first 30 combinations of a State/Territory origin when matched to a specific device. Overall rankings are based on the share of user visits as a percentage of overall player acquisition. (The cutoff criterion is below 1% of user share.)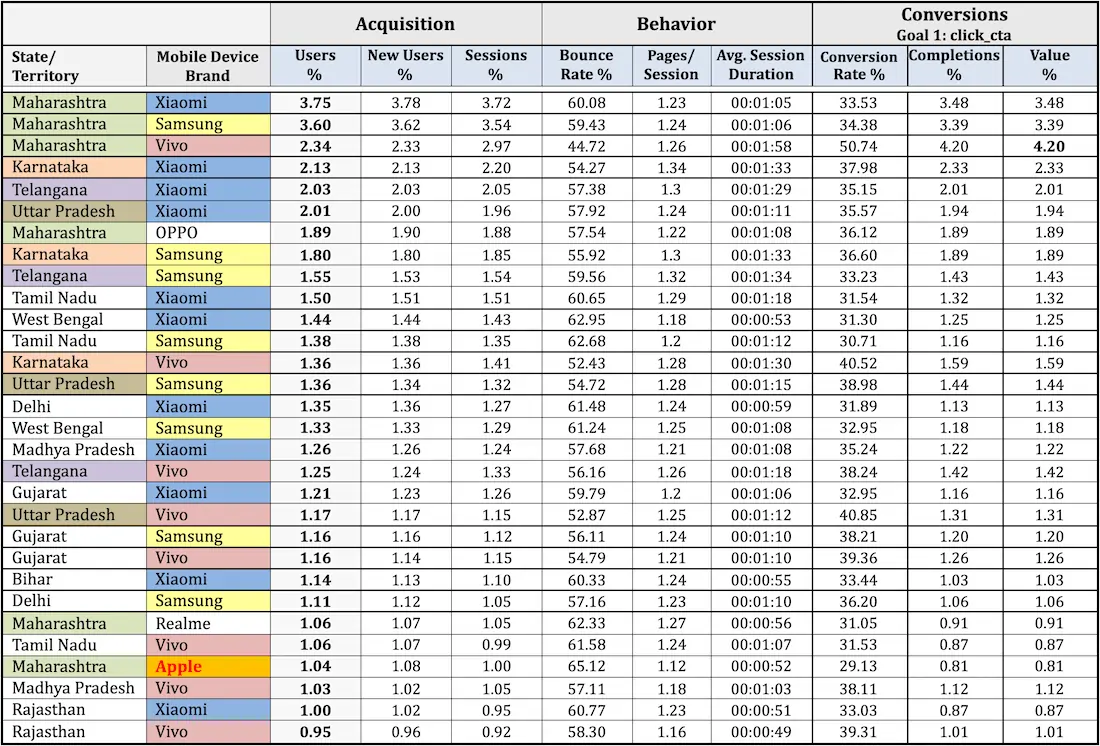 We see that Chinese-origin devices and brands dominate the scene, with Samsung holding an important market share as well. Apple appears beyond the 20th position for the first time, with total shares presented further down.
The aggregate amounts of territorial and device usage statistics lead to another important consideration. We had already published an in-depth research piece on the importance of (disposable) income, internet penetration, payment providers, media exposure, and overall development indicators (e.g., HDI).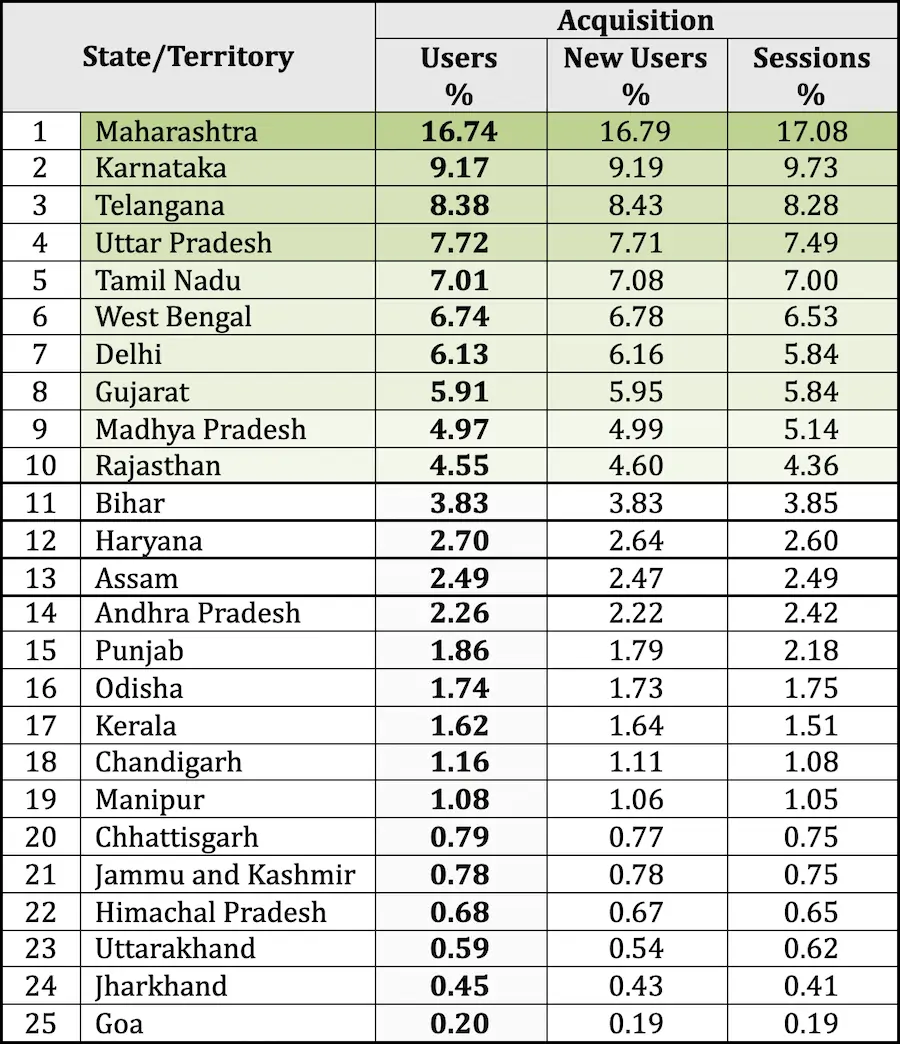 While some of last year's rankings are slightly updated, the top 10 states are the same, with overwhelming leadership across the board by Maharashtra users. Acquisition volumes and player value confirm the importance of this state, with Tier-1 cities Mumbai and Pune pushing up its importance in the Indian online gambling scene. Bengaluru, Hyderabad, and Chennai – with various degrees of high-tech development, infrastructure, and manufacturing capacities – also confirm their weight in shaping the market.
Famous land- and sea-based casino and lottery havens like Sikkim, Daman and Diu probably merit a side note. Not only are there only occasional visits coming from these territories, but over the several months of analysis, they amount to between 0.00 and 0.01% of all users.
The above rankings and organic acquisition volumes have a multifaceted significance in regional traction and user profile traits. This is where ENV.Media experts would need to verify determining factors by tapping into secondary research sources and public datasets.
Which Mobile Devices Stand Out
The first solid conclusion we have to find substantial outside backing is presented in the last chart based on ENV proprietary data. The total organic acquisition shares by device brand are presented below.

Xiaomi leads ahead of Samsung, with Vivo a little further behind. Oppo and Realme gravitate around the 10% market share, still a solid performance. OnePlus confirms its status – sought, most likely – as a premium smartphone brand, rivaling Apple in the segment.
The top 5 (or 6, if we look at player value shares) all use Android as an OS, with or without full Google services compatibility. Despite being well behind the top seven, the global smartphone leader Huawei provides 2.14% of all organically acquired users. Evidently, political and trade-war considerations have had their effect on its performance in India.
These six (out of the leading seven) combined account for 89% of all brands used. As we will see, Apple has a somewhat larger share when compared to its overall sales. Despite not being a considerable difference, we need to justify the discrepancy.
* The bounce rate per device is not weighted. It represents a median value across all model/state origin combinations instead of a weighted average. 
Verification of Established Trends
As per Statista data, in June of 2021, the mobile OS landscape in India is dominated by Android. By the end of 2020, it had held a 95.23 percent share of all smartphone OS. The iOS was a distant second with 3.2 percent, even after a recent resurgence in its sales performance. More notably, Android had gone from just above 10 percent in 2012 to above 60 percent within a mere four years.
N.B.: Statcounter published somewhat different numbers, with 95.7% for Android and 3.02% for iOS in May 2021; These differences are within the margin of a slight statistical error and do not alter the main picture.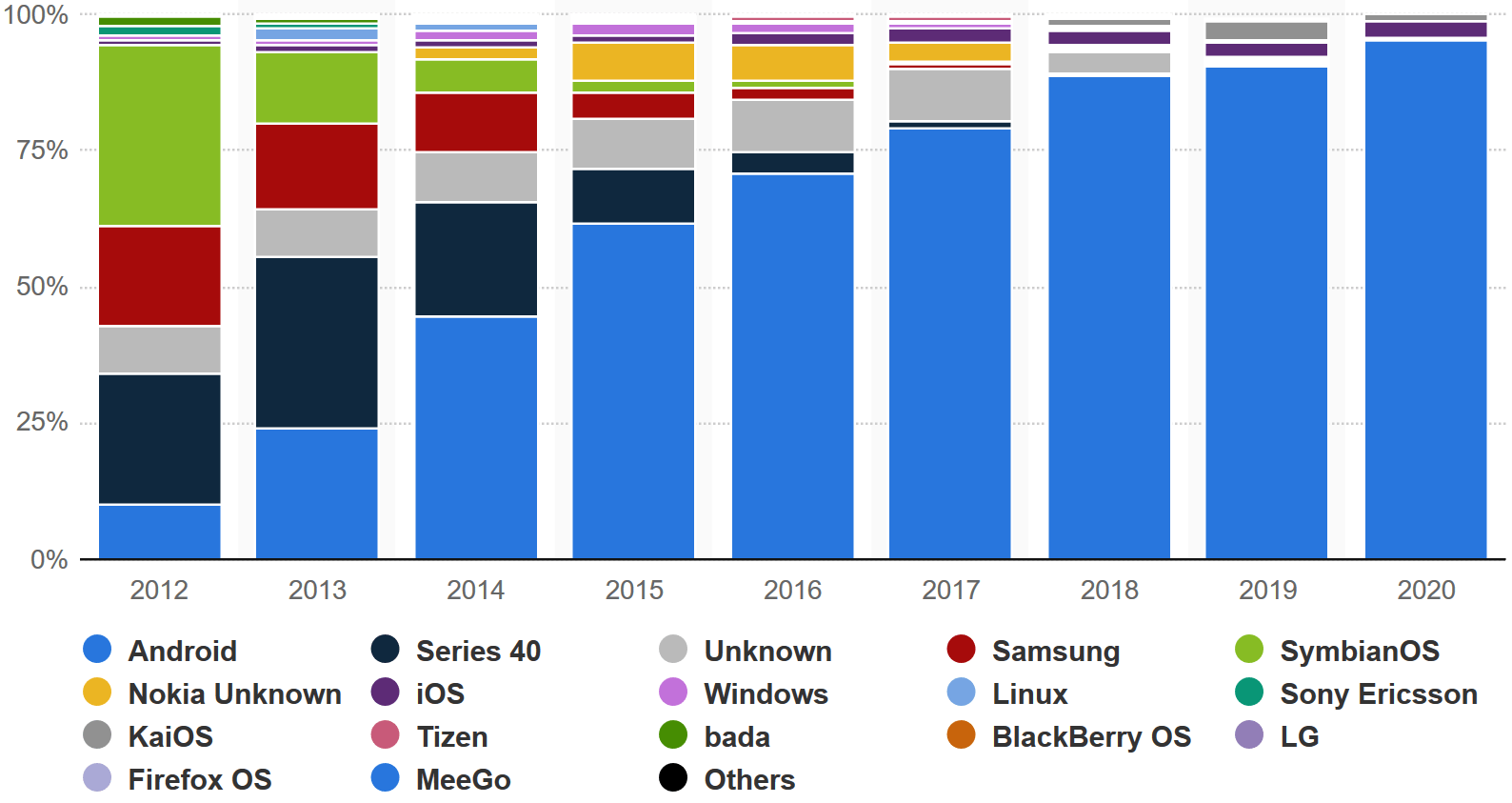 Just one year ago, Android held "only" 90.6 percent, while iOS was at 2.8 %.
The missing shares are not attributed to old-fashioned OSs like Symbian, Samsung, or various Nokia platforms. First in the "others" list is the so-called KaiOS – with 1.1 % in 2020 but reportedly as high as 3.7 % in 2019. We will justify its surge in fringe popularity below.
Android established its dominance in India ever since 2014, when it grabbed roughly 45 percent of the market. Historically, in 2012 Symbian held almost half the market but today, all other OS amount to a fraction of a percent.
Compared to global averages – where Android commands upwards of 80% of the OS markets – India concedes an even greater importance to this mobile OS. Worldwide, Apple holds the remaining 20%, with other custom systems and peripheral players not really visible on a global scale. The only major exception is the United States. Besides some consistent market shares in China and Europe, the American OS market is singular, with its 46% being serviced by iOS in late 2020.
In India, Apple has been hovering around the 3 percent margin for the past few years (see more details below).
More importantly, these developments have turned former digital giants like Blackberry, Sony, Nokia, and HTC into secondary players in the best of cases. Practically unknown until the mid-2010s, tech companies like Huawei, Vivo, Oneplus, OPPO, and Xiaomi displaced the former market leaders. They were joined by the re-emerging Lenovo, LG, and Motorola, frequently under new (Chinese) ownership. They all bet on Android and created a hugely competitive market in the space of several years of astounding growth.
In this sense, India is not an exception but an even stronger support case for their popularity. The ascent of affordable mobiles was further boosted by some of the cheapest data packages on the planet, extending the possibility of owning a smartphone and exploiting the internet for hundreds of millions of previously excluded desi consumers.
A growing middle class with a higher disposable income, a gradually decreasing poverty, and the tech-savvy youth of Bharat contributed further to the mass adoption of mobile devices.
The Covid-19 pandemic was an unexpected event for all. Yet, it turned into a factor that pushed most digital trends in the same direction they had already taken.
Reportedly, around half of all smartphone users in India play mobile games at this point. Over the course of a difficult year for humanity, many consumers found solace and entertainment outlets in mobile games, spending more than an hour with them, on average.
Out of the total Indian 760 million internet users (as per government statistics), the estimated 365 million online players get in touch with their games via mobile phones. Amply vindicating the title of the second-largest mobile gaming market, India has outpaced early predictions of growth in gamer communities by a year (source: Kantar/MMA report from mid-2018).
Despite and because of such acceleration – induced by a series of national and global lockdowns – most of the preliminary conclusions still stand valid. Android mobile phones are the primary medium for gaming, both online and offline (via Apps).
Nowadays, the former family primetime hours are often dedicated to gaming, and this kind of fragmented, customizable, and largely free gaming experience is the new preferred pastime for many Indians.
One final glance towards Android's dominance: Google's OS success is illustrated by Samsung's decision to switch its devices to Android, starting with some early Galaxy models. As a result – and still positioning itself as an upper-middle or even premium phone maker – the Korean manufacturer managed to post some consistently good results in India (between 18 and 23%), briefly holding the top-ranking position among all mobile phone suppliers to the Union.
We can also provide data on the market split among all Android versions used across India:

As we can see, Android 10 is keeping phones running at a decent level of upgrades. But the table also shows that nearly 50% of all users have Android 9 and below installed on their phones. This affects UX, but more importantly, shows that many players would find it difficult to fully enjoy a feature-loaded or a generally heavy app or gambling platform.
Reasons for the Current Status Quo: Technological, Industrial, Economic and (Even) Political
The rationale behind the current OS landscape in India is multifaceted. Attempts to shake up the market trends have been made even as recently as 2017. The KaiOS story, brief yet relatively successful, is grounded in hardware production initiatives such as Reliance Jio's phone series.
This kind of device, although claiming a larger share in 2019 than iPhones, is designed for HTML-based apps. The purpose is to provide an alternative to UI and UX, going easy on battery life and memory. While it is highly unlikely that KaiOS might see a sustained resurgence in total share, it is a singular sight for any global market that it managed to bring down Apple's OS from the second position, albeit briefly in 2018/2019.
We are also unlikely to see a huge share of such phones destined for gambling and gaming consumers. In theory, many iGaming applications could be accessed through HTML5. The capacity to sustain (even if not increase) a certain market share for browser-based games and simple gambling apps is demonstrable, and the reason is above all in the numerous partnerships that the Hong Kong-based developers have struck with Asian producers across Asia.
However, the overall factors – already analyzed – point out that the lack of popularity among well-developed urban classes and other user groups with sufficient disposable income is unlikely to see such hybrid players stand out in the online gambling market.
In terms of hardware production, India boasts its own manufacturing facilities. The largest complex is the planned-development area Noida (Uttar Pradesh), just outside the National Capital Territory of Delhi (NCTD). Substantial production facilities are servicing Xiaomi, Oppo, Realme, Oneplus, and Vivo in that same area, while Chinese companies also have their factories in Tamil Nadu and Andhra Pradesh. 
Samsung also has considerable manufacturing capacity in Noida. Only recently, Apple opened up its plant facilities in Tamil Nadu and Karnataka. The US tech giant did it mostly to satisfy the requirement for establishing a physical store in India instead of relying on third-party locations. There is an undeniable effort on Apple's behalf to attempt a sustained increase in its presence in Bharat.
A series of political, trade (and even military) clashes with China has not yet led to a noticeable economic impact on hardware manufacturing, deemed beneficial for both parties. Certain software bans on leading Chinese apps and providers – including notable games – have been more effective in limiting the impact of India's northern neighbor on the entertainment, eCommerce, and even fintech scene. But there have been no major effects extended to device producers, and many Indian tech companies are still owned or backed by Chinese investors.
The Jio branded phones show a different approach to growing local manufacturing. Initially, through collaborations with other domestic producers, Reliance Industries has later commercialized its own devices. With some obvious limitations to contemporary versions of physical keyboard-based phones (and the above considerations on alternative OS), they have the potential to sustain a limited market share. Jio, on the other hand, remains the country's largest telecommunications and tech service provider.
Ultimately, the most significant initiative in the sector has been "Make in India," promoted by the Government. The authorities have introduced the scheme as an ambitious attempt to transform the country into a leading export manufacturer, despite currently lacking much of the proprietary know-how and innovation capacity for certain key electronics production segments.
Yet, concrete financial incentives have already stimulated local and foreign companies to transfer manufacturing capacities, open up factories, and increase human employment schemes. Even Apple's leading contractors (Foxconn, Pegatron, and Wistron) have invested almost a billion USD in India, largely due to these production incentives.
Nevertheless, with or without government incentives, the hardware manufacturing momentum has largely upheld the dominant position of Chinese mobile device vendors that we saw reflected in ENV Media proprietary analytical data.
Cultural References – Trend Setters and Influencers add to Dynamics
Among additional factors, we have to consider country specifics related to India's consumer culture and consumption patterns. An evident trait, in this respect, is identified in the tendency of desi consumers to inform themselves and learn just about anything online – from tech trends to stock markets, from entertainment scoop to product reviews.
Despite its late start in the Subcontinent (regular uploads took up after 2016), YouTube reigns among online information mediums with close to half a billion monthly users. The most influential channel has over 154 million subscribers, and it handles OTT and entertainment, while overall, there are almost 2 thousand channels with over 1 million subscribers.
WhatsApp also reportedly has over 400 million users, and its channel feature is heavily exploited. Its parent company, Facebook, confirms the status of a global leader with a heavy Indian presence, including 140 mln users on its Instagram subsidiary. The latter is the only number that equals the US market; all others are amply above and place India at the top of all FB markets.
The market is thriving and far from being static, as privacy policy updates and other regulations occasionally push desi consumers to explore additional options like Telegram or Signal. Yet, with extended small-business integration and even a WhatsApp Pay feature, the market leaders resist in their dominance.
Consequently, the opportunities for exploiting influencer markets are boundless. Young men and women in India nurture their aspirations via social media channels, as these provide opportunities for profile growth and substantial income. Some pitch their own tech products and software (mobile) apps; others use social media for advertising and selling various homemade products.
And then there are those who review, narrate, explain and express concepts and applied ideas. These are the more frequent cases of classic "influencers" and professional social media users. This is also exactly where the snowball starts rolling in favor of existing current leaders in mobile technology, as thousands of influencers are pressed by public interest to review and comment on features, technology, and device usage. Largely a top-down sustained demand; therefore, it is not foreseen to change in the short run unless additional political, trade or regulatory constraints are introduced on the scene.
Reading into Demographic Factors
We have already remarked on the importance of affordable smartphones and cheap internet packages. India's 760 million internet users are accounted for in detail by government regulatory agencies. Internet Service Providers (ISP) report 742.19 million wireless (mobile) device users and 22.26 million wireline internet consumers.
The urban-rural user ratio is reported as 55-45. While rural internet users are still behind in total numbers, it is the closing of this particular gap in the past 3-4 years that has been the root of a phenomenal rise in mobile device adoption and online entertainment popularity – despite and beyond any other socio-economic considerations.
As mentioned above, Reliance Jio Infocomm Ltd remains the dominant telecommunications provider in India. It had 417.42 million subscribers in May of 2021, with Bharti Airtel placed second (188.21 mln), followed by Vodafone Idea (123.28 mln) and BSNL (25.42 mln). Ultimately, Jio services more than half of India's total online user market share.
The pandemic-stricken 2020 also pushed India to the top of global mobile game download rankings. There have been an estimated 7.3 billion game installs, a 17% market share in total volume worldwide. The gaming user base we cited above – 365 million in March 2020 – has been verified in KPMG's 2020 Media and Entertainment report (M&E). Both Google Play and Apple's App Store reported an average of 50% increases. As per a Nielsen survey, Indians spend an average of 218 minutes playing mobile games every week, while they did for around 151 minutes before the start of lockdowns.
Involving Middle-Aged Groups
Another important stage of India's digital transformation is tied namely to its expanding demographic markets. While the younger, more active online communities provide traction and visibility for multiplayer action and adventure games, it turns out that middle-aged groups and the largely underestimated female gamers have already changed the discourse.
The high degree of flexibility about genres, the desire to experiment and download various mobile games is at the core of the expanding scope of desi gaming habits. The above-mentioned 2018 Kantar/MMA report explained some of these preferences with the following distribution: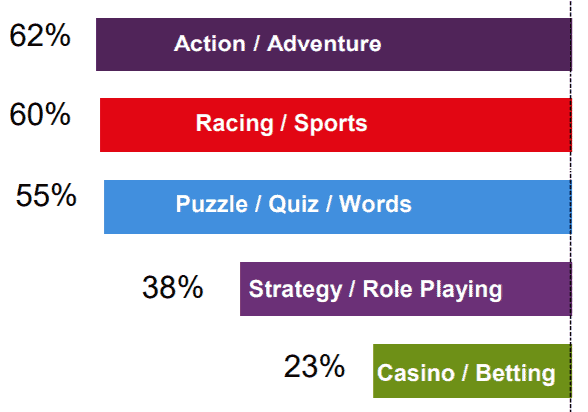 Leaving aside considerations about different monetization models and the wider definition of Real Money Gaming (RMG), we can estimate that out of the 365 million reported online and mobile players, 23% leaves roughly 84 million online gamblers and betters. This figure does not entirely cover the RMG players' pool, as we need to consider that RMG and many cross-over genres go well beyond the casino and betting scene.
While statistics may change in a more or less dynamic manner, mentality and culture take more time to shape or alter. Therefore we might still consider valid the estimates in the above report that place – somewhat surprisingly – female players at 26 percent of the casino and betting scene. At the same time, males account for around 21%.
Despite not having the ability to verify these survey results further, via primary research – for obvious privacy motives – they are substantiated by the propensity of female players, even younger than 25, according to India's Mobile Marketing Association, to seek mental stimulation with card games, including purely casino-classified sub-genres. Since this is especially relevant for online casino operators and gambling platform developers, such insights need to be taken into further consideration by the latter.
We find more confirmation in industry publications and media reports about the most active age across all player groups, between 25 and 34 years.
We will remind briefly of the previously established profile of India's mobile gamers as men between 25 and 44, constituting around 47 percent of the nation's players. However, given the rising share of female mobile gamers – even up to and over 45 years, especially after the series of lockdowns – we should redefine India's largest gaming and gambling audience as being between 25 and 45 years and being gender-neutral.
In addition to these reports, we have the gaming survey by InMobi Pulse India (conducted in 2021), claiming that 60% of mobile users between 45 and 54 years of age also play games. In its estimates, women constitute a total of 43% of the mobile gaming audience. More impressively, only 12% of all female players are between 25 and 44, while 28% are over 45 years.
The survey analyses the fact that gaming is competing with all entertainment genres for user attention. With streaming (and OTT), social networks, and short video clips, it is actually at the foothill of most top rankings in M&E.
Almost half of responding gamers play in 10-minute sessions between daily chores or when taking breaks. Committed gamers play more time per single session, even up to an hour per single sitting. More than half of all players download a new game every week and keep several gaming apps on their phones. Important gambling staples like card games remain at the foundation of such behavior, along with board and puzzle games.
Once again, considering these trends and factors in their entirety means a greater understanding of user preferences directly related to mobile device choices, UI and UX perceptions.
The reason for half of all desi mobile users to turn to gaming and gambling on their smartphones is justified in another business analysis by KPMG in early 2021. Consumers rediscovered online gaming as part of accessible entertainment precisely during Covid lockdowns. Play times also increased due to better internet penetration and hybrid content delivery (streaming, AR/VR).
Crucially for the RMG segment, KPMG predicts that it will grow by 40% until at least the end of 2022. Growing support for traditional games like rummy and poker is based on cultural preferences and the hope that they will be recognized as skill games, therefore ultimately legalized and/or regulated. We are reminded that Teen Patti is also known as "Indian poker" and that it is part of such regulation lobbying efforts.
The big difference with recent management choices is that revenue models tend to move away from classic download-volume-based schemes (and related advertising or product placement) and will rather establish various diversified revenue streams – built on UX levels and player engagement. The latter monetization efforts are already widespread, with in-game revenues, virtual coin/token packs, and subscriptions a commonplace practice.
Drawing the Line: an Overview of Android's Dominant Market Share in India
Based on the above data and presented factual trend, the reasons for the popularity of Android-based Chinese-brand mobile phones is justified among India's online gambling community:
they are

cheaper

, easily found, and with attractive prices for the "

domestic

" desi market;

the

OS is open

; Indian tech companies and web developers are comfortable working with Android;

as above: mobile hardware is

manufactured locally

, even if with Chinese ownership and licensing. Industrial concentration allows for further economies of scale;

social media

influencers

and

tech reviews

target primarily Android devices that are familiar and in demand across India – instructional videos, customizations, app reviews (launchers, overclocking, etc.) Young Indians are tech-savvy and want to have a say in their device operation.
As for the last aspect, there are plenty of short videos reviewing "gamer phones," which we will address in the brand split below.
Another dimension is added by the prominent integration of Google products and services. Google Pay is widely accepted, commanding around a 40% market share. Even when it may have to be limited in customer acquisition, GPay is still projected to legally keep its users at around 30%.
Moreover, Amazon's App Store has tens of thousands of apps, all operating and supporting Android. Amazon Pay is also gradually raising its market share.
On the other hand, Apple's iOS has repeatedly met with problems related to its software and compatible apps, above and beyond price and hardware considerations which we will look at further down. Its Maps needs a series of fixes; glitches persist with Siri and its language support, while Apple Pay is still on hold, not being technically accepted by Indian banks.
With these factors in mind, it comes as no surprise that mobile gamers in India discover their games mostly on Google's Play Store (73%). Both serious and occasional gamers and gamblers do not rely on reviews and peer recommendations but actively search and experiment. Social media is the next source for gambling and iGaming news and content.
Apple's App Store, on the other hand, has much fewer mobile games available, let alone gambling apps and or traditional Indian RMG favorites.
During the first week of the initial 2020 lockdown, mobile gaming apps recorded a significant rise in use. Titles like Rummy 13 Card and Ludo King were amongst the more popular apps at the time, posting more than 70% growth when compared to previous weeks.
More importantly, Google Play generated 13 times more downloads when compared to iOS. Casual games added a dimension that gave another angle to the surge in usage that week, all by more than 70%.
Finally, in early 2021, Google announced that it would begin verifying and allowing openly dedicated gambling and betting apps on Play Store. Unfortunately for desi gamblers, this was not formally foreseen for the Indian market.
"Authorized and legal" gambling apps refer to casino games, sports betting, lotteries, and RMG fantasy sports in the 15 countries, which this change affected. In India, as we know, horse betting, some lotteries, and fantasy sports are legal, along with Rummy, Poker (depending on State High Courts), Teen Patti, and Andar Bahar. And most of these are available for Android anyway.
Crucially, mobile apps issued by global casino leaders are not foreseen to be authorized for now. Government-approved operators need to submit an application to Google, and this is not possible as there are no regulated online gambling licenses in India for the time being.
Google spoke of a somewhat diluted definition of Real-Money games, including in-app purchases and monetary prizes. Yet, many of the above-listed traditional gambling genres are easily located on Play Store and are quite popular in India (see below).
Quite crucially, however, Google India declared in March 2021 that it intends to simplify policies that cover "gamified loyalty programmes and features," including monetary transactions within apps through prizes or cash. This comes as explicit support for a more regulated online gambling environment that might stimulate the market further—the digital gambling niche in particular.
Over at Apple, there is a completely diverse philosophy perceived from App Store statistics and usage trends. Apple announced their top-grossing games for 2020, and all of them were in the action, arcade, or mobile-centric genres. There were no apps with RMG as their core principle, and we should not expect to see any pure casino apps in iOS rankings.
Xiaomi, Samsung, Vivo & OPPO Top Rankings
Considering particular smartphone brands (or models), we would expect to find additional confirmations about the same Chinese-origin vendors standing out above the rest. ENV Media data showed Xiaomi usage volumes slightly above the Korean giant Samsung, then Vivo. Realme and OPPO ranked further behind, while OnePlus rivaled Apple in the premium segment.
We might also seek to provide specific examples of current models – from Xiaomi's Mi series to Samsung's Galaxy A Series, Vivo's X-Series, or Oppo's Reno brand. Yet, these are more dynamic in nature and are updated every other month in some cases. The importance of certain features and overall functionality draws a much better market outlook.
On the one hand, certain user groups are already waiting for mass 5G rollouts across India and have already bought 5G-ready mobile devices. They might have to wait some more, as Reliance Jio revealed potential large-scale adoption plans for the last months of 2021.
On the other hand, there are those mobile users who only want an affordable and easy-to-use device – and they are the overwhelming majority in India. Below we see what Kantar/MMA published as primary functional barriers to more gaming sessions and better UX.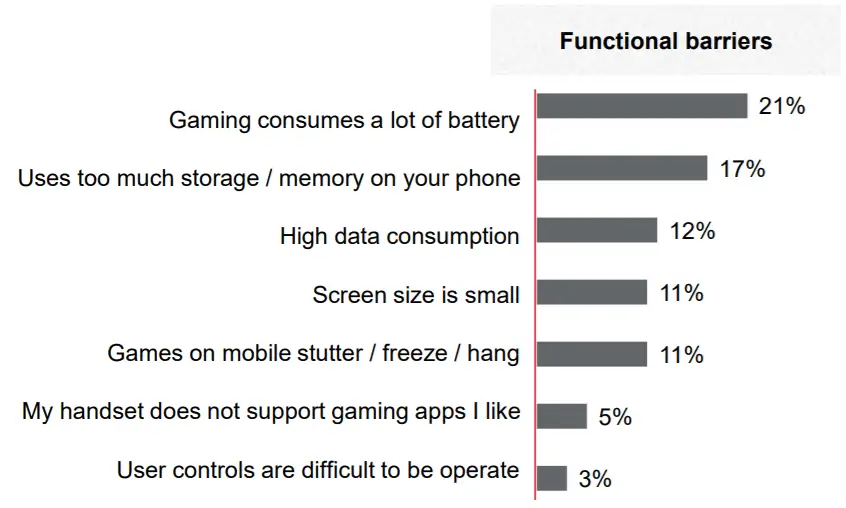 Hardware limitations add up to almost half of the above difficulties. Even if we do not consider overlapping reasons and responses, it is obvious that turning willing and potential gamblers into regular gamers would require some additional cost-effectiveness and hardware improvements to match with some light and user-friendly gaming apps.
In all responses, across all age groups and usage intensity patterns, functional aspects like battery consumption and memory usage are always among the leading reasons for not being able to play games. Another key barrier remains the awareness that playing might cost too much personal time. But these are personality considerations and do not alter the framework or our analysis.
Ultimately, those same brands which have established a strong presence among SevenJackpots users are the ones that cater best to the Indian market and its anticipated usage barriers. The tech market analysts from Canalys have published the smartphone market breakdown for Q1 in 2021. These reports see Xiaomi confirming its top position, reclaimed from Samsung at the end of 2020 after spending only a trimester behind. More importantly, there was an overall 11 percent market growth compared to the same quarter a year earlier.
More precisely, Xiaomi shipped 10.5 million devices between January and March 2021 (a 28% share), while Samsung shipped 7 million units (down to 19% from 21% in Q4 2020).
Vivo, Oppo, and Realme complete the top five, as anticipated by primary data. In the premium device segment, Apple had a strong quarter (which for them is around 1 million units), mostly based on iPhone 12 demand and new local assemblies already in place.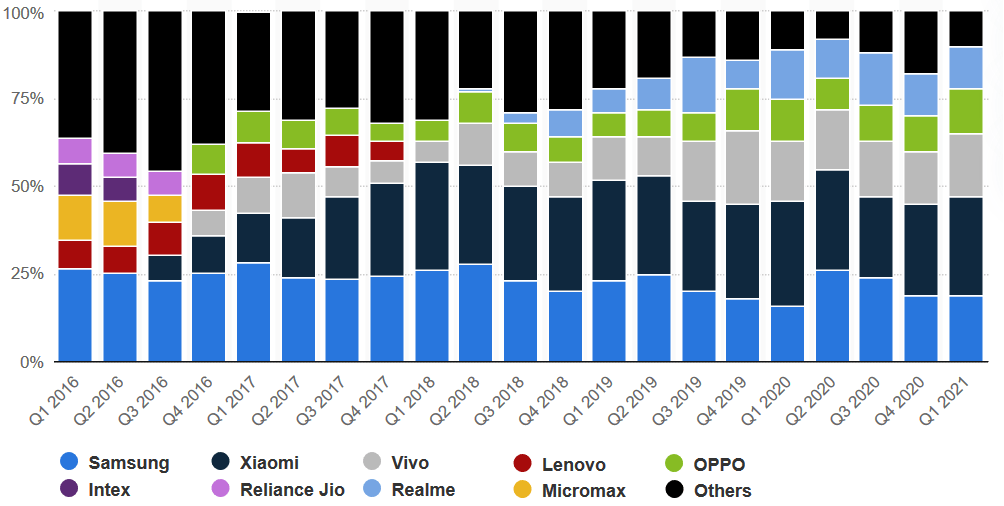 Graph source: Statista. (N.B. It provides almost identical figures).
Overall, the main Chinese-origin brands held a 76% share of the total 43.9 units sold in what is traditionally a slow quarter for electronics sales.
Recent historical accounts (in the previous graph) reveal that Xiaomi became an important smartphone brand towards the end of 2016. It overcame Samsung for the first time only a year later, in Q4 of 2017. Even more importantly, Samsung's market share has been challenged by Vivo since Q4 2019.
Double-checking these numbers with additional reputable market analytics databases, one can see that Counterpoint Research reports somewhat lower total numbers for Q1 2021 (38 million units) while also shifting market share percentages slightly:
Xiaomi with 26% (with five of the top models provided by this brand); Samsung with 20% (while growing the most YoY among the leaders, 52%); Vivo with 16%; Realme and OPPO both with 11%. Realme had the cheapest 5G offer on the market, while OnePlus shipped the most 5G-ready units (a 33% share in the niche segment).
Counterpoint Research places the total market growth YoY at 23%, adding that it had the highest ever Q1 shipments.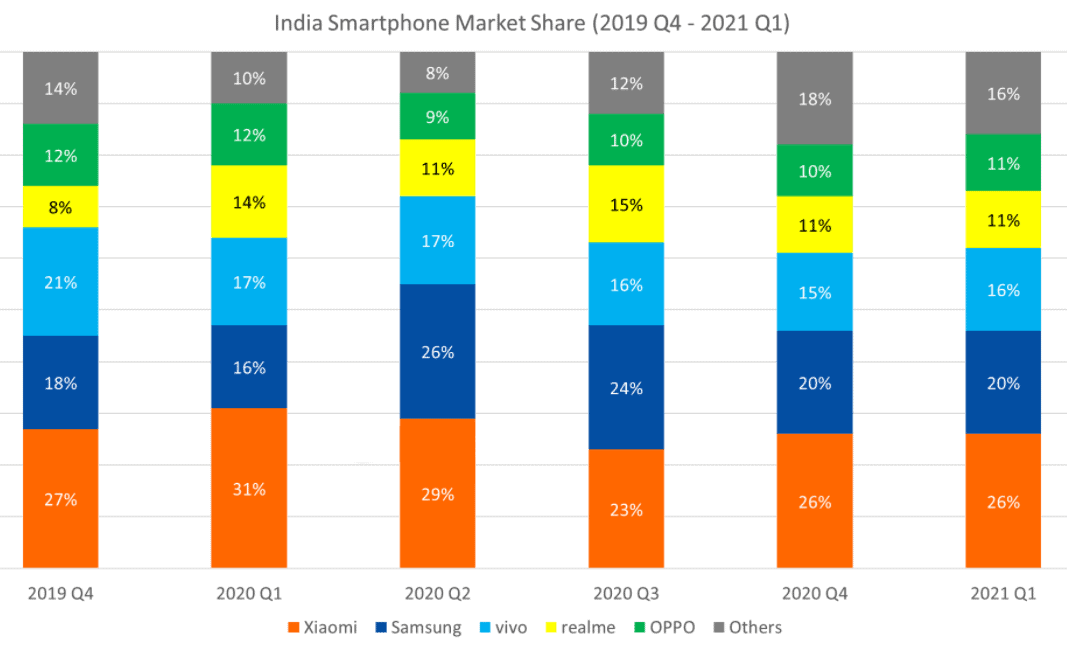 Source: Counterpoint Research
Among all "Other" brands (placed together anywhere between 10% and 16%), we need to look at those vendors and devices that might claim a more consistent presence in the gaming market. 
One such niche is represented by specialized "gaming phones." Asus, in particular, is reportedly pushing to double its sales in India, having realized the market's importance on the mobile gaming scene. Asus has its "Republic of Gaming" (RoG) brand already posting double-digit numbers in annual growth. Its direct competitors would be Xiaomi's Black Shark and the Nubia Red Magic.
However, these are all considered high-performance gaming phones for intensive use and games that demand much in terms of hardware resources. Therefore, they are probably destined to remain marginal compared to mass-market devices for most common easy gaming and casual gambling purposes.
In between, there are the iQOO and POCO sub-brands of Vivo and Xiaomi (respectively). They actively promote their new generation of devices by integrating better gaming capabilities into an all-round yet more affordable market offer.
Price, even for those chasing heavy gaming performance, is always a key question. iQOO and POCO try to include gaming-focused features in phones under Rs. 30,000 (~€ 330). The bottom line is that such phones offer outstanding hardware quality, above all.
However, even at this price range, specialized sub-brands with high hardware potency are unlikely to change market dynamics significantly. Industry estimates look at occasional gamblers and casual gamers more than heavy ones since most gaming volume and revenues are provided by playing low-end games (e.g., Ludo, Candy Crush, Teen Patti, etc.). Additional visual aesthetics and hardware features are only going to bring end-user costs up, pricing effectively out millions of potential gamblers and RMG players.
Is Apple More Prominent in Tier-1 Cities?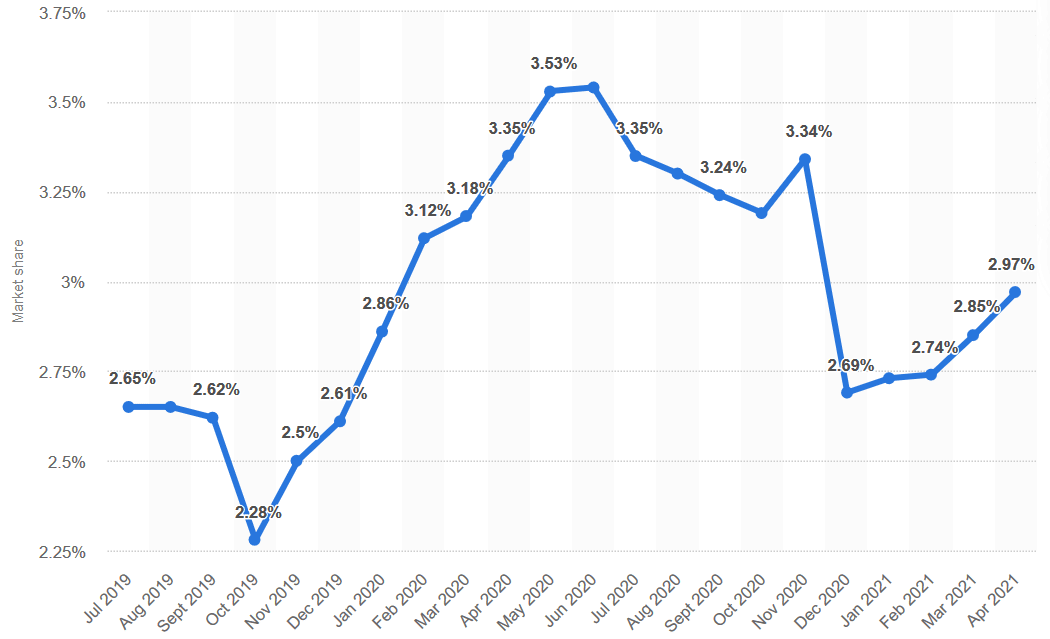 The above graph represents Statista's account of the changes in monthly iPhone sales in India between July 2019 to April 2021.
From the start of similar analytic reflections, we expect Apple's devices to be more widely represented in large urban metropolises, proportionally much more than among rural users. Such anticipation is also based on a previous ENV Media research piece that details the influence that India's richest cities have on its gambling communities and overall online gaming traction.
The iPhone remains a status symbol for most desi consumers, whether they possess one or have never seen one. Apple sales may be promoted by individual influencers with following in Delhi and Mumbai, for example, those already affluent and those wishing to look prosperous.
The fact is that Apple was simply not sustainably targeting the market, at least not until 2021. While this strategic decision of the past is (reportedly) about to change, some objective reasons why one of the world's global tech leaders has not broken stably into the Indian market.
The Indian consumer is almost always looking for

value for money

. Most mobile devices are sold between

USD 50 and USD 200

. Apple does not have suitable offers in that range, and it does not (in the eyes of users) exceed other devices as many times as its prices;

There are other direct competitors in the

premium smartphone market

, such as

OnePlus

and

Samsung

(to an extent). The former is the best-selling brand in the segment. Both are better integrated with Android, with payment and service providers, and in general with India's consumption patterns;

Most

Chinese brands

(and

Samsung

) have been

manufactured locally

for years. The "Make in India" initiative of the Central Government (see above) has provided a series of incentives and regulatory facilitations for those producers; now, even

Apple is joining

the industrial transition with facilities and suppliers on Indian turf;

The latter approach will help iPhones avoid the heavy

import tariffs

that have prevented them from lowering the price somewhat;

Last but not least, there are still some

software maintenance and compatibility issues

(e.g., voice control for various accents).
Having (only recently) established a local manufacturing presence, Apple is now formally able to open its first official store in India (expected later in 2021). So far, only some online stores and third-party sales locations were an option for those wishing to buy an Apple. Even the dedicated online store for Apple India was officially launched in late 2020.
Until now, advertisements were limited to airports, big cities, and glitzy locations. Fortunately for Apple, its management executives realized that such an approach was not tailor-made for the Indian market if they ever wanted to leave a mark.
The US giant is now trying to reposition its image, with privacy features at the forefront of its communications strategy. Notably, Apple decided to block access to the Identifier for Advertisers (IDFA) – a random data tracking virtual device. Advertisers rely heavily on access to such (big) aggregated data. And yet, iPhones are making the feature more prominent, hoping to add one more reason for consumers to choose their device.
In the end, urban affluence justifies why the iPhone is slightly more relevant there, as presented initially via ENV Media. While it is only a slight alteration in market shares, it supports the findings about the importance of Tier-1 cities to the national online gambling scene.
In the past year or so, Apple has shown an ambition to raise its sales performance in India. Besides software and price issues (key in any such decision-making), the company needs to make a consistent effort to target desi consumers. More specifically, through actual stores, service coverage, and better price offers.
Is Desktop Completely Out of the Equation?
Below we provide the figures for the entire OS landscape in India (as of May 2021), including desktop and tablet devices:
Android holds an overall 74.65% share; Windows – 16.17%; iOS and OS X combined – 3.6% and KaiOS at 0.76% (with a further "Unknown" OS at 3.91%).
Looking at these figures, it is not surprising to see 12.38% of gamblers coming from desktop computers, despite expectations (and publications) that might point to much lower figures. Our primary research data seems to show that such a claim is not completely true.
However, the trend is also clear enough to assign declining importance to mid-size devices. If anything, large-screen smart TVs can also integrate rich gaming sessions, streaming services, and some AR/VR features that could make a virtual trip to the casino a completely different experience.
The popularity of mobile phones for online gamblers is rooted in several distinctive features, according to a 2018 Deloitte report:
They offer a sufficiently large screen at affordable prices;

Games are very compatible with mobile phones and are constantly developed for such devices;

Portability is also a key factor for mobile phone popularity for gaming purposes.
Even if some desi gamers had the aspiration to buy the Microsoft Xbox series or Sony PlayStations, these two are still considered a luxury for many households and young players. Smartphone gaming is "pocket-friendly" and provides an easier entry into the ecosystem for first-timers.
As we specified in our previous research piece on player profile segmentation, more advanced (even professional) users prefer larger screens and choose to move to a bigger device if and when a more regular playing pattern is established.
Differences between Urban and Rural Areas
The post-pandemic reality may see consumer spending on both electronics and M&E somewhat shrinking. Health and distancing considerations aside, many lower-income user groups might feel the economic impact more than their well-to-do counterparts, the latter mostly urban residents.
M&E is a particular, emotionally motivated economic segment. And yet, shrinking spending might render it even "aspirational" for many users, as per KPMG's post-Covid M&E report.
Gambling, gaming, and (general) entertainment operators will need to be more innovative, consistent in their product delivery, and precise in their big-data feedback towards developers and advertisers if they wish to maintain certain levels. Content creation and monetization schemes will likely become the main cornerstones of gambling, as much as they will be the centerpiece of the entire M&E sector.
Technology might help make up for some of the above challenges. AI and ML (machine learning) help predict user behavior and formulate better gaming offers. In turn, these should result in more player loyalty and immensely useful feedback datasets.
In such a context, the popularity of affordable smartphones is not in any doubt. Gaming hardware capacity will continue being relevant, while attractive pricing will convince most gambling enthusiasts. By and large, desi players are rather modest when choosing mobile devices as they seem more interested in simple games rather than more complex titles.
Even back in 2016-2017, scientific publications reported Octro's Teen Patti as a standout example. While it is not at the top of downloaded games, it has always ranked high on player engagement (time spent) and revenue generated. A social card genre, this traditional desi game is appreciated both in Tier-1 cities and lower-tier Indian towns.
The latter has a large and significant contribution towards the overall rise in total gambling markets. Rural user bases sustain the segment's growth and have nearly closed the gap to their urban peers. Today, around half of all Indian 11-year olds reportedly have their own smartphone, with rural families being increasingly able to provide such a device to their grown-up kids.
Device usage patterns are also quite similar – as shown in the MMA/Kantar report – with some slight differences.
Non-metro gamers are more likely to play games on their smartphones when compared to urban/metro gamers. The latter are comfortable using both tablets and phones. Rural male mobile gamers are often found to persist using smaller devices, whereas (urban) female gamers typically play on both handheld devices.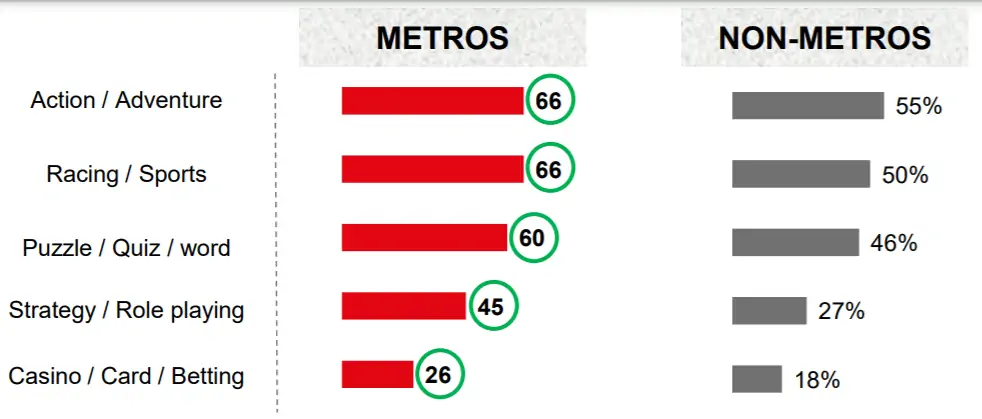 When we presented the share of overall (and female) players choosing casino, card, and betting games, we left out this facet of the report: 
Metro users have higher average participation shares across all gaming genres. While our report is concerned mostly with gambling scenarios, the above figures reiterate the importance of a strong urban presence.
For many potential gamblers across the country, only 6% is reported as adversely influenced by potential RMG costs. For those who have already chosen to play, that is not an insurmountable obstacle. Players who download paid games are also more likely to play casino games than those focusing on free and freemium titles.
On the other hand, the Urban/Rural split related to functional barriers reveals that non-metro players lament worse data plans, internet quality, and poorly performing devices when compared to their urban peers.

For both gamer cohorts, Google Play remains the primary source for new games:
And lastly, we emphasize once again the relevance of our target audience analysis which depicts the typical Indian RMG player.
Indian Game Developer Studios Output
The flourishing Indian gaming market has given hundreds of developer studios and tech startups the opportunity to enter the industry. The total revenue in the mobile games sector is projected to reach USD 3.8 billion by the end of the year and continue growing by around 13% until 2025. In the meantime, the revenue per user is anticipated to reach USD 21.91 on average.
The sustained increment both in quantity as much as in quality will allow software developers the possibility to think and act more independently. Most, if not all, work with Android and create applications and content based on existing market demand for popular mobile hardware.
In 2020, more than 400 gaming companies were reported by Maple Capital Advisors. While many have the experience of providing support to foreign businesses, a growing number is also completely fresh on the market, with sufficient know-how and broad horizons ahead. What both groups are expected to do, according to industry analysts, is to provide more localized content, more genuine desi favorites in terms of genres, themes, graphics, and language support.
Most of the above considerations have their underlying validity when related to the work of Indian businesses and UI/UX developers in the gaming industry. High-quality native content was already in demand a few years back (2017), when Teen Patti entered the top 5 games stably, together with Rummy. Both genres recorded the biggest growth rates across all mobile gaming genres in the late 2010s.
Prominent Indian gaming companies include Nazara (multi-genre), fantasy sports leaders Mobile Premier League and Dream11 (the latter backed by Chinese giant Tencent), Reliance JioGames, Paytm First Games, Games 24×7, and Tiger Global.
Unicorns are more likely to be seen in the eSports and Fantasy Leagues segments. Gamer communities, however, are in the dozens of millions for each genre. The constant improvement of India's digital infrastructure will provide better engagement and UX across all content categories.
A key aspect for most Indian (and foreign) gaming companies is diversifying and growing monetization schemes. Nazara is a prime example, with over 1000 Android games offered via a subscription service aimed at the mass internet user (mostly first-time gamers and users with less overall smartphone experience). Subscription is possible via daily, weekly, or monthly contributions, usually directly via carrier billing. Similar adhesion schemes are used for a broad range of e-learners, with gamification becoming recognized as a serious alternative to providing instructional content, a proven success in several other countries.
Looking at rankings of top-grossing gaming apps – on Google Play first and foremost – we see that in June 2021, the classic Teen Patti by Octro is still in third place, with Ludo King in second. Topping the charts is the current action/shooter leader (Garena Free Fire).
There are notably three Teen Patti versions in the top 20 grossing game apps (with more than 110 million downloads), while other RMG-based titles are a Poker app and presumably a Pool simulator. Among casino games, all 3 top (grossing) spots are occupied by Teen Patti, followed by Poker and Slots.
Across general app rankings (both "free" and "paid,") Teen Patti still maintains a top 5 spot, and at least three such titles are found in the leading 25 apps. Poker is also stably present.
This is where monetization strategies begin to differentiate between app types in general and game categories in particular. Monetization extends beyond face-value gambling titles and enables us to speak of RMG compared to games that are completely free (for players) and only maintained through advertisements. The latter has experienced a notable decline, while in-app purchases have seen their establishment as an industry staple. That is mainly why we see a paradigm shift from classic "games for real money" towards a more fluid RMG definition and cross-over monetization schemes.
Over at the Apple App Store, the top-grossing apps are mostly OTT content delivery platforms (Hotstar, YouTube, SonyLIV, and Netflix), LinkedIn, and dating apps. In the gaming category, casual games precede a couple of shooter titles.
Among casino apps, Poker and Teen Patti share the leading market positions. Yet, overall, much more "serious" and content-oriented apps are present in iOS rankings, and some of the leaders are straightforward business apps. There is also a strong social media and video-communication presence.
Once established that Android apps make up the overwhelming majority of India's gambling scene, industry publications lead us to a better understanding of the most popular mobile game genres. A 2020 survey confirms that, after all, action, adventure, and first-person shooters are the undisputed leaders. Garena Free Fire is a fine example of a game with inherited peak interest and shares from the phenomenal PUBG (banned in mid-2020 by the Government). Their popularity is due to the huge share of gamers in the 16-35 age group.
On the other hand, casual and traditional desi games lead in daily downloads. Gametion Technologies was one of the leading Indian mobile game publishers. Its daily downloads in December 2020 were estimated at over 546 million. Gametion has developed gamer favorites like Ludo King, Carrom King, and Color King. Words Mobile and Moonton ranked second and third during the same time period, respectively.
Conclusions and Trends to Look Out For
All of the above-reported data and rational considerations may and should serve as an informal set of recommendations for online casino and RMG operators in India. More importantly, they are intended to provide strategic advice to UX and UI developers in tech and iGaming, especially those building a bottom-up market strategy.
This paper uses Gambling and Gaming interchangeably when and where casino and card-related games are a leading element but also when RMG is a determinant.
We saw that the rise in smartphone penetration had stimulated the adoption of more or less traditional desi mobile games like Rummy, Teen Patti, Ludo, Snakes, Checker, Chess, and other similar titles.
We have already seen that physical distancing and more time at home have led users to a much more substantial portion of their day spent gaming. The below graph shows clearly that occasional and regular gamers play in short sessions (less than 10 minutes) in most cases. Similar statistics have implications for some hardware (resource load, battery, etc.) and mostly software and UX development choices (short but intense visual experiences, easy-digestive content, recurring themes in new formats, etc.).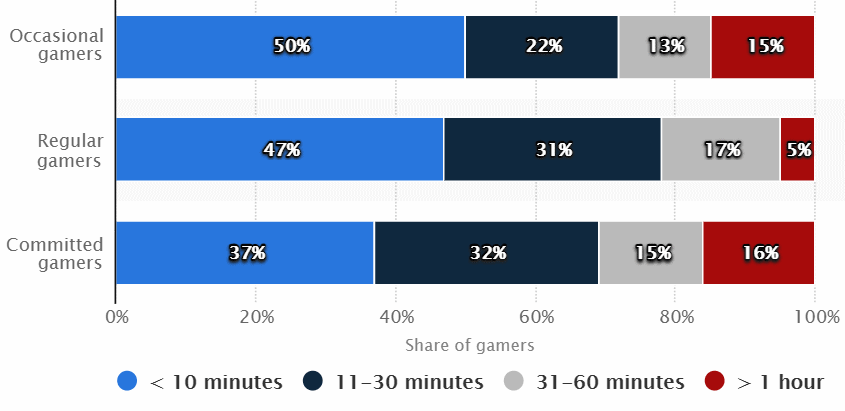 Mobile gamers time spent, India 2021, Source: Statista
Interestingly enough, Indians who own more expensive phones (e.g., iPhone), in the Rs. 30+K range, are less likely to play games, but emphasize on work and direct virtual socializing. To capture their attention, hardware producers would need to put out advanced tech solutions such as Virtual and Augmented Reality casino environments or better integration of blockchain technology for more secure data processing and real-time transactions.
The latter are realistically applicable to more advanced mobile devices, currently pricing out most Indian online gamblers.
Other hybrid solutions which might be more easily applicable to a wider player pool are offered by messaging-service casinos (e.g., Telegram casino) or other similar alternative channels for users with slow mobile connection – as in remote rural locations. Similar potential innovations would combine the better of two virtual worlds (gaming and messaging).
Additional trends that hardware and content developers need to look out for are illustrated by a growing ecosystem integration with Big Tech (including local ones, e.g., Jio). Despite a strong indigenous movement to create local content and develop leading mobile gambling apps, most successful casino platforms are based offshore and provided by foreign gambling operators.
Why Do These Insights Matter?
First of all, because performance statistics and current trends might change rather dynamically, consumer mentality is more stable, and it's crucial to understand certain demand fundamentals.
The above factors add up: some apps and genres might be considered a gateway to a more engaged gambling consumption; others simply scale up monetization schemes – from free with ads to freemium with in-app and subscription purchases. One principle remains immutable: the word "free" always manages to lure consumers.
Mobile devices are in a way similar to these virtual gaming environments. Smartphones need to be accessible, easily found, and compared; they should have similar traits to those of friends and relatives, and they should offer the chance to play multiplayer card games or share casual gaming insights.
In that way, Android devices have the distinction of being affordable and ubiquitous. While gaming is a social pastime, RMG forms and the evolution of monetization take the industry to another level – more direct and beyond advertising dependence.
The rationale for both hardware and software choices is consumer targeting, UX optimization, and market support. Being able to offer a game in a multilingual version goes hand-in-hand with a successful targeting of Tier-2 and Tier-2 cities and regions via affordable and user-friendly devices.
Developers have already metabolized the importance of creating mobile-first UX. They will also need to adapt to offer alternative perspectives, with more inclusiveness to age and gender groups at the forefront of current trends.
Even more relevantly, with age, the likelihood of spending on better devices and game content almost inevitably rises. Higher age player groups (35-45 and beyond) would help developers and device vendors raise the bar in sales in the long run. However, at the time of writing, the importance of Generation Z gamers cannot be overlooked, and their preferences for cheap phones with free/freemium games rank ahead of other market offers.
Ultimately, mobile gambling and RMG offer far more opportunities for segmentation and personalization when compared to TV/Radio (practically none), OTT (pre-set,) and other digital media (most flexible). RMG and modern monetization offer important two-way insights into players and their relationship with game producers and device vendors, offering them the chance to understand each other better.
When targeting mobile gamblers, gaming companies and device producers need to keep one thing in mind. People who play RMG are willing to pay to play their favorites – and choose with whom to do it. Improving UX is the player's leading desire, and their engagement should be the key guiding principle for both hardware and software companies.