The vast and still underexploited digital market of the Subcontinent presents quite a few challenges for Western-style online casino operators. The need for a profound understanding of Indian culture and gambling habits remains essential. Yet, some reports already point to increasing convergence between classic casino products and traditional desi favorites (as well as other Asian games).
This research highlights the growth in importance of casino staples like roulette and Slots. Classic Indian gambling genres remain the foundation of local markets, but young and tech-savvy players increasingly drive gaming communities. The latter, in turn, raise demand for more dynamic, casual content and constant genre innovation.
Slots abound, roulette becomes lightning-fast, and table games become more casual and familiar to global audiences. Such trends trace the path to market maturity and wider accessibility; the ability of Indian authorities to establish more pragmatic and uniform gaming legislation is indispensable, at any rate.
Ultimately, concrete evidence presented below reveals some of the distinctive features that could facilitate market entry for offshore operators, affiliate marketers, and other gaming stakeholders:
Desi players enjoy simplified versions of foreign games;
Easy gameplay also means more speed or even instant results;
Younger players (the majority) enjoy regularly updated content, rich catalogs, and cross-over genres;
While virtual simulation and advanced visualization are important, live sessions are always preferred in almost any category (save for slots).
Online Gambling Growing Steadily
One of the overarching trends that our research team has observed in the past couple of years is the growth of online gambling in India as a whole. Having carried out data-based profiling of the principal product types and market specifics, the factors that define such rise were attributed to the country's rapid digitization (through more affordable phones and cheaper internet), cultural specifics (i.e., beliefs related to luck and abundance), family gaming practices and contemporary social dynamics (peer engagement and monetary incentives among others).
However, the indisputable effects of India's tech revolution and its strong gambling traditions are not sufficient to explain certain product preferences. Secondary research sources have been supplemented by primary aggregate datasets provided by the PureWin online casino platform.
Analyzed by game categories, separate titles, player counts, turnover volumes, and other game features, these figures provide valuable insight into the most recent adoption rates and preferences for online casino products. The data itself has been generated as a result of the registered access of over 170 thousand distinct players in slightly over a year (October 2020 through November 2021).
Sports betting products have been filtered out as they are superfluous in this analysis. The same is true for most access instances without actual playtime or money bet on a game, thus emphasizing gaming habits over general interest.
Western Casino Games Move Up the Rankings
To this day, traditional "desi" table games still end up on top of certain rankings, player volumes, turnovers, and online visibility, depending on selection and filtering criteria. This is valid especially for mobile apps and several tech-facilitated physical gaming sessions – i.e., among family or friends, with or without money – via a peer gaming platform or simply with the help of a video/chat function. These influences are practically inevitable since we are considering the cultural cornerstones of Indian gambling passion.
However, games previously considered classic only for a Casino floor – e.g., roulette, blackjack, slots – have become more noticeable in the online space of modern India. This is largely consistent when looking at search volumes over time (see below Google Trends and Mangools graphs). Yet it must be verified against actual market shares and present-day player activity. Otherwise, it may only be the result of more digital services being accessible to more desi consumers.
Examining PureWin data, we see that roulette, Blackjack, and Baccarat are among games that have established a solid presence from several different points of view.
Roulette Already a Staple Game
The following table represents the aggregate data for single game-title volumes, ranked by turnovers (expressed as a share of total turnover in the 14 months of data collection). Once again, we stress the fact that this segmentation lists only titles and does not group together gaming genres and categories (e.g., all roulette games). Therefore, the below games have been played the most on PureWin.com in the survey period.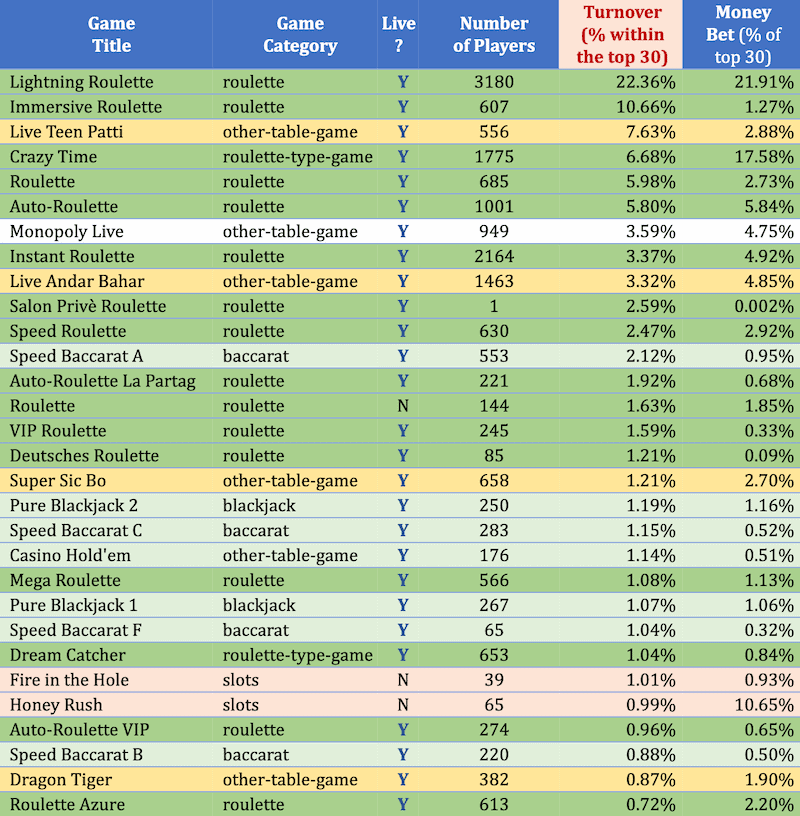 Source: PureWin.com
We can see that roulette titles top the chart, both as a single game and as a group or separate category. Within the top 30 games by turnover, roulette games generate 70.1 %, which is an astounding amount for a casino targeting the Indian market. Lightning Roulette has proven an especially successful product, with almost a quarter of generated turnover within the leading group.
Interestingly enough, in the top 30, all but the slots are Live games, even the roulettes. One classic RNG roulette version still pulls its weight but lags behind many other versions, especially considering player numbers.
Another important observation is related to the fact that many of the roulette games (and not only) are quick-play versions or at least have some such features. Around a third of the top 30 games are qualified as "lightning," "instant," "speed," or "auto."
We must note that the above classification includes games like "Dream Catcher" in the roulette count, even though it is classified as "other" by Purewin BI. It is carried out as a live gaming session aimed at RNG/slot fans but with the visual setup and principle features of a roulette wheel. A live dealer spins the wheel and interacts with the users during gameplay. Players simply bet on winning numbers, making it a simplified roulette (no combination bets and systems foreseen). This makes it similar to most Wheel of Fortune games, including "Crazy Time." Mega Wheel, on the other hand, despite similar RNG mechanics and probabilities, is more akin to a lottery drawing, and hence it remains in the "lottery" category in these segmentations.
High turnovers correspond to high RTPs; something roulette is famous for. This is also true for many slots that have had global success. But it is also the reason why turnovers might correspond to relatively modest amounts of actual money bet, even in the top 30 most played game titles.
Generating as much as 53% of the money bet among the most popular games, roulette shares start to decrease when we extend the analysis to the top 100 games (by bet volumes).
Slots on the Rise
Segmenting an alternative Top 30 ranking (by the number of players per game), we notice that Slots begin to stand out within the leading group of Purewin games.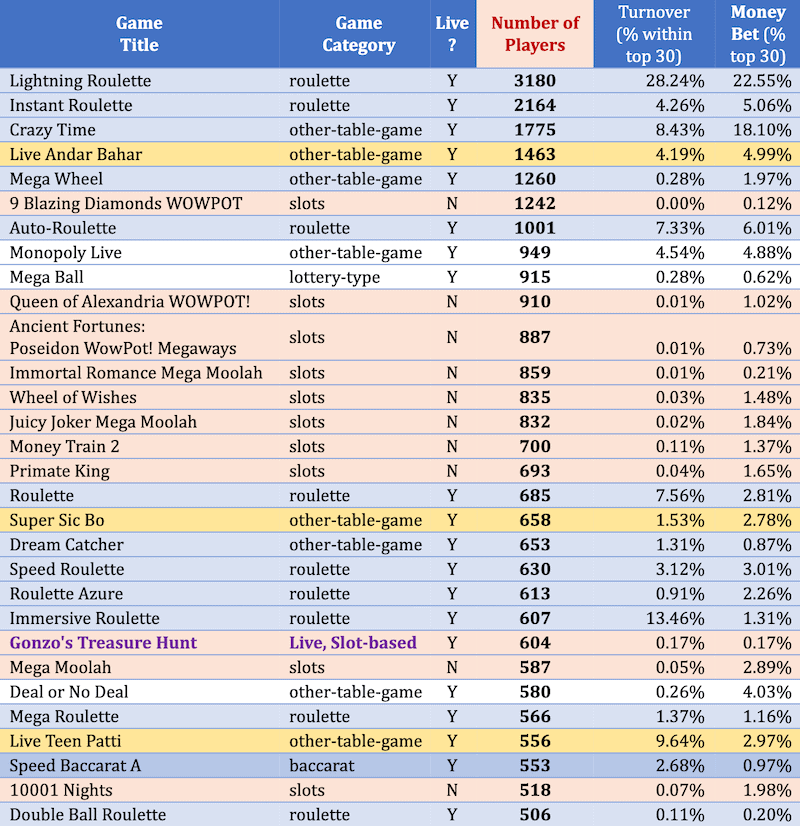 Source: PureWin.com
Out of around 28 thousand players choosing the top 30 most popular games, the share of slot players rises to 29%. This is even higher if we look at the top 100 games by player count: over 35.7%. And while the share of roulette players is still the largest in the top 30 games by player count (44.2%), the figure drops nearly precisely to the level of Slot players in the top 100 (35.8%).
This provides clear albeit early evidence for expanding player groups among slot players, on the one hand. On the other hand, the sheer supply of (quality) products in the niche can push back other Western and Asian games, winning more fans among those who look for new content and more dynamic gameplay.
Although the Indian market is hardly influenced by bonus offers, free spins, and other sign-up or in-game incentives, this trend is undeniable. We are talking about over 2300 Slot titles played in the course of the year – out of 2640 total games on offer. Therefore, this growth is backed up by dynamic supply and diversity (the latter as an expression of quality) to which players respond with growing shares and consistency in demand.
Other Classic Casino Games Played
Since the early days of organized gambling, some of the "traditional" casino products – table and card games – have entered Western and Indian gambling habits and formal customs. Many resemble the simple card games of Indian tradition, even when they have slightly different rules. The desi versions often manage to render simpler and more dynamic gameplay at the same time (e.g., Teen Patti vs. Poker).
According to the complete list of game titles examined, Blackjack, Baccarat, Poker, dice, and lottery-type games are common among Western-type casino products offered on the Indian market. Nevertheless, they account for slightly under 9% of the total annual turnover announced by the operator. Among the above, Blackjack, Baccarat, and Texas Hold'em remain the most prominent.
The latter chart shows that we can see that Speed Baccarat is the first and only one in the Top 30 group by player count. But if we extend the monitoring to the top 100 games by player numbers, the "classic" casino games manage to pull 11.6% of the total player count.
Traditional Indian Games Remain a Gateway Product
Previous studies have carefully examined the importance of Indian traditions in real-money gaming. In present-day terms, they influence search volumes even as other well-supported gambling products have increased their online presence over time. Mostly stable in their shares, some of these games have even shrunk in the past few years, although not considerably. As detailed below, only Rummy has expanded its markets (and Teen Patti lately), largely due to mobile apps.
The above rankings reveal that Indian and other Asian games generate 13.5% of the turnover in the top 30 on the platform, with 11.6% of the total money bet. These games are responsible for 9.7% of the total player count in the leading 30 games. And we are seeing that their share largely holds over to the top 100 games by player count (9.9%).
Although the percentage of titles dedicated to traditional Indian and Asian games might be underrepresented in some offshore operators, their importance is undeniable in terms of visibility and online demand. When skill-based (i.e., Rummy) and therefore legitimate, they can openly attract sponsorship and conspicuous player participation across the nation.
Teen Patti, Andar Bahar, and other Indian Classics
In its long gambling history, desi players have been most committed to games like Matka first, then Teen Patti, Rummy (or Paplu) and Andar Bahar; and ultimately Poker (mostly Texas Hold'em) and roulette. This has naturally evolved into an online demand for the same games and the desire to access them digitally in one form or another.
Offshore operators may sometimes be tempted to consider Andar Bahar a niche product nowadays, yet its traditions are traced way back into the very foundations of desi gambling culture. Andar Bahar is firmly in 4th position among Indian table games and overall ranking by the number of players. Interestingly enough, PureWin data reveals that high rollers often raise the ratio between players and money spent on Andar Bahar.
Another feedback is even more relevant to stakeholders in the casino vertical: Teen Patti is the one game that still dominates mobile app rankings in India and many casino-related SERP listings. Secondary public data confirms the trend, both in terms of search volumes and app downloads (see below).
We have included three other games in the Indian/Asian category:
Sic Bo is an ancient Chinese dice game played with three dice, and it is quite popular across Asia. Dice rolling, in general, is rather typical as a form of gambling on the continent. These games have specific betting systems usually deriving from the country of origin but often characteristic of local culture in another region. Sic Bo's betting table resembles that of roulette.
Dragon Tiger is a quick-play card game, also popular around Asia. It is played using several 52-card decks in a shoe (and no jokers) and requires players to bet on either Dragon or Tiger. The higher card wins (Ace being the lowest, King the highest), with bets possible every time a dealer draws a pair of cards, one for each side. According to its betting system, Dragon Tiger is similar to Baccarat.
Fan-Tan (or fantan) is another ancient game of Chinese origin, its betting board resembling the classic roulette table. Gameplay, however, involves placing handfuls of small objects in sections of the board and guessing their count when divided by four.
All three of the above games could be played with a live dealer or in a virtual setup. They have gained popularity in other Asian casinos first, but stable demand in the macro-region has made them enter mainstream Indian culture decades ago.
However, if we consider Sic Bo or other dice games as not "purely" Indian, we have the following three that rate the highest among desi favorites:

Source: Purewin.com
No matter which way we look at it, Teen Patti and Andar Bahar remain the cash cows of online and mobile casinos targeting the Indian market.
What about Rummy?
Rummy is notably absent from this particular casino's offer. Yet it has always been held in high regard by players and frequently treated as a cornerstone element of Indian gaming culture – both based on empirical and statistical research.
In the past decade, standalone Rummy apps and integrated platforms (e.g., MPL or Paytm's First Games) have given access to real-money rummy sessions and other pay-to-play schemes. The reasons for the popularity of traditional games have been widely commented upon. The countless Rummy and Teen Patti apps have exploited various free and paid distribution and monetization strategies. This has been done in response to stable existing demand, but it has also increased player fan bases and shaped gamer preferences and expectations.
Rummy is almost constantly in the top 10 free casino games in India's Google Play rankings, with several different game versions under the genre. Rummy also rivals Poker apps among top-grossing games in the more narrowly defined card segment.
The above-cited research indicates several other player preferences – "Rummy" search volumes outperform "Casino" roughly three times; it is also the only game systematically outranking most major casino genres such as Poker, roulette or Teen Patti, as well as all other traditional "Western"-style games.
Google Search Volumes Confirm the Trend
According to AppBrain and Google Play App Rankings, the Top Grossing Casino Games for mobile in India feature some of the established national favorites.
As expected, we see Teen Patti dominate the chart. The top 3 apps (and 4 out of 5) are all Teen Patti titles, although one also integrates Poker and Rummy. However, there are four Slot Apps in the top 10, with more than half in the top 20 also belonging to the same category. Poker and roulette appear firmly behind in the Casino app rankings.
Data available at Trends.Google.com and the SEO tools at Mangools.com confirm the trends anticipated above. General trends in demand over the past five years indicate roulette and Slots – in generic search terms – as the only games generating consistent levels of player interest. This is relevant particularly when confronted with classics like Teen Patti or a global gambling standard like Poker.
Overall, they are still behind in search volumes, but a noticeable rise has been reported in the past three years. Slots have even had a spike in May and June of 2021, surpassing most casino products at the time.

Mangools' Keyword Finder tool confirms the upward trend over the past few years, however gradual most of the time:

The 18,700 monthly search volumes are undoubtedly skewed by the peaks in mid-2021, as we have already seen above. Despite that, "slots" do not fall below 4-5 thousand search instances per month, while 3.5 years ago, it was barely standing above 1.5 thousand. Altogether, the top 20 keywords – long-tail and related to slots (including some brand names) – add up to 44 thousand monthly searches, all of which steadily increased in the past 12-24 months.
Without a doubt, search volumes have increased, although not booming for now. While the "Western-style" casino products are simply developing rather than exploding, they have already achieved decent traction and attracted healthy competition in terms of market supply (note the keyword difficulty of rating for the generic search term "Slots").
State Differences Revealed
Many of the geographical and demographic traits of casino player communities are largely anticipated and stem from the social and economic characteristics of India's biggest gambling states and macro-regions.
In-depth segmentation should ideally also consider the popularity of proxies and other IP-masking services in India. They could somewhat alter the real picture of the user and traffic origin. Nevertheless, with most players using their smartphones to play games over their own mobile internet connection, the segmentation outcome and resulting conclusions are unlikely to differ too much from what is shown below.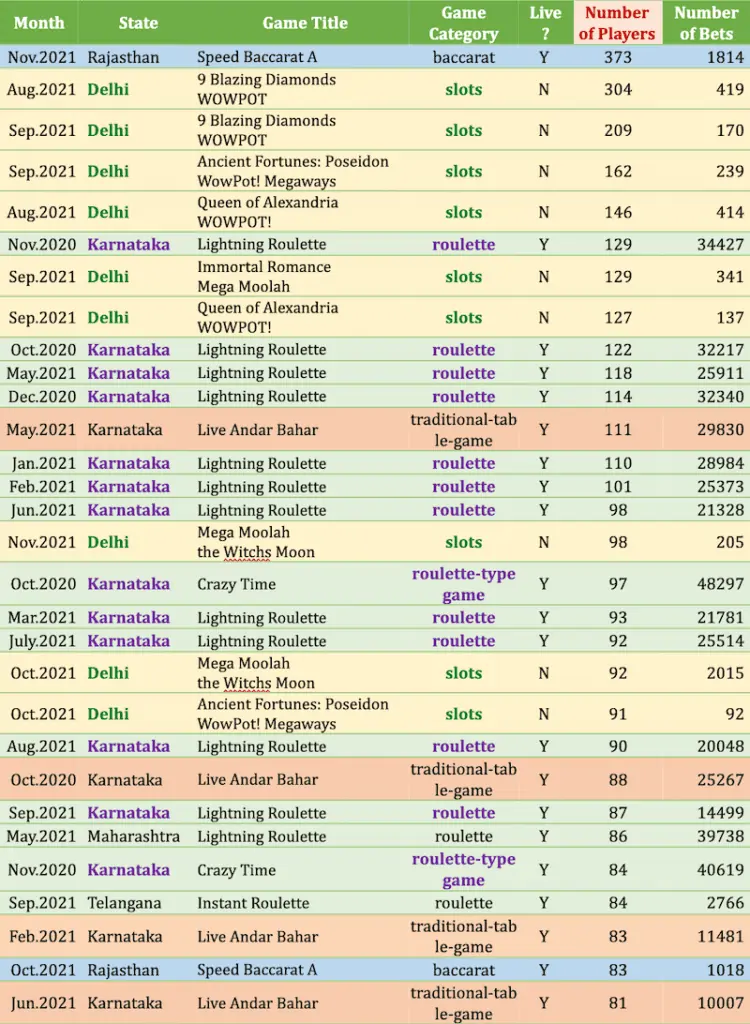 Data Source: Purewin Business Intelligence Unit
When looking at the Top 30 games per month as defined by unique player count, we can also see some clear trends: the busy Delhi gamers already prefer slots over other games, while tech-savvy Karnataka plays novel versions of roulette and traditional desi games.
Telangana and Andhra Pradesh appear higher on the Sportsbook betting activity by player volume (omitted from the table). Notably, both casino and sports betting are outlawed there, but clear regional and cultural preferences persist and maintain high player interest in offshore solutions.
Other insights from the player count segmentation see Rajasthan stand out with its Baccarat activity in late 2021. If we extend the analytic scope to the top 100 games by gamer count, we see Telangana perform strongly on Instant and Lightning roulette versions, followed by Maharashtra, again with several roulette games.
Switching to a ranking of turnover volumes (shown as a share of the top 21 monthly performances by State), we see Andhra Pradesh peak among the most active states, also with roulette games. AP figures see it in 4 of the top 6 months by turnover volumes and 9 out of the leading 18.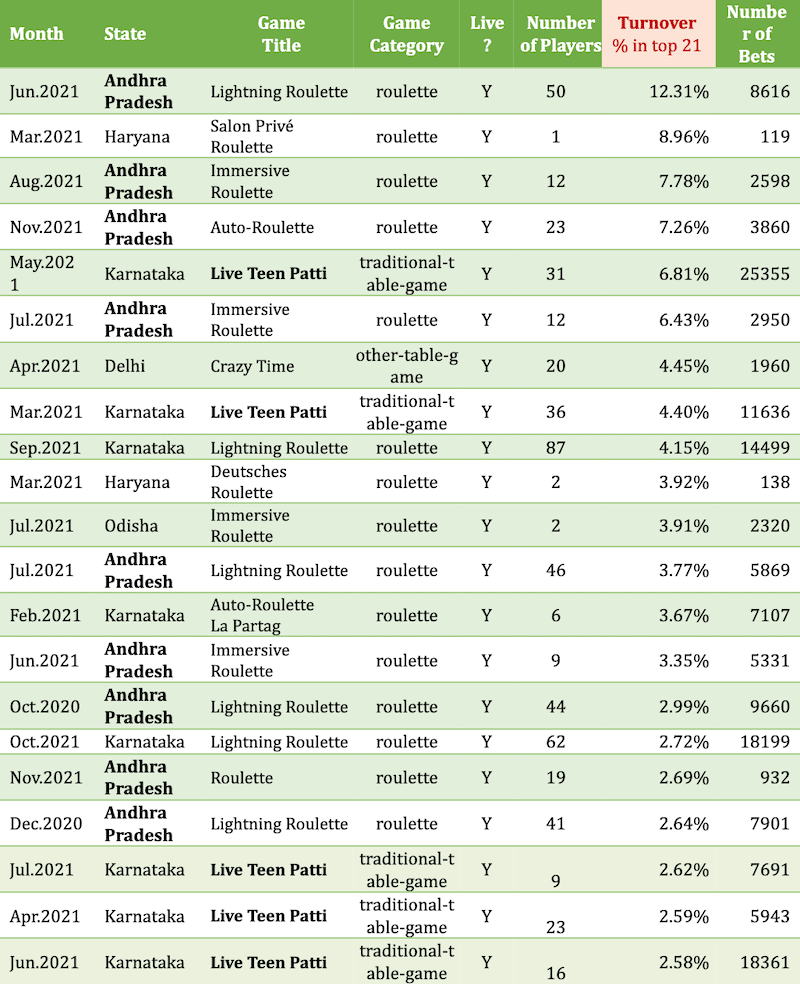 Data Source: Purewin BI
Interestingly enough, player count suggests that such results are achieved by a relatively limited number of high rollers, all of whom are roulette players. All of the high rollers play live studio versions as well.
Karnataka confirms its active involvement with classic desi card games, and its overall standing among online casino player communities.
Classified by bet count, slots are the undisputed winners among all casino games – 10 out of the leading 10 and 29 out of the first 30 State-month performances see slots top gameplay bet instances (chart not shown).
While Uttar Pradesh takes the top spot (with over 154 thousand bets on "Rise of Egypt Deluxe" in November of 2020), Gujarat dominates the top 6 in early 2021 (with "Mahjong Ways II") and Karnataka (with "Honey Rush") the top 20.
Crucially, just under five players per month are responsible for an average of over 80 thousand bets per month in the top 20 games per State, reporting both high turnovers and bet counts. This indicates considerable product loyalty and gamer dedication. As previously pointed out, with high RTPs, most slots end up drawing bets of less than 1 Euro, with repetitive betting the expected outcome. This is seen in most slots and roulette games within the analyzed subsets and player communities.
Despite the fact that PureWin reports only 15% of all registered users playing Sportsbook, it peaks as a single most important genre in quite a few regions. Out of 21 States represented, sports betting is the top genre in Andhra Pradesh, Bihar, Chandigarh, Delhi, Gujarat, Haryana, Maharashtra, Tamil Nadu, Telangana, Uttar Pradesh, and Uttarakhand. That is also understandable since Sportsbook encompasses all sports, even virtual simulation leagues. Casino products, on the other hand, are split into single game titles.
Yet, some of them manage to stand out, as listed below. The table represents the favorite game title by State, established by the largest numbers of players generating the biggest turnovers in a particular game. For a favorite game to be selected, at least ten players in a given State must have the largest turnovers in this game.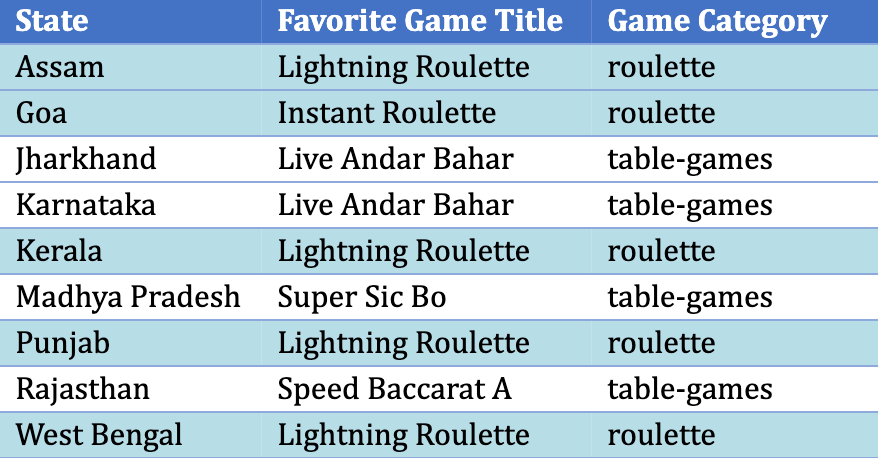 Source: Purewin
Similarly, with more than 2300 slots tracked, it is practically impossible for a single title to stand out. The remaining favorites are split between roulette, Baccarat, and Asian classics (Andar Bahar and Sic Bo). All of the above are strictly Live or Quick-play versions (i.e., lightning, instant, speed).
When segmenting available data for favorite game categories by the biggest turnover per player, we see that Sportsbook doesn't appear as often anymore (once again, all sports bets are considered one type of game, while there's a wide variety of slots and table games).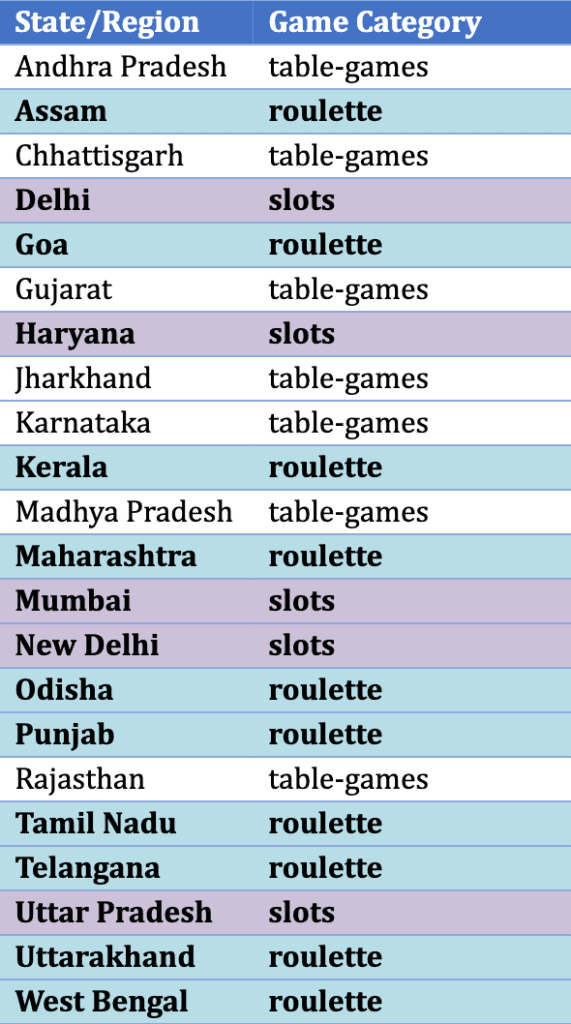 Source: Purewin
An aggregate breakdown of the categories sums the top game volumes and manages to highlight the ascent of roulette and slots. As defined in the above aggregation, the "table games" category is broad and includes classic card games (e.g., Baccarat), as well as most Indian and Asian favorites (cards, dice, and "miscellaneous" games like Fan Tan, see above).
Even with such a disadvantage in definition scopes, we can see that "Western" casino standards such as roulette and Slots have firmly taken root in more than half of all Indian states, especially metropolitan areas (Mumbai and Delhi as distinct administrative units peak in Slots).
Legal Uncertainty Plays In
In the past few years, when some of the States made (or attempted to make) gambling illegal, search volumes and activity increased, as local gamblers were looking for offshore and online alternatives. Andhra Pradesh, Telangana, and Karnataka are noteworthy examples. Even though casino continues to be considered a sensitive subject in Central and most State legislation, players still end up playing and investing their time and resources. But when courts occasionally strike down various State gambling bans, user traffic and registration does not drop.
While search volumes are constantly increasing across India – especially real money searches – we have not seen adequate levels of institutional, legislative, or even political support for finding a long-term solution for the "gray area" status of Indian gambling.
In presenting the 2023 Fiscal Year, the Indian Government has recognized the similarity of virtual assets (crypto trade) and gambling winnings, citing the willingness to tax it at 30%. This has offered a glimpse into a possible justification for formally legitimizing more gaming genres in the near future.
However, the legality and the overall status of the industry continue playing a fundamental role in the capacity of stakeholders to exploit the above-described growth.
What Do These Trends Spell for India's Online Gambling Market
Legal trends aside – being outside the control and influence of most market participants – the above observations can lead us to several pragmatic examples and recommendations for more efficient operations in India.
Having established the importance of online alternatives for both classic Indian games and Western-style casino products, we have seen a couple of growing segments that were not a factor a few years ago:
Analyzing the game split on a monthly and state level, we have seen that roulette tops the overall player and turnover shares. However, its influence decreases when the market scope is widened, and more games are counted in. Slots, most notably, are already outperforming roulette in some areas, as well as many other traditional casino games.
Gaming industry stakeholders might do well to consider the following factors when approaching the Union market:
Mobile usage (over 90%) contributes to specific SERP rankings and search volumes. Gaming app demand in particular skews trends and traffic towards a few established standalone mobile products – Teen Patti, Rummy, and Slots;
While competitors should optimize for local favorites, they need to prepare proper visibility for the global "classics" of the industry;
Desi players enjoy simplified versions of foreign games;
Easy gameplay also means more speed or even instant game results;
While virtual simulation and advanced visualization is important, live sessions are always preferred, in almost any category (save for slots);
Younger players (the majority) enjoy regularly updated content, rich catalogs, and cross-over genres;
Regional highlights on product preferences include: Delhi and Mumbai play slots; states like Telangana like roulette, while Karnataka prefers traditional desi games.
The above analytical disclosures add another dimension to the current state of the Indian gambling scene. They also paint its prospects as somewhat easier to predict in the short term.
The product convergence we have observed is good news for the industry. It represents a fertile common ground enabling more efficient online casino operations.
However, there is still much work to be done – especially "on the ground" by local and national policymakers and digital industry regulators – so that more gambling vertical stakeholders could capitalize on the Indian market potential.