This research piece aims to describe, quantify and qualify the sports betting market in India in its various forms – offline and online, legal and underground, traditional and new-generation kinds.
Key findings of the study include:
Sports betting in India is

mostly illegal

and

cash-based

;
Annual

market size

is estimated anywhere between USD 40 and 150 billion;
Regulation is justified by

economic and social benefits

, yet

public sentiment

remains uncommitted
Online

sports betting is not prosecuted and almost exclusively served by

offshore sites
Cricket

is still the industry

cash cow

but other sports and global leagues are gaining modest shares
Despite relatively small current revenues,

fantasy sports

looks like the

future of online betting

, and the segment keeps investing consistently.
Sports betting is the largest real-money gaming market and possibly the biggest entertainment segment in the Union. While global brand names ensure online visibility, the average desi consumer expects more local content, an immersive experience, and more possibilities to freely bet on their passion.
The Scale of Sports Betting in India
Betting on competitive sports in India is notoriously illegal, with few notable exceptions. Nevertheless, the practice is immensely popular and commands a huge market, both offline and online. Assessing its size and penetration is challenging, namely because of missing regulatory standards and government recognition.
The main drivers of the popularity of sportsbooks in India are common to most equivalent markets – the excitement around real-money gaming and the close connection to one's favorite sports events, whether based on knowledge or emotion. Legality has less influence on the attractiveness of sports betting than other aspects such as cultural specifics (territorial or type of sports), technological constraints and personal preferences (from back-alley markets to fantasy sports on mobile), as well as other individual or group features and factors.
Horse racing bets are the prominent exception for all of India, being a historically recognized "game of skill" (and a social phenomenon, see below) that has gained legal and societal acceptance.
As with all other gambling practices on the Subcontinent, the Central Government has given States the right to make their own laws on the matter – in this case delegating such responsibilities through a 1935 Act. Further down this study, we will present a more detailed overview of the most relevant legal issues influencing the present and future of the sports betting sector in India. At any rate, one must be aware that State legislation differs substantially, as it currently stands. Sikkim, being the most permissive, has an explicit regulation allowing online games, including sports betting, since 2008. That was later (2015) amended to restrict such activities to physical "gaming parlors" via intranet gaming terminals.
On the other end of the spectrum, there are states which unequivocally prohibit money betting on "uncertain events", even if these might have elements of skill. These are Telangana (since 1974, amended in 2017), Assam (1970), Orissa (1955). The latter two do not allow any money stakes, for whatever type of game or reason.
Even so, the reality is quite different. States where online betting on sports is quite popular are often those that have declared it illegal – e.g. Telangana, Karnataka, and Maharashtra are among the leading markets. (Online traction in these states has been covered in a previous piece on gambling communities, with a particular chapter on Sports betting as a sub-segment).
An inquiry into industry numbers leads to a frequent problem with both private operators and public authorities – there is no official data or statistics, especially in a sector that is mostly outlawed. Still, there are media reports quoting historical comparisons and empirically verified trends, even figures.
When India's national cricket team plays a One-Day International match (ODI), illegal betting amounts to around USD 200 million per game. The combined amount over the year, including the League season and any international competitions, reaches USD 150 billion (~Rs 10 lakh crore in 2016 exchange rates), according to the International Centre for Sports Security, a think tank and lobby group based in Doha. This amount is quoted in more recent industry (legal) reports as USD 130 billion.
With only horse racing legally allowed in most of India, industry analysts inevitably rely on informal feedback channels and calculations to evaluate the market status and potential. Illegal bookies run most of it and the "hawala" (underground payment) system is dominant in such channels, leading up to money laundering in higher-level circuits and operator networks.
The elephant in the room has been addressed several times by authorities, albeit timidly and without conviction. One relevant instance was the Justice Lodha Committee tasked with attempting to estimate the sector proportions and propose meaningful measures to bring it under control. The Committee report estimated the Indian betting market at Rs 6 lakh crore, roughly USD 90 billion a few years back (around USD 82 billion at the time of writing).
The Federation of Indian Chambers of Commerce & Industry (FICCI) has also provided its estimates quite recently (2019), precisely in the context of the sector's importance and potential for the national economy, if legalized and properly regulated. FICCI's estimates speak of about half of the above amount – Rs 3 lakh crore (~USD 41 billion) – annually changing hands in direct relation to sports events. Enablers and operators are identified from back-alley bookies to offshore websites and encrypted chat rooms in cities big and small.
The desi passion for real-money gaming also translates into an estimated 370 million betters during major sporting events, while around 140 million are said to bet regularly. Yet again, formal verification of these numbers is quite challenging, as operations and market evolution around such events go off the record, mostly in cash.
One niche within real-money gaming has been standing out more recently, especially given its status of legal skill gaming. Fantasy sports are gaining popularity across India and we will address them in detail. Still, they are relatively small, with industry experts quoting transaction sizes as low as Rs 25 to Rs 40. These have likely risen to at least Rs 50 as UPI, the nation's leading payment intermediary system, decided to block all gaming transactions below Rs 50. At least, these are all verifiable electronic operations and allow stakeholders to plan, invest and develop the sector properly.
Even so, they lack the huge outlay of cash that classic sports betting provides, and which goes (almost) completely into the underground economy. Whichever of the above numbers we take as valid (from USD 41 billion to USD 150 billion annually), the importance of the industry puts it above the music, TV, and movie segments, all of which – together – are incomparable to illegal sports betting in India.
Offline Betting – Mostly Illegal
Having established that betting on sports in India is essentially illegal, it's not unexpected to see reports questioning the unregulated nature of the market. What is impressive is the ease with which media, authorities, and stakeholders narrate the existence and importance of such a black market without having done any concrete steps towards solving the issue. Admittedly, some analysts and media channels (possibly nudged forth gently by a stakeholder or a group) cyclically propose a meaningful debate to consider regulating a sector that is worth upwards of USD 100 billion and keeps growing (at an estimated 7%) every year.
Such arguments have more validity in the case of sports betting than possibly any other gambling type since it represents the largest share of the real-money gaming market in India. Back in 2012, when the betting market was estimated at a mere Rs. 300,000 crores, FICCI itself suggested that regulating the market would solve many issues related to control, taxation, and business growth. The industrial association gave several examples of countries faced with similar problems (albeit in different proportions) that had successfully implemented regulatory systems.
For Indian authorities, FICCI said, this had always seemed to be a "daunting task". An apposite survey emphasized the fact that sport itself is a game of skill and chance plays a small aspect in it, as well as in most related services. A combination of player ability, game conditions, and other significant factors determine together the outcome of a match. This should suffice to put sports betting in a different category from all common forms of illegal gambling, yet the official stance of authorities has not changed to date.
Betting on Horse Races, a Traditional Exception
As mentioned above, betting on horse races in India is legal, justified by historical heritage and cultural acceptance. The Turf Authority of India (TAI) is the industry body that promotes the interests of this niche gambling scene, representing the seven active race clubs in the Union. Recently, it has pushed for a review of the Government's decision to place a flat 28% GST tax on services provided at/by the Turf Clubs. Although indirect in its nature, GST has raised service prices, lowered turnovers, and threatened the sustainability of the entire horse racing ecosystem.
The racecourse betting operators have requested that GST be imposed only on the commission/service fee held by the club and not the entire face value of bets made (much like other legal gambling segments have spoken about GST on rake fees and not on turnovers). The main argument of all legitimate betting service providers is that a sharp rise in prices has led to the rise of black markets, defeating the purpose of a higher tax collection.
Notably, the three biggest Turf Clubs – in Bangalore, Hyderabad, and Calcutta – reported a pre-GST turnover of Rs 3482 crore (together) in 2016-2017, while this indicator post-GST dropped down to Rs 1193 crore. Overall taxation has also dropped in the same period, from Rs 389 crore in FY2017 to Rs 261 crore in FY20.
More recently, COVID-19 has led to a surge of interest in the previously niche sport. The race tracks have made the effort to transition gradually from completely offline operations to having some online services. Just like in many other industries, the pandemic merely sped up what was an inevitable process.
Legal Challenges Affect Industry Sentiment 
Industry stakeholders have long wished to determine what is preventing a "social constant" such as sports gaming to get better legislative recognition. The main approaches to a potential betting regulation – formally or informally discussed – have been:
Prohibit

it completely, on moral grounds;

Accept

the cultural reality and seek to adopt reasonable

regulation

;

Provide the necessary

legislation

to put it under control and even

encourage

it as a public (tax)

revenue source

with additional economic spillover effects.
In the above-mentioned FICCI survey, the overwhelming majority of adult respondents (69%) agreed that sports betting is hard to track and control since it is conducted over phones or online, often outside the country. This reality renders the traditional (existing) legislative approach obsolete as it still focuses on physical control of premises and people. Substantial resources go each year towards keeping betting operations out of public sight, rather than investing into bringing unregulated businesses into the light to achieve acceptable levels of social costs. All this while the majority of Indians, 84% (at least in big cities, Delhi NCT) are aware that sports betting has been successfully made legal in many mature markets, bringing solid revenues to governments and businesses.
Technically, acceptance also means that regulation of sports betting would have to involve even constitutional amendments, such as entries in the Union list under "Interstate trade and commerce" (entry 42) and telecommunications regulations (entry 31). This will finally bring legislation standards in the industry to present-day ICT realities, looking forward and not back into historical justifications for sports betting. In this context, it is evident that tacit public acceptance of the phenomenon is a resource and not a problem, as 83% of respondents in the FICCI survey said that regulating sports betting would be better than outlawing it.
Another pragmatic step in the right direction would be to establish a Sports Regulator body, whether the underlying philosophy is to permit or restrict betting via a professional administrator. The UK Gambling Commission's capacity to oversee a regulated market has often been evoked as a good practice.
In 2020, the UK-India Business Council (a business support entity) also reminded that it has repeatedly called for the regulation of India's sports betting market. High-profile business groups emphasize the substantial revenues that could go towards grass route sports or sports infrastructure. Digital traceability was also indicated as a way to combat a largely corrupt system.
The biggest paradox in the legal landscape comes from the status of Fantasy sports. All fantasy leagues, tournaments, and gaming apps are considered skill-based, therefore not illegal in India. The game's outcome is based on the actual performance of athletes (as fantasy teams constitute a selection of real sportspeople). Yet, players can wager real money on such selections within their league but not bet directly on the performance of a pre-set (actual) team they choose.
Ultimately, the sports betting market spans across the nation and needs Central (rather than State) regulation. Adopting clear, intuitive, and effective laws would lead to more transparent and responsible betting, and such bills should draw inspiration from international best practices. Above all, regulations should be game neutral, especially as we see territorial variations, gaming platform flexibility, and more hybrid genres carving out their niche (e.g. eSports and Fantasy leagues).
Given the public importance of the issue, certain limited debates on regulation options have been initiated in the past. In 2018, the Law Commission finalized a report titled "Legal Framework: Gambling and Sports Betting Including in Cricket in India", discussing the possibility of legalizing sports betting (first).
The Commission made some quite relevant proposals on how to set up the regulatory framework, including linking a player's Aadhaar (personal ID number) or PAN cards (tax card) to their betting or gambling profile. Advertisement controls, risk management algorithms, cashless transactions (with a cap on the number of transactions and amounts), age, and even income limits were recommended. Crucially, the Law Commission proposed to drop the ban on foreign investment in betting industries, a move that could raise legitimate competition and help take the industry to another level.
So far, there have been no concrete steps taken towards drafting such bills. In any event, most of the above features hint at an online-heavy version of sports betting envisioned as the norm.
Online Betting
Online betting in India is getting more visibility, mainly driven by the unregulated legal status of gambling in physical outlets and casinos. Offshore betting platforms, therefore, are an obvious solution for many desi punters, and an alternative to black-market operations run over chat groups, messaging channels, and back-alley bookies.
Indeed, betting on sports and other events exists only online in a traceable way, amounting to a huge business ecosystem, despite legal hurdles. While gambling houses and betting communities on the ground may have been "busted" occasionally over the years, there have been no known arrests in India for online sports betting. As no explicit laws are banning online sports betting (with a couple of state-level exceptions, never enforced in real life), those who seek online betting services have managed to find them with increasing ease over the past decade. Put simply, Indian gamers have learned to seek jurisdictions wherever sportsbooks are legal.
Better and faster internet, affordable smartphones, and an overall increase in disposable income have also done their part. The growing middle class (and their younger offspring) have discovered the convenience and safety of betting online. And the market has given them all the tools needed – one can bet on any imaginable aspect of an Indian Premier League (IPL) cricket match, even on global gambling sites based in countries that register no interest in the sport whatsoever. From the coin toss result to the performance of bowlers, or the odds of a given batsman scoring "a century" of runs, punters can indulge in their knowledge or hunches, and the online betting world gives them the chance to do it.
As we will discuss in more detail below, the SERP results and search volumes go mostly towards brand names, largely because of word-of-mouth marketing and the inclination of keeping these activities below the radar, at least outwardly. Naturally, leading operators also maintain a healthy advertising vertical, through affiliate and other support. The top betting sites available in India, therefore, come up high on such lists, with support services and practical queries among frequent online lookups as well. Generic keywords generate much less traction and such search terms remain fragmented.
Fantasy Sports – a New Generation Online Betting
Fantasy sports in India is a self-sufficient segment at this point. Having earned huge visibility across India – online, naturally, but also in other media and entertainment channels – fantasy leagues have gotten big enough to endorse the IPL itself. The Dream11 fantasy sports platform is the first gaming unicorn and the fact that it holds the IPL title sponsorship renders the idea of a business that has exploded in the past few years alone.
In 2018, a mere few years after the creation of the genre, there were over 40 million Indians reportedly playing fantasy cricket, kabaddi, football, or basketball. Dream11 was – and remains – the dominant player on the market, with around 90% share, according to a report by AC Nielsen and the Federation of Indian Fantasy Sports (FIFS, formerly Indian Federation of Sports Gaming, IFSG).
Dream11 was also the first Indian sports operator to strike high-profile agreements with top sports leagues, including the NBA and the football Indian Super League (ISL). More importantly, it kick-started the entire industry, as we have seen rapid growth from 10 operators in 2017 to 70 just a year later. The FIFS aspires to self-regulation as a way to promote best practices and standardize the industry.
The Federation elucidated in 2019 (with the active contribution of KPMG) that online gaming can be segmented into three key markets – Real-Money Games (RMG, e.g. casino), mobile-centric (casual) games, and eSports. The latter, despite its name, often has little correlation to real-world sports, yet it is turning into a global industry through games in the Multiplayer Online Battle Arena (MOBA, e.g. League of Legends, PUBG), First-Person Shooter (FPS, e.g. Counterstrike) and Real-Time Strategy (RTS, e.g. Starcraft) sub-segments. There are, naturally, sports simulation games, with football (e.g. FIFA) and basketball (NBA) the most prominent. Some Indian sites also offer the inevitable IPL simulation.
As a type of online gaming, Fantasy sports is a standalone hybrid genre, as it depends on real-life events in the sports world. However, it also involves spending money, playing casually, and employing (turn-based) strategy. It is different from classic sports betting yet it shares some of the dynamics behind player engagement and a general perception of correlation among users.
Emphatically skill-based, online fantasy sports gaming involves creating a custom team made of real-life athletes from actual cricket, football, basketball, kabaddi, or other professional leagues. These virtual teams receive points based on actual player performance statistics during real-life matches. Final rankings determine competition and league winners.
Younger generations are growing increasingly attracted by fantasy sports' flexibility, inclusive online environment, immersive nature, and, ultimately, legality. Starting with "practice contests", users move onto competitions for cash, with entry fees often adding up to substantial monetary returns. Operator service fees range from 15 to 25 percent of total money pools.
As much as it is a business model, fantasy sports is also a potent engagement tool – the majority of users stick to free-play mode, while the platforms supplement their revenue streams with numerous "advertisements, contest sponsorships, and brand partnerships". Both the gaming and sports industries realized the potential that new forms of fan engagement had in store for them, with network effects creating a whole ecosystem of viewership, investment, infrastructure (digital and physical), and ultimately revenues.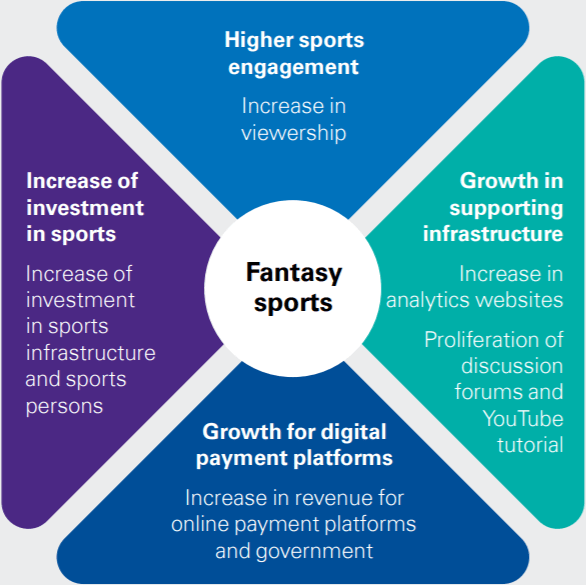 The fan engagement power of Fantasy sports. Source: KPMG, 2019
When other fantasy sports platforms also started growing (e.g. MyTeam11 and 11Wickets), the need to obtain some form of regulation became more evident. Consumer and operators associations had much to say in support of the segment's transparency and legality. When challenged in front of courts, Dream11 managed to get a favorable ruling by the Punjab and Haryana High Court, noting that fantasy sports are and should continue to be legal. Another turning point for the industry was the Supreme Court dismissal of an appeal against a similar Rajasthan High Court decision on the fantasy gaming's legitimacy.
As Dream11 is keen to point out, they are definitely a trendsetter and an overwhelming market leader. A case in point: their advertising campaigns, often seeking to generate benefits for the entire segment and create a fertile business climate. The ads featuring popular cricket player MS Dhoni (also noted further down) highlight the need to use strategic planning abilities and sports knowledge to play fantasy leagues and challenges – reaffirming, in fact, the legitimacy claims of the segment.
India's fantasy sports landscape has always had high potential. Its immense young population with a passion for technology has evolved significantly since ESPN-Star Sports launched the "Super Selector fantasy game" in 2001. Sports and tournaments kept joining the fantasy scene, notably football (the English Premier League, the UEFA Champions League), with cricket still indispensable – International Cricket Council (ICC) events, IPL, and ODI games. Players could pass some time thinking about their idols, spend some petty cash and relieve stress or daily boredom – a winning combination from the start.
Over time, the number of users kept growing, with some estimates quoting that boom at 25 times between 2016 and 2019 – roughly 100 million players by that year. In the mid-2010's the market noticed other sports as well – basketball (NBA), kabaddi, badminton, tennis. This increased the opportunities for users to engage with a "niche" sport throughout the year (IPL season is notably short, conducted over a couple of months a year). Regional preferences also matter in many States, while the growing presence and media coverage of global stars does much of the preparatory work for a fantasy league (in the case of football and basketball above all).
Market growth has been accompanied by investment interest, especially towards some of the leading operators. Key investments include Tencent's USD 100 million buying into Dream11 in late 2018, bringing the company's valuation to USD 500 million, followed by another financing round in 2019 (bringing total value from USD 1.1 billion to USD 2.5 billion), when the US hedge fund Steadview bought out stakes from early investors and diluted others. The latest round of tech investors pouring in another USD 400 million has seen Dream11 valued at nearly USD 5 billion in 2021.
Still, facts and figures place fantasy sports far off the size and popularity of traditional (illegal) sports betting. Dream11 is the only unicorn in the business, holding out its nearly 90% share while about a dozen other operators contesting mostly Tier 2 and 3 cities (through regional language versions) and niche sports markets.
Negative Cultural Perceptions of Sports Betting
The primary opposition to sports betting – in official policy and moral standpoints – is related to the inherent risks of illegal betting. Since it has been unregulated for centuries, this places most of the power and money in the hands of underground bookmakers.
One of the prime examples of organized crime profiting enormously from underground betting rings is D-Company. Started in Mumbai in the 1970s and operating in the whole of South Asia and even beyond, this particular syndicate has "ventured" into drug dealing and racketeering, forcing its agenda through outward violence. One of its founders, Dawood Ibrahim is still among the FBI's most wanted fugitives ever since a series of bombings killed and injured hundreds in Mumbai in 1993. The latest intelligence data points to Ibrahim as still maintaining active control of D-Company. Public opinion rightfully worries that through betting income organized crime finances even worse agendas, whether coexisting or converging.
There are numerous other negative impacts of betting as it is practiced in India. Social and financial "evils" are intertwined in the eyes of the public, as the main concerns are clearly outlined in media reports:
Unregulated money flows

are challenging to follow, leading to laundering and criminal reinvestment; 

Parallel

black markets

also mean a

loss of revenue

for the Government and potential businesses; in the eyes of the public, above all, this hurts

welfare

and

redistribution

chances.

Problem gambling

might be around the corner for those with less power of will and a propensity for addiction; players who face such struggles may be

impacted psychologically

to the point that it could be an obstacle to professional and personal relations; some media even cite an

increase in suicide rates around live cricket season

; Tax revenue losses also impact the lack of education and

awareness

programs, as well as any kind of gambler

support

.

Financial implications

for those ending up on the losing side of such games might be considerable; No regulatory restrictions also translates into

no protection

whatsoever for bettors.

Corruption in sports

nourishes the existence of facilitators such as

bookies

and other larger-scale

middlemen

who have a growing influence; the shadow of match-fixing (especially in cricket and football) is always around yet impossible to execute without said grey-economy intermediaries.
If we set personal vulnerability and gaming performance based on impulsive decisions into a separate "moral" category, public sentiment is focused on the integrity of the nation's favorite sports. On one hand, India has witnessed the 2013 match-fixing scandal, when Delhi Police arrested three cricket players for spot-fixing in the IPL.
On the other hand, even if betting is legalized, some experts worry that athletes may still be tempted and match-fixing could be unavoidable even then. Yet, if players have controlled access to outside figures in the days leading to their games, risks could be mitigated just as they are in other important leagues around the world.
One way or another, bringing in transparency and traceability is more likely to provide safety nets for the entire ecosystem, rather than the other way around, as FICCI had emphasized in its report. Restricted betting is set to diminish negative financial impacts for bettors; accountability of bookmakers is certain to decrease undisclosed information and bribes; regulatory spotlights have proven to fend off match-fixing (to a large extent, in all conditions and high-profile leagues around the world). Lastly, deciding upon a regulatory regime will eliminate unscrupulous and counterfeit operators.
Positive Cultural Perceptions of Sports Betting
Despite the above risks and unresolved issues, the unregulated sports betting market in India continues its stable growth. The monetary factor remains, undoubtedly, at the forefront of collective imagination, since betting is viewed as a way of "earning" a supplementary income by many punters, both regular and casual. There are, however, several other psychological factors positively influencing public perception.
The exposure of

horse racing

as a pioneer field of

culturally acceptable betting
The sport itself has been synonymous with "skill, speed, variety, glamour, gambling, thrills, scandals and big money". By the 1970s and 1980s, high-profile events such as the Invitation Cup in Mumbai (then Bombay) made the cover stories and were considered prestigious rather than decadent. An entire supporting industry vertical had been established, with thousands of horses, hundreds of breeder farms, and thousands of workers, all catering to the packed stands. The passion of betting on races was almost a byproduct of an esteemed occupation.
The tradition was inherited from the 18th Century British presence, with the first track established in 1777 in Chennai (then Madras). Yet, it was only in 1943 that the Indian Derby was created as an international event drawing instantly huge interest and public coverage. In the latter part of the 20th Century, the mix of watering, industry spillovers, and the very social nature of the events made it appealing to the upper classes. Many common people lacked the means to get in direct contact with the sport but were enabled to bet on event outcomes, with many feeling to be part of a glamorous business, sharing a passion with movie stars, models, tycoons, and royalty.
Favorable attitude

in large parts of

society

towards gambling as a whole and sports betting in particular
The positive examples and practices of cultural acceptance have left their mark on public opinion. Coming particularly from English-speaking countries (e.g. the UK or Australia), where bettors don't have to deal with the stigma of illegality, these standards have become an aspirational target for businesses, regulation lobbyists, and end-users alike. The possibility of reining in a major industry is quite appealing and cannot be swept under the carpet of morality quite easily. And finally, there are century-old traditions and customs encouraging people to wager money. We've discussed the lasting popularity of classic games like Teen Patti and Andar Bahar around Diwali and other holidays, while Matka is still popular in large parts of the country, albeit all of these are formally illegal. The perception that occasional betting and real-money wagering should not be pursued is upheld by the majority of Indians.
The

lure of monetary gains
This is an unavoidable argument in favor of sports betting, especially for those who think they know sports well. As a primary incentive to pursue quick and easy money, it is likely to attract even newcomers. When losing or stagnating in their bet results, most punters are self-critical, seeking solutions in small details or blaming misfortune. Online betting is even easier to find attractive, as real money does not go out of one's pocket, and playing out of a digital balance reminds many bettors of stock market operations and the promise they hold.
There are also other positive perceptions related to regulated sports betting, as it is done "properly" in mature markets. When the issue of sports integrity first led to concerns about doping, these emerged in horse racing in particular. Yet, in-depth research found that those who raised the question of fair play in the sport did so not in view of the athletes' (and animals') performance per se but rather in light of how doping could threaten betting outcomes. Consequently, more controls and regulations were promoted and upheld to protect financial outlay in the industry and the integrity of the betting market in turn.
As mentioned above, fantasy sports operators have done their fair share of encouraging the acceptance of real-money gaming, making conscious steps to building the credibility of their websites and apps, mostly by partnering with popular sports leagues. The "Khelo Dimaag Se" campaign by Dream11 emphasized the skill nature of fantasy sports, with the hashtag #DimaagSeDhoni reminding sports fans across the nation that their in-depth knowledge is the reason why they might be victorious; winning real money is secondary in this case. (The rough translation of the slogan is #WithYourHead/Brain).
The positive influence of internet and mass media images related to online and fantasy betting has also grown in the past decade. The leading players in the segment (Dream11, MyTeam11, Halaplay, 11Wickets, Starpick, and others) have partnered with sports leagues as official fantasy sports games. Dream11 is – among other sponsorships – the official fantasy gaming partner of ICC, the Pro Kabaddi League (PKL), the ISL, the NBA, the Caribbean Premier League (CPL), the International Hockey Federation (FIH), and the Big Bash League (BBL, the Australian cricket league). MyTeam11 has teamed up in similar roles with the Pakistani Super League (PSL, cricket) and the Indian Pro Volleyball League (PVL). The IPL even runs its own official fantasy league.
Surveys have shown that these "hybrid" gaming channels are gaining importance, acceptance and are a positive influence on the entire gaming and betting segment. Desi consumers appreciate the prizes they promote and the majority (65%) would love to get their hands on match tickets, meet their favorite stars, or obtain autographed merchandise, topping preferences, and wish lists among sports gaming enthusiasts. These are the kinds of opportunities that operators striving for legality and recognition might do well to explore in the future, deepening engagement and bringing consumers closer to their sports passions, thus adding new dimensions of value to potential monetary gains.
Cricket and Betting: A Cultural Cash Cow
India has a true "love affair" with cricket, unparalleled in any other context. Stating that betting on the IPL outperforms any other sports segment is just the beginning; explaining why this is reality is a necessary step to understanding the desi sports betting market.
In reality, football had a head start in the Subcontinent, well before national Independence. After 1947, the Indian national cricket team had only played and lost to Australia (in 1948), while the national football team played in the 1948 Olympics. The first cricket wins came in 1952, at home, against England and Pakistan.
What gave a definitive boost to Indian cricket was the win at the ICC World Cups and Champions Cups – in 1983, and more recently in 2007, 2011, and 2013. After reaching the top of the world's game, all other sports became secondary.
Today, an estimated 80% of the sports betting market in the country is cricket-based. IPL betting is also known as cricket satta and, much as the illegal lottery version, it's estimated to incur annual losses (or rather, lost profits) to the tune of Rs 2 lakh crore, according to estimates by the All India Gaming Federation (AIGF) in 2017. Exchange rates at the time equate that amount to USD 27 billion.
On a second look, this is the amount that the Federation has verified in industry studies as being bet only on cricket matches played by Team India, i.e. only the national selection. As for the amount of the total sports betting market, we have seen the figures above, placing it anywhere between two and six times this amount. Considering the dominance of the sport, cricket wagering turnovers alone are likely as much as USD 100 billion.
Without a doubt, cricket has become an intrinsic cultural trait of the overwhelming majority of Indians. Equally, for urban and small-town betting communities alike, cricket matches are seen as an opportunity to earn some quick money. And given the sheer size of the market, the (underground) industry has seen huge volumes placed around any given game. In Delhi alone, there are reportedly 5,000 individuals employed in the market during IPL season, from bookies to cash couriers.
What produces damaging effects, even in the eyes of certain police officials, is the very status of the business, illegal yet ubiquitous; risky yet powerful. More recently, however, many of the industry obstacles have been overcome with the help of technology. Betting systems, more or less complex, are being set up around the country, and police have to tackle these rings whenever there is physical presence and cash involved. When they move completely online, betting platforms disappear in the eyes of the law and law enforcement.
A senior Supreme Court lawyer was quoted by the media, stressing that police efforts and public resources are exhausted in chasing down individual gambling and betting figures known to the authorities. The public, on the other hand, would appreciate if these resources were better spent elsewhere, on more pressing societal issues. Quite simply, cricket is part of the culture; and betting on cricket is part of the sports for many.
The Indian Premier League
The Indian Premier League (IPL) is the Union's professional Twenty20 cricket league. Eight teams compete for the title each year, based in eight different cities (and six of those are Tier-1 urban agglomerations). Founded by the Board of Control for Cricket in India (BCCI) as recently as 2007, it is traditionally held between March and May. It has an exclusive (non-competition) window in the ICC program so desi fans and international viewers could dedicate their attention to the tournament only.
Twenty20 is a shorter version of cricket (about 3 hours long), with 10-minute breaks between the two 90-minute innings. While traditional cricket matches, know as Test cricket, may last up to "a workweek", Twenty20 cricket is more dynamic and closer to the duration of other popular team sports – a football match lasts slightly under 2 hours (or 2.5 in the case of extra time at tournaments), and an NBA game lasts around 2.5 hours, with all breaks considered. This version of cricket was established after favorable reviews by both media and spectators.
Initially, the IPL had the tough task of competing with global leaders such as the NBA, NFL, the English Premier League of the UEFA Champions League. Striving to expand at home and abroad, the IPL had to prove to local viewers first that domestic league matches were not superfluous, especially as desi consumers were used to turning on the TV for national team games only. In a matter of time, spanning only several years, the IPL accomplished turning domestic games into the main event, defining cricket seasons, and representing the culmination of the sports calendar.
In 2010, the IPL was the first sporting event to get a dedicated live YouTube broadcast. In 2014, it was already the biggest cricket league globally and sixth by average attendance among all professional sports leagues. By 2019, the IPL brand value was estimated at Rs 475 billion (USD 6.7 billion at the time), becoming the nation's largest media subject and advertising asset.
It also became straightforward "Americanized", with cheerleaders, colorful crowds, movie stars, and glamorous images to garner the 3 hours at the stadium or in front of the TV. The expansion of entertaining stimuli made cricket a unique fan experience, stealing headlines and capturing hearts and imaginations. The League even introduced player auctions, copying US draft and trade sports practices.
Title sponsorships started being the focus of pre-season. Between 2008 and 2012, it belonged to India's largest real-estate developer, paying "only" Rs 200 crore (USD 28 million) over five seasons. PepsiCo followed up, doubling that amount for the next 5 years. In 2017, Chinese smartphone maker VIVO won the bid with Rs 2,200 crore (USD 310 million at the time), paying more than England's Barclays' Premier League received up until 2016.
Dream11 took over in 2020 for a year, paying Rs 222 crore (~USD 31 million), after the BCCI suspended the deal with VIVO amidst tensions with China. VIVO came back to finish up its contract a year later.
The IPL generates much bigger revenues from media coverage. In 2017, Star India won the consolidated global broadcast rights for USD 2.55 billion. The Disney subsidiary guaranteed wider viewership in India, providing regional channels in 8 different leading languages instead of English only. Star also struck OTT streaming agreements with Hotstar, JioTV, and AirtelTV, expanding coverage on mobile apps.
The IPL 2020 marked another turning point – Disney+ Hotstar introduced Augmented Reality among a series of tech innovations. Largely an attempt to make up for empty stadia amid the Covid pandemic, the move proved an effective enhancement of fan experience. AR graphics ensured large-scale visual spectacles within the stadia, superimposing landscape, effects, and fan reactions.
Increased and improved camera coverage provided high-quality action on the field, while background graphics remained anchored with striking realism. Pyrotechnics, video walls, and drone shows completed the scene, with social feeds taking mobile media coverage to unprecedented levels.
Cricket Events Outside India
Having covered so much about cricket in India, its status in other places might begin to seem questionable. Other national leagues and international competitions in cricket do, nevertheless, exist. The ICC currently lists 105 Member nations, with 12 Full Members and 94 Associate Members.
Full Member countries play so-called Test matches, One-Day-Internationals (ODI) and T20 Internationals (T20I). All 12 are mostly part of the former Commonwealth group of nations – New Zealand, England, Australia, South Africa, and Pakistan are the strongest competitors of India; Bangladesh and Sri Lanka (its neighbors), along with Ireland and Zimbabwe are also reasonably consistent. Afghanistan has most recently been given "Test" status (in 2018, soon after Ireland in fact) but provided the recent political developments further development there, at present, is unlikely.
The current international match schedule (called ICC Future Tours Programme 2018–2023) includes World Test Championships spanning from 2019 to 2021 and again in 2021–23, involving the top 9 Test teams; and an ODI Championship (known as a Super League) involving 13 nations. There is also a T20 World Cup in 2021, originally scheduled to be held in India but moved to the UAE and Oman because of yet another Covid wave complicating logistics and support. Another T20 WC is scheduled for 2022 in Australia.
For those who follow and bet on international cricket, global ICC events are extremely popular, with 95% of fans reported as "very interested", especially in the ICC World Cup and ICC World T20. Test matches with England and Wales are followed by 86% of all international cricket fans, while South Africa rivalry fares well in ODI cricket (91%) and Pakistan is most relevant in T20I games (98%). Outside of India, T20I is the most popular format (with 92%), with ODI a close second.
Even beyond national borders, desi expats continue supporting their team heavily in international competitions and ODI. The average Indian cricket fan can be seen everywhere there is a relevant game, as Bharat's own cricket superstars have a massive following and gather emotional crowd support, often outnumbering host nation supporters.
As an almost logical consequence, desi fans also bet heavily on events involving the national team, all ODI, and any of the various World Cups and tournaments throughout the year. India is thought to have strong enough a team to line up two separate formations simultaneously. The excellent commercialization of the game has brought it to a level where there are cricket broadcasts and support shows at almost any given time somewhere in India. Betting is also perceived as an auxiliary activity and not the main feature.
Other Major Sports and International Leagues
India boasts one of the largest sports markets in the world. Although cricket dominates the scene, a following is slowly but steadily growing in support of football and kabaddi, with field hockey, badminton, and tennis also gaining traction in various parts of the country.
As mentioned above, football was bigger than cricket until the 1950s, with clubs mostly from Bengal and South India. Today's football strongholds are found in Bengal, Goa, Kerala, and the North-East (Manipur, Mizoram but also increasingly relevant in Assam and Meghalaya).
Resurging interest in "niche" sports coincides with global events and important victories, such as PV Sindhu's performance in badminton (Silver medal in the 2016 Rio Olympics and Bronze in Tokyo 2020 but also a 2019 World Title) or FIFA World Cup and Asian Cup football qualifiers. Sports experts agree, however, that the very lack of diverse media exposure and the disproportionate cricket coverage limit many other sports to obscurity.
When the Indian Super League (ISL) was first launched in 2014, it was rightfully hailed as a new chance for Indian football. The domestic market was prepared from a marketing and media perspective, with local celebrities owning or endorsing the initiative and global football stars (e.g. Del Piero, Vieira) playing in India or promoting the new face of the sport in India. New stadiums were also built in many cities, with currently 11 teams from 10 cities (Kolkata is represented by two) competing for the title. The ISL franchise system is modeled upon most US leagues (e.g. NFL, NBA) and does not foresee promotion and relegation.
The ISL really changed the narrative on how Indians see and experience football, a study found in 2019. The game's popularity had risen 137 percent since the League started and according to the Broadcast Audience Research Council of India (BARC), the ISL managed to gather far bigger audiences than the English Premier League, the 2017 FIFA Under17 World Cup, or even the 2018 FIFA World Cup. Apparently, much of desi society had matured as a consumer to seek and appreciate domestic competition, with more than 270 million choosing to watch the ISL at one point or another.
Strangely enough, India has two top-flight football leagues. The I-League is also a professional league that co-exists at the highest level, at least formally. The Asian Football Confederation (AFC) has repeatedly urged the sporting authorities to end the ambiguity and restructure the national football pyramid.
The National Football League (NFL) was rebranded as I-League in 2007 and was India's first professional football league. It was mainly intended to develop the game as a source of players for the national team. The I-League currently has 13 clubs across the nation and, unlike the ISL, these compete within a system of promotions and relegations.
Admittedly, the visibility of other international sports on some of the global media channels has also increased. The European Champions League and the EPL have done much for football, while the NBA and the major Tennis tournaments have expanded the line of sight of sports fans and bettors alike. Olympic sports disciplines also get instant recognition whenever an Indian athlete manages to get a decent placing or a medal.
By 2019 Dream11 had kabaddi, NBA, football, and hockey options outside of cricket (still holding an 85% share). Only three years back, cricket commanded a 95% share, with company executives hoping it continues going down to about 75% so that fantasy platforms can diversify and attract new user groups.
Normalizing Betting Through Cricket Stars
The amount of cricket stars that are instantly recognizable around India is considerable. Many of them are openly sponsoring online betting and fantasy sports. These campaigns have had a direct social impact on real-money gaming and further lasting effects on its public acceptance.
Cricket legends like Kapil Dev, Sachin Tendulkar, MS Dhoni, Sourav Ganguly, and Yuvraj Singh have taken the game to a global level and one can see their posters admired by the crowds almost anywhere. They have inspired millions to join and follow the game and their support for any given initiative means much for cricket enthusiasts and even those who don't follow the game closely.
The Indian media outlets and the League itself have benefited greatly from such popularity. Along with online gambling operators and fantasy sports start-ups, they have tapped into the market potential of high-profile collaborations and sponsorships. Various gaming operators, in particular, have signed lucrative contracts with professional sports leagues, teams, and stars.
In late 2020, cricket superstars Sourav Ganguly (the acting BCCI President) and Virat Kohli were publicly discussed for their power in promoting online gaming, with a case reaching Madras High Court. Petitioners cited a series of negative impacts on players, including suicides, originating in the celebrities' practice of endorsing real-money gaming. My11Circle and Mobile Premier League (MPL) – two fantasy sports platforms – were responding to a PIL (public interest litigation) filed against online gaming. Yet, as we pointed out above, Dream11 and others in the business have repeatedly won similar cases distinguishing skill from chance and passion. At the time of writing, the MPL is endorsed by Virat Kohli, My11Circle and payment giant Paytm by Sachin Tendulkar and Bharat Ratna, and Dream11 by MS Dhoni, all with expansive campaigns on digital and other media and around the nation.
When the IPL was suspended in May 2021 (to resume in September in the UAE), the decision produced a wave of negative impacts across advertising, digital sponsorships, and fantasy gaming verticals. The League's official broadcaster, Star India, had 18 major sponsors and upwards of 100 advertisers in a multitude of brands and segments that had to rethink agreements and find solutions to their original business plans.
Who Bets on Sports in India?
Breaking down essential demographic traits of the typical sports bettor might seem like an ambitious task. After all, ICC research confirms that India holds 90 percent of the billion cricket fans in the world. With other sports as well, this is an immense user pool that is more diverse than it is unique.
Primary research data is available through one of ENV Media's leading sports betting affiliate properties, Bet India. The extracted Google Analytics data covers 69 thousand users accessing the platform in the period between June 1, 2020 and September 15, 2021 (nearly 15 months) and has been filtered to include exclusively traffic coming from India.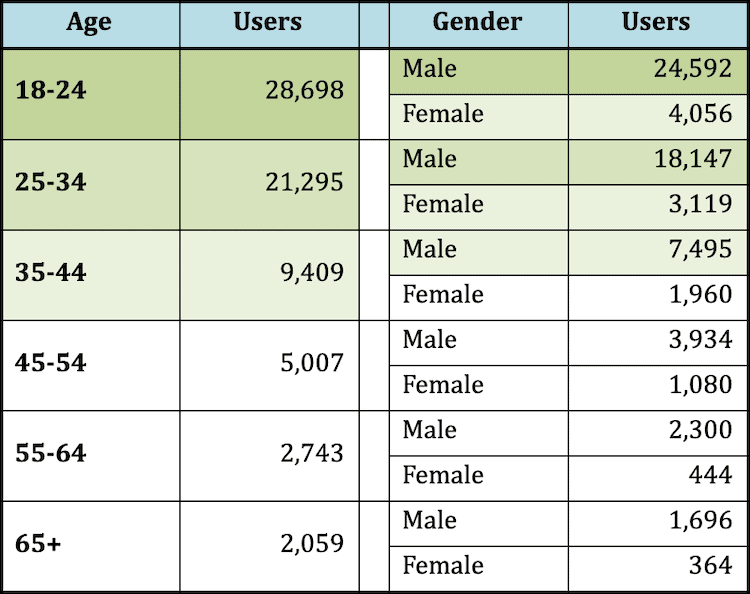 As the above table reveals, males were expectedly the overwhelming majority at 84% of all users. The dominant age group was also not a surprise – 18 to 24 year olds held a 41.7% share, while users aged 18 to 34 generated almost three quarters of all traffic (72.6%). Males aged 18 – 34 alone were 62% of all users.
The tables below represent the leaders in the following rankings
user

language

(the selected default browser language on Google);

user

State of origin

;

the

top cities

by traffic volume.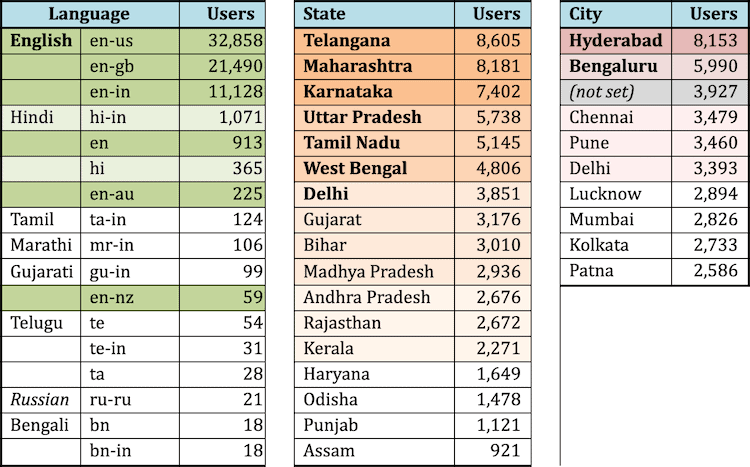 We can see that this particular ENV property is reaching a prevailing English-speaking user base (~97.1%). Hindi was second at a distant 2.1%. That, however, does not determine the complete language profile of the Indian sports bettor, nor does it illustrate the typical one.
As we have seen in a previous research piece, only 12% of the population is familiar enough with English to "use it interchangeably". Around 70% of all online users consider local language content more reliable than English content, therefore leaving much of the potential user market hidden to operators and marketers. Ultimately however, offshore sites and betting platforms reach out to consumers mostly in English, with Hindi, Tamil, Telugu, Bengali and Marathi only occasionally offered, often via computer-generated translations.
As with other types of online gaming, larger and more developed States and urban areas have a larger influence on user bases and better online visibility – Hyderabad above all in this case, followed by Bengaluru, Chennai, Pune and Delhi (all Tier-1 Cities).
Looking at declared and extracted categories of interest, we see the table below: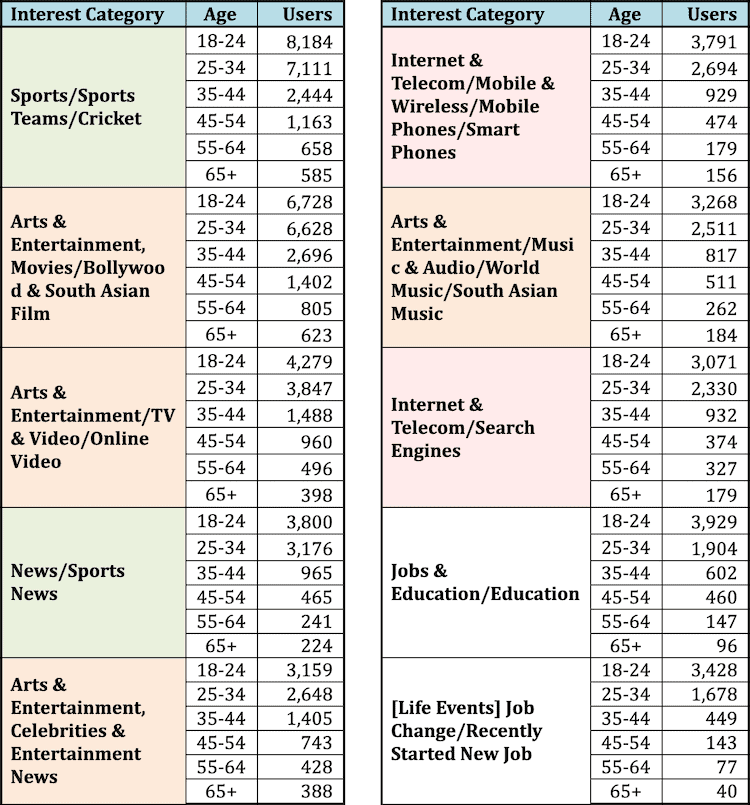 As expected, Sports and related news represent the single most important group of content, especially in a wider topical definition. Altogether, on the other hand, the amount of sports bettors interested in current events, entertainment, celebrities and various digital media content is the heterogeneous majority among registered users.
The devices used to access the platform are shown below:

Also not a surprise, mobile phones are the top choice in the segment with 87%. Android is given at 99.4%, a logical consequence of market dynamics. Slightly surprisingly, it leaves iPO almost non-existent. Among smartphone brands, Xiaomi had a commanding lead with 30.3%, followed by Samsung with 21%, Vivo at 14.8%, Realme at 11.1% and OPPO with 10.4%.
Secondary Sources Add Further Demographic Insights
However, the above 2018 ICC survey also revealed that 34 is the average age of cricket fans globally (in the 16-69 category), with 61 percent reported as male.
Indian marketers and gaming operators know that disposable income is key to being able to contribute regularly to the vertical. Recent economic trends have been positive: in early 2019 the number of upper-middle-income households was estimated at 61 million, roughly 21 percent of all desi households. The same figure was expected to more than double by 2030, arriving at 168 million (or 44 percent of total households in India). On the other hand, almost 300 million households reportedly do not have the financial or technical means to join the market, and the same is valid for minors who are not yet supposed to.
In all sports-betting-related statistics, men outweigh women (in standard binary definitions used by industry research), which is not the case in many other gaming genres (e.g. casual, puzzle, or quiz games). The vast majority of online bettors, in particular, come from younger generations. Consumers get more conservative with age – even if they bet offline – and are less tech-savvy to join the digital market.
The same line of reasoning finds empirical confirmation in online betting communities – generally centered in larger urban areas (i.e. Mumbai, Delhi, Bangalore, Chennai, etc)., composed of younger males. Industry analysts speak of proportionally less online betting traffic in Northern and Eastern States since these areas tend to be more conservative. The North-East is also, as we saw, more interested in football than the rest of the country and this leaves them somewhat out of the incessant media promotion of cricket.
On the other hand, other visible trends in sports gaming reveal a substantial rise throughout the nation, with the North showing a somewhat higher awareness for fantasy sports (at 69%), followed by the West (67%), East (66%) and South (64%). Fantasy gaming is almost inevitably increasing user engagement for all sports types – studies in the US have shown that when a sports fan "evolves" into a fantasy sports player, they consume up to 80 percent more sports-related content.
Within that user group, a 2019 survey by KPMG India reveals, 71 percent play fantasy cricket and 54 percent play fantasy football. The majority of fantasy sports players (72%) regarded "fun and excitement" as the primary engagement driver for their participation, followed by "remaining connected with the sport" and "using their sports knowledge" with roughly 50% of all responses. In contrast to other forms of non-sport-related gambling, respondents found the "opportunity to win money" to be a motivator in only 30% of the cases, the fifth most important engagement factor.
As for sports gaming frequency, it has proven rather consistent across the 18-24 and 25-36 age groups, where more than three-quarters of respondents play between 1 and 3 times a week. The 37-50 age group had a higher engagement rate, with nearly half playing fantasy sports games more than four times a week. A playing frequency of more than five times per week was reported as falling in higher income levels, where only 12 percent of respondents earning more than Rs 10 lakh annually (~USD 13,600) played so often.
Among those earning less than Rs 3 lakh per year (~USD 4,000), more than 70 percent had paid for sports games in the past 12 months. Out of that group, 38 percent had spent more than Rs 500 per month on fantasy sports.
This brings us back to the consideration that sports gaming (and fantasy sport in this particular survey) is considered a means for earning supplementary income more by lower-income groups than others, translating into higher engagement levels in those income brackets. Then again, respondents might be more open to admitting to playing fantasy and other sports games online (for money) rather than owning up to their classic sports betting habit which is still formally illegal.
Most respondents from Tier-1 cities played less frequently than those from smaller cities in the Union. Almost 85 percent of urban players played between 1 and 3 times a week while nearly 70 percent of smaller-city gaming communities played more than four times a week. These indicators confirm the deep penetration that online, mobile, and fantasy sports gaming has in the nation, even and especially in smaller places.
Having established that 30 percent were motivated by monetary wins, nearly half of all gamers were found to have played for money in the past year alone.
Monthly sums spent on fantasy sports platforms – annual income-wise distribution, KPMG 2019
The Mind of the Indian Bettor
The above indicators and trends have allowed us to outline certain basic behavioral traits of the target demographic in sports betting and gaming. Moreover, a 2021 survey provides a glimpse into the psychology of gamers' responses in cases of hypothetic alteration in the levels of certain stimuli. Among all adult groups, India rates second (with 29%) – out of 24 countries including traditional (established) and emerging betting markets – in agreeing with the statement "playing fantasy sports for money is something that interests me".
The appetite for gambling on fantasy sports is practically the same as Indians' overall willingness to bet or gamble (33%) or bet on eSports (30%). Getting closer to an immersive, all-around media and sports experience is the essence of real-money gaming for the majority of sports enthusiasts. This is why the novel, more interactive forms of sports gambling have gained quick recognition and nationwide visibility, just as they have in other growing markets in recent years. Those who follow sports need and want to get more of it, in various shapes and forms; and if it makes them money, all the better.
Inquiring into the mental perception of Indian consumers when confronting fantasy sports with "traditional" sports betting, the study also found that the majority (69%) of responders did not think the two were similar. Yet, the remaining 31% claimed that there are considerable similarities. This points to another common belief: that those who know sports and bet on them are mostly using knowledge and "skill", despite the judicial distinctions between the two up to this point.
Out of the group that closely associates sports betting and fantasy gaming, the main reason for doing so is justified by the money put into it, in 68% of responses. For more than a quarter (26%), both gaming genres convey "similar thrills". More than half of surveyed gamers (55%), on the other hand, think that the influence of skill and chance in both types of gaming is the same.
On a side note, mature markets like the US, UK, and Australia – an aspirational consumer reality for many Indians – all rate near the global averages for emerging betting genres.
Additional considerations on the mental attitudes of Indian sports bettors should include:
The

pleasure of risk-taking

is still a pivotal factor.
As the above KPMG survey reminds us, the uncertainty and risk associated with betting outcomes bring an adrenaline rush, leading sometimes to greater risks and higher bets. The true peril is letting thrills and emotions take over rationality, the pride of knowledgeable bettors. Yet, sports fans agree (even those who do not wager regularly) that watching a game becomes more stimulating when a bet is placed on its outcome.
The recreational function of

escaping one's daily reality

to

connect to their peers
Betting is a simple escape mechanism for many punters: getting in touch with those who share their interests; spending money without being judged and feeling empowered by it; overcoming emotional issues (loss or loneliness) by emerging oneself into an exciting reality; even getting bored is likely to push people of all income groups towards betting.
The

glamorous appeal

of

winners in sports and in life

transferred to sports betting
Most desi consumers see public images of (sports) celebrities associated with winning lifestyles, in turn, linked to sports betting and gambling which adopts glamorous traits. Film and mass culture has done much to place betting in that context, including the influence of Western consumer culture. Gambling imagery is associated with "glitzy casinos", big wins, and the proximity to celebrity lifestyle we observed with horse races above. This image alone is sufficient to motivate average sports fans to get involved in betting.
While most of the above drivers are easy to justify (money, winning, glamour, risk, being with one's peers), the perspective on betting as a way of dealing with emotional stress is less straightforward. It has been found in psychological studies, however, that it offers an easy way out to cope with stress and other emotional issues. The temporary escape of being slightly anxious about a sports game outcome (even if tied to a certain sum of money) is a sought alternative to worrying about daily demands on a personal, professional, or another level.
The same Australian study from 2010 also emphasizes the difference in motivation that gambling and betting provide to males and females. Females are more likely to turn to real-money gaming out of loneliness, depression, or other emotional issues. Males' worries are more often linked to financial pressure or employment-related problems, with respondents strongly agreeing with the importance of peer groups in such choices.
Ultimately, on the one hand, Indian sports betting attitudes are revealed as part of Asian betting culture – socially accepted (tacitly tolerated where it's not legal) and being associated with aspirational lifestyles and wealth. On the other hand, contemporary desi consumers are proud and eager to show their level of knowledge related to sports betting, sports strategy, and even digital technology. The synergy of historic context and dynamic contemporary sports markets results in the huge and still expanding betting market in India.
The Most Popular Betting Markets and Their Betting Schemes
Attempting to obtain solid evidence on the main betting markets (leagues, sports) and betting patterns (coefficients, probabilities) is just as challenging as pulling out concrete statistics from the, largely illegal, sports betting ecosystem. The easy answer would be that bookies on the ground know best, and teams and patterns vary from season to season, if not between games.
Nevertheless, we have exposed much of the desi bettor's mindset and attitude, as well as the types of sports and leagues they follow, so that an educated approximation of the main betting schemes should be quite possible.
Since most Indian punters are young and looking to add some side income to their usual budget, they are likely to look for low-risk low-reward bets above all. These are games and performances they are sure about (i.e. from the actual condition of teams and athletes), or at least have deduced their way towards a bet they feel relatively confident about. Empirical evidence shows that wild bets are a statistical rarity and most punters start off with the intent to bet rationally and not emotionally, even if they lose their way further down the line.
Cricket Betting Patterns
When considering the most popular types of bets on cricket, we must remember that these are available online mostly – offshore, abroad – but not formally and legally in India. In any case, offline and black-market bookies are unlikely to offer a range of betting options as wide as the ones found at online betting agencies, especially the global leaders in the segment.
Match betting is the most common, straightforward type of bet. The outcomes are a win for either team or a draw. There is also a binary option played as a Tied match bet (yes/no).
Completed match is a bet for One-Day games where the guess is whether the match will be completed on that day or not (e.g. because of weather or other factors). Again, a simple yes/no outcome is possible.
Betting on a Top bowler means selecting a specific athlete who will take the most wickets in a match (or series). Similarly, the Top batsman bet chooses the player who might score the most runs in a game or series. The Team of Top batsman bet is also a binary one, with much higher odds of winning.
Bowler match bets are easier to get right than the top bowler pick since bettors are presented with a choice of two players and the bet is on who will do better (in terms of wickets). Similarly, Batsman match betting means choosing between two players to pick the one that will score more runs.
Betting on a Tournament outright winner chooses the team which will prevail above others. A Series winner is a choice between only two teams facing each other over several matches.
The Under/Over score bet is a player favorite, aiming to predict the total score that a team will have at the end of the match (or series) and place it above or below a predefined amount. The Innings runs wager is often in that category as well, seeking to identify the number of runs in the first innings. Traditionally, it will also be given as an under/over option and not as an exact number.
Another binary alternative is the Odd/Even runs bet. A given team will score runs that will either be an odd or an even number, with 0 (zero) considered an even number.
The Series score necessitates a bet on the final overall score. The final overall score will focus on the number of matches won by each team.
Another simple betting choice is Most run-outs – which of the two teams will score more runs in a match or series.
The Method of dismissal wager is used in live betting, picking the way a batsman will be dismissed (e.g. caught, bowled, run out, LBW, etc).
The Win toss bet is a proper bet on a coin toss (at the start of the match). The Toss combination, on the other hand, seeks to guess which team will win the toss and what they will choose – bowling or batting first. Winning bets have to pick both correctly.
The Man of the Match or Series is also a popular wager, predicting which player will earn the said "title", usually assigned by media and sports experts to the best performer. It is also a fixture in bigger games and markets (Internationals and Cups), while domestic matches might not have it assigned.
The list of betting options might go on, with important providers offering over 200 different betting choices. Many also allow and convert different Odds formats – choosing between decimal, fractional, Malaysian, Hong Kong, American or Indonesian.
Football Betting Patterns
Betting on football – again, illegal in India but extensively covered and offered abroad and online – betting options and patterns are just as numerous. What's more, some betting agencies make them almost limitless, offering the possibility to bet on some wild and random statistics, taking betting choices well into the hundreds.
Two broad categories are based on results (e.g. match-winner, score) or statistics (goals under/over). While both are pretty straightforward, the betting options based on statistics is where players' imagination has been left with little left to desire:
Total listed amounts of corners, yellow (or red) cards, shots on target, offsides, fouls, and any other statistics are usually available to generate a bet. Cross-referenced with the time of occurrence (minute of the game), this approach has led to countless combinations. These betting patterns are also under most scrutiny as they offer players and financial factors a chance to alter and fix matches.
Other football-specific betting patterns include goal variations – e.g. halves: 1.5, 2.5; or Asian: 1.0, 1.25, 2.75 – so that goal estimations can be placed more precisely, both on the team and total game results. A prime example is a 3-way total – either reported as a total under, total over, or the exact number of goals scored.
And then there's handicap betting – bookies assign a strength value to a team, a handicap, in terms of goals they have to "overcome" to "win". This is a common practice when one team is seen as superior or far superior to the other. It makes for a more level betting experience, without which the two teams are excessively mismatched and the "handicap" levels the ground for bettors, makes the bets more relevant.
The "Asian" handicap starts as low as a quarter goal (going as high as 3 goals) and increments the handicap level by quarter goals to get as close to the actual result as possible, essentially asking punters to predict the final score of a game.
In football betting, just as in many other types of gambling, there are betting strategies, both classic and innovative. There are Martingales, combined bets (between or within games), covering one's bases with mutually exclusive results and probabilities, and many others.
What makes the football betting universe especially rich and diverse is the practically unlimited betting options that one can find for the same game around the betting world. From goals and shots, we can go into possession statistics (in %), exact minute of events, and many others. These depend on the agencies, naturally, but are commonly available in many cases, and not only for high-profile games.
Horse Race Betting Patterns
Given the importance of horse race betting in India, we will take a look at some of the betting options for the sport. The below bets are given in an order of overall decreasing probability (therefore rising potential payouts):
A Show is a bet when a horse finishes 1st, 2nd, or 3rd; a Place bet predicts that it would be either 1st or 2nd; a Win is a straightforward winner.
A Quinella is used to bet on two horses to finish 1st and 2nd in either order. Then there are bets with three horses (a quinella box) to increase probabilities but lower potential payouts. An Exacta bet means a selected couple of horses finishing 1st and 2nd in a precise order. An exacta box allows picking three horses, while an exacta box keying a horse picks them as the winner, leaving the possibility for two of the remaining three horses to fight for 2nd place.
Trifecta bets move into "very hard" betting territory – picking three horses to finish 1st, 2nd, and 3rd in a precise order. Similarly, trifecta keying picks the winner over three others; and keying two leaves the other two to fight for 3rd place. Superfecta bets pick the exact horses to finish exactly between 1st and 4th; there is also, naturally, superfecta keying.
The Daily Double means a horse must win two consecutive races; there are bets with two horses (in each race or either race), and there is also a DD keying of a horse over two others.
Pick 3 predicts the winner of three consecutive races; Pick 4 and Pick 6 are almost impossible to get right, similar to a lottery. There are also options to Pick the serial winner using two horses in each race or all races combined.
Betting Patterns in Less Popular Sports
Sports with lesser followings in India like tennis and hockey, also base their betting patterns and wagering options on results and statistics. Bigger (online) agencies offer more possibilities, yet this is the general logic and not always the case.
More importantly, a 2015 Australian study confirms the previous rational estimate that most bets, statistically, are placed on low-risk low-reward options, as well as those with a less complicated philosophy of probability. The single largest kind of bets placed on races and other sports was choosing the winner of an event, with 45.31%.
The same betting research provides detailed explanations on betting patterns, probabilities, and losses for the main kinds of sports. The most popular bets (wins) had, in the end, a relatively high rate of losses, somewhat unexpectedly; those also had the lowest average returns, quite expectedly. Such betting behavior is less sophisticated and is characteristic of the mainstream market.
Handicaps and "totals" were placed by far fewer customers, with greater returns and somewhat larger bets, marking conviction or risk. These kinds of bets, as well as those in less popular sporting events, had greater returns, showing sophisticated knowledge and more "skill" among players.
Handicapping, besides estimating and roughly quantifying the result, ultimately bets against a points spread. When a favored team wins by less than a certain score, bets on that team lose despite its actual real-world win. Spread betting, by definition, ensures a payoff based on the accuracy of the bet, not a simple binary win-lose outcome (characteristic of fixed-odds or pari-mutuel betting).
Online Betting Market Leaders
While this study is focused on sports betting in India, we cannot avoid tracing comparisons between the desi market and the global betting industry. On one hand because, apart from psychology and culture-specific motivators, the gaming mechanics and principles have been well-established in other, more transparent markets. And on the other, because much of the betting industry that stays visible and distanced from legal challenges is actually online.
Online betting is a universe where the big players in the industry stand out, one way or another. Sports betting globally makes up roughly 40% of the total online betting market, more than all casino games combined. Industry dynamics are based both on size and tradition, as much as on digital transformation and elevated competition.
Classic high-street bookies like William Hill and Betfred used to occupy the top spots in the biggest markets and leagues.  However, many early online-only bookmakers have soundly beaten old-school land-based operators, namely Bet365 and the first "online exchange" Betfair. Bet365 in particular managed to transition quite effectively towards online operations, posting around USD 4 billion in total operating revenue for 2019.
Old market shares and new ambitions have led to mergers between some of the largest operators like Ladbrokes and Coral or Betfair and Paddy Power, creating some of the early giants. These, in turn, have merged to create present-day heavyweights like GVC and the Stars Group.
Entain plc, formerly GVC Holdings, is listed in the FTSE 100 Index, indicating the largest companies on the London Stock Exchange. It owns brands like bwin, Coral, Ladbrokes, PartyPoker and Sportingbet. Entain's revenue was reported as USD 4.2 billion for 2020.
The Stars Group was known for operating mostly in the casino and poker verticals, yet it bought the Australian online sports betting platform BetEasy. Going further, it acquired Sky Bet for USD 4.7 billion in 2018.
In late 2019, Flutter Entertainment acquired The Stars Group for USD 6 billion. Flutter is the former amalgamation of Paddy Power and Betfair, posting revenues of around USD 6 billion in 2020.
Clearly, as some markets are still evolving, for others the future of bookmaking is in the balance, leaving a monopoly in the hands of several massive companies. At the other end of the spectrum, we have seen a host of small but ambitious operators that aim to specialize in a sub-segment or even a particular sport. Some aim to capture and operate on one market only, in our case India.
10cric is a prime example of an operator specializing in cricket, while the recent consistent growth in Pure Win indicates their focus on India. Still, they are further down behind more traditional brands such as Bet365, Betway, or Betfair.
The table below shows the average monthly search volumes for key search terms in India – directly related to sports betting and cricket in particular.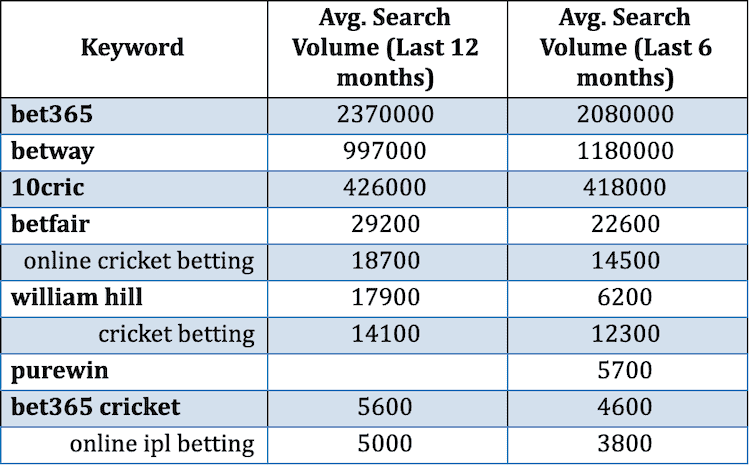 Source: Mangools' KW Finder
We had already indicated earlier that brand names are more sought after rather than generic sports betting terms. The comparative table illustrates that reality clearly. Among operators, 10cric has about 0.5 million monthly searches, while bet365 around 2.5 million, betway is slightly over a monthly million. In the past 6 months alone, purewin has gone from nonexistent to rating above "bet365 cricket" and almost equal to "william hill".
The Future of Betting Online in India
Projecting upcoming trends for sports betting is one thing in mature markets, a completely different task in India. The question of brick-and-mortar betting ever becoming legal (beyond horse racing) is more political than it is economic or social. All the while the average desi consumer is moving beyond the need to wait for such legitimacy, and in a way, they have always been there.
The growing and inevitable importance of technology is one foregone conclusion. Those who seek, consume, and, ultimately, bet on sports content, have gotten used to doing it online, out of their own hands. The younger generations will increasingly determine tech-based demand, while rural users are quickly catching up with urban ones.
Digital technology has eliminated the disruption between fantasy sports and their real-life version. The genre has gained momentum in India and is almost synonymous with sports. The industry has seen a massive increase in fantasy operators and, as per AC Nielsen and FIFS, 93% of their target users play fantasy sports on mobile, making it the preferred, convenient, and natural way of being part of the competitive sports world.
Affordable smartphones and cheap internet lead to peak traffic around high-profile events. Marketing efforts are blurring the lines between media vehicles, with market leaders like Hotstar and Jio running joint initiatives like "Watch and Play" with distinct awareness that these collaborations aim to convert sports users from passive to active audiences.
Consumer surveys we've cited above confirm that many of the motivators for playing fantasy sports and sports betting overlap such as earning money, the excitement, and the opportunity to use one's sports knowledge. Fantasy sports aim to make the integral user experience more engaging, dynamic, and first-hand. It is also a vehicle for serving more sports on the user "menu", segmenting digital experiences for regional and user groups.
Current market analysis confirms that the fantasy sports niche is just as popular globally, and an already established mode of playing for money. Sports betting has become a broader category, favorite yet slightly different in different markets. National, regional and cultural preferences change the proportion of sports-based gambling but Fantasy sports and eSports are present in a stable manner in all types of markets.
Notably, there is a much higher demand for such new gambling formats in emerging markets, i.e. Brazil, India, Mexico, and South Africa. While 33 percent of desi consumers would willingly place more bets if it were easier to do so, a higher than average share is interested in eSports (30%) and Fantasy sports (29%) as a form of betting.
With the legal climate related to sports betting and online gambling in India, fantasy sports represents a widely advertised and persuasive legal alternative to underground sports betting. Online betting platforms have also proven their potential to make up for structural gaps in the market. However, the latter are all based offshore, with many of the big players in the segment presenting no particular strategy or support of the Indian betting market.
All betting verticals inevitably have to consider, in a mid-term perspective at least, the increasing popularity of non-cricket sports leagues, whether based in India or abroad. This is unlikely to shake the cricket market anytime soon (or at all), yet it is a considerable opportunity to expand market shares and reach different consumer groups. This would require certain investment and marketing efforts, and it looks more likely that novel digital forms will get their first, i.e. fantasy and esports.
When and if the Central Government of India realizes that there are consistent voter bases that would readily support sports betting and online gaming regulations, we might expect changes in the legal scene, probably rather swift ones as well. As things stand, catering for the conservative share of the population requires a careful approach and no outward liberalization of the betting market.