The following analytical piece aims to gain a deeper understanding of the nature, current dynamics and foreseeable trends of online sports betting in India. Based essentially on primary research data from PureWin's integrated sportsbook service, it segments aggregate information as observed between January and November 2021.
Resulting conclusions include:
Sports audiences in India gradually transition from passive to active in an environment rich on media and gaming offers;
Motivators for traditional sports betting are largely the same for emerging sports gaming genres such as fantasy, esports and simulated reality leagues;
Slowly but surely, non-cricket sports leagues gather more recognition on the Subcontinent.
Online sports betting in India remains the only viable and convincing alternative to underground sportsbooks. Offshore platforms offer solutions that cater to obvious market demands, although many find it challenging to provide player support beyond global sports products in English. Given the potential and ability of tech startups to deliver in a legitimate and highly competitive market, consumers and industry are united in their expectations of a well-regulated playing ground.
Online Goes where Others Fail
Despite widespread cultural acceptance of the phenomenon, getting a clear picture of the Indian betting market is not a straightforward task. Traditional forms of wagering are cash-based and strictly off the record. Only a couple of states have legalized the business, with Sikkim an emblematic case. On the other hand, this historical passion translates into a reported 140 million regular punters, rising to an estimated 370 million bettors around major sporting events.
Industry bodies and commercial chambers, including FICCI, have emphasized that while controlling physical premises and bookmakers is a challenge, tracking remote betting (via telephone or online) is nearly impossible. This renders the currentlegal climate obsolete, unable to take advantage of business benefits and keep social costs to acceptable levels.
It is true that significant steps towards providing efficient market legislation would require novel telecommunication regulations and even possibly constitutional amendments. The Law Commission has already proposed, in 2018, a national framework for sports betting regulation with cricket as a poster example. It included Aadhar ID and PAN card profiles, ad controls, cashless transactions and algorithms to manage risk behavior and protect vulnerable players.
Yet, technology waits for no one. Legitimate global competition has raised the market to the next level, granting access to the young and tech-savvy Indian gamer community. In practical terms, offshore sports betting is the only valid option for desi punters since it's not made illegitimate in a formal manner in the Union. Given that it is not pursued by regulators or authorities, online wagering is getting more visibility and mainstream recognition as a sensible alternative to back-alley and chat-group bookmaking.
How (Much) Do Indians Bet Online?
Online sportsbooks are just as elusive as they are readily apparent. An overview of the market needs to rely heavily on whatever public data the tech industry and other stakeholders make available. In this case, however, it is greatly enhanced by Purewin proprietary data as detailed further down our analysis.
A platform that is optimized equally for casino games and sports betting, at least 15% of player traffic goes towards sportsbook wagering in any timeframe under exam. While regional specifics, time- and event-conditioned behavior may alter such preferences slightly, the compound average of casual and regular sports betting makes it the single most importantreal-money product on the market.
Sports bets are also a strong driver for online gaming penetration in general. During India's ODI matches, an estimated USD 200 million changes hands, albeit largely illegally. The combined annual turnover of legal and illegal (online and off-) sportsbooks is reported anywhere from USD 130 billion to USD 150 billion.
Given the sector's social and economic importance, it is surprising to see Central and State authorities approach the issue in such a timid manner. The Justice Lodha Committee made an attempt to propose a regulatory mechanism that never amounted to a Bill. Industry bodies remind that simply by making online sports betting a regulated business India can render transparentas much as INR 3 lakh crore annually (over USD 40 billion), making it enter the economy and finding sensible use for the public revenues that can derive from it.
In the meantime, Indians continue placing their trust in mobile betting platforms and apps. Despite legal uncertainties, there have been no known charges for online sportsbooks, with offshore jurisdictions proving particularly inviting and increasingly competitive. Substantial improvements in internet access and smartphone affordability have also done their part. The growing Indian middle class can rely on a disposable income that simply wasn't there only a decade ago.
Armed with all the user-friendly tools they need, desi punters bet on their favorite sports stars, games and leagues. Inevitably cricket is king, with the Indian Premier League (IPL) alone providing almost unlimited betting markets – from a coin toss to a bowler performance or a batsman's run count.
A rich supply of online betting services tends to channel users in a multitude of consumption choices and behaviors. On one hand, search volumes suggest that a major trend is visible around domestic and global brand names, with sports stars, franchises and recognizable brands having established a dominantpresence. This influences the advertisement business, affiliate marketing support and other related services.
On the other hand, novel sports genres and niche markets are getting more recognition than ever before, outperforming scattered generic keywords. The growing importance of fantasy tournaments, esports and computer-simulated leagues is becoming more evident in mass-media channels. However, it is even more relevant in online gaming communities and the data below shows its influence on the evolution of sports betting.
Most Popular Sports, Leagues
Looking closely at primary Purewin data allows us to identify the most popular leagues, top teams and peak betting trends within individual sports disciplines. When simplified, big data shows both some expected market shares and others which induce deeper considerations for the industry future.

Source: Purewin own Business Intelligence (BI) analytics
Cricket is not without an alternative but it is the anticipated and overwhelmingly dominant sport. Naturally, certain tournaments and events monopolize most betting markets due to extensive media coverage and public attention. Bharat's own IPL (particularly playoffs and final games) as well as international cricket with Indian participation or high profile games (e.g. T20 World Cup later stages) are among those gathering a larger following, and therefore generating most online betting traffic and turnovers.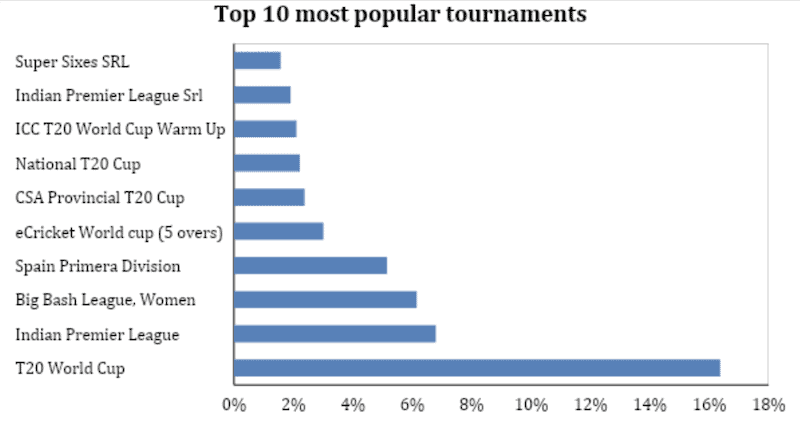 The above graph shows that – outside of direct Indian cricket involvement – the leagues that stand out over the course of 2021 are not always those traditionally reported in sports narratives. Bet slip information fails to confirm a notable presence of the Caribbean Premier League (CPL), for example.
On the contrary, certain cricket series stand out, albeit with around 2 percent (each) of total bets placed. These are the CSA Provincial T20 Cup, the South African domestic cricket tournament and the Pakistani professional domestic competition, the National T20 Cup. The latter one, somewhat surprisingly, outperforms the Pakistani Super League, while the Women's Big Bash League of Australia outranks the men's BBL in bettor interest.
Overall, international cricket continues getting the most traction, as Indian involvement is key to its top shares. However, the sheer thirst for sports events and betting chances around the year drives up interest in more leagues than common practice and perception might suggest.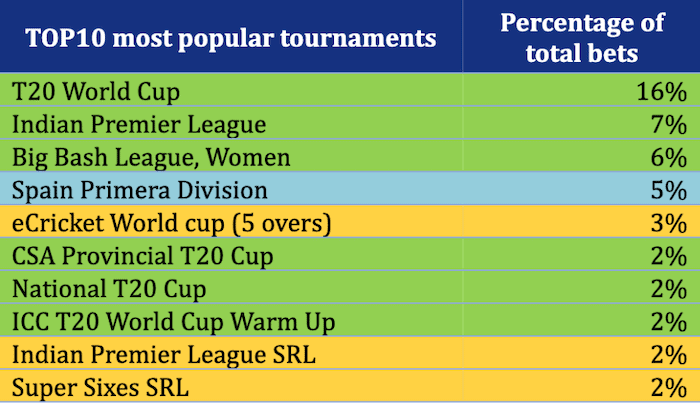 Football is a distant second discipline, yet it ranks quite decently overall. The sport's awkward division into a Super League (ISL) and an I-League possibly blunts the chances of a single national brand making an impact and limits the franchises' commercial and media outreach. This is only one of the reasons why Spain's Primera Division and England's Premier League rank higher than national clubs.
Lastly, the cumulative betting market shares for eSports and computer-simulated leagues cannot be overlooked. Besides cricket simulation and e-World cups, quite notably, FIFA's tournaments are also more popular as eSports rather than actual football games among desi bettors. We will discuss it in more detail further on to outline a projection for the segment's future.
Women's Cricket More Popular than Perceived
A somewhat surprising introduction among the top featured series is the Australian Women's Big Bash League (WBBL). It gathered over 6% of all bets in the period, not far off the IPL in terms of bet counts. Combined with another remarkable statistic – 99.3 percent of those who placed a bet on the WBBL are men – this denotes a dedication to sports knowledge, horizontal engagement and bettor expertise.
Careful planning certainly aided its cause for media attention. Despite Covid-induced changes to the IPL schedule, the WBBL was fitted well into the cricket calendar. Starting with a few days between the IPL and T20 World Cup, it continued after those, linking the T20WC with the Men's BBL. This helped create a busy autumn calendar and make it a full and active cricket (betting) season.
Sportsbook Markets and Bet Types
Further breakdown of aggregatebet-slip data allows us to highlight bet types, amounts and behavior related to event timing. An important distinction needs to be made between single-odd bets and a combination of those. The former are rather characteristic of the market, as the table below shows. Average bet amounts are quite high over the course of an event, although the median (most frequent) amounts are slightly above 5 Euro (500 rupees).

Source: Purewin.com
In a more relevant split, the total shares of these separate approaches reveal that combo bets are just a fraction while system bets are practically nonexistent (as shown in the graphic representation below).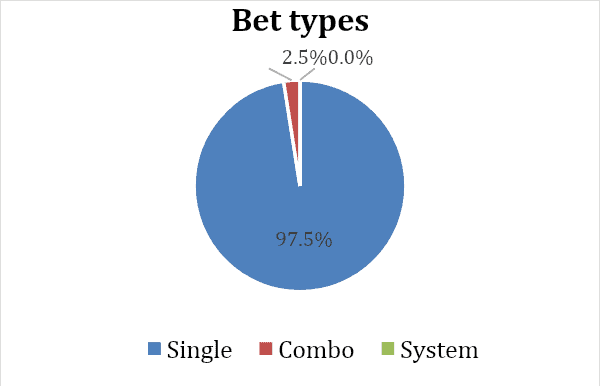 We will now take a closer look at nearly 37 thousand bets placed over the course of that same "active" cricket betting season. The overwhelming majority (~64%) has bet sums under 1000rupees, with an average of below 400. Altogether, over 90% of bettors have wagered under 5000rupees.
Combined with the above bet-type split, we can see a clear preference for a low-risk/low-return betting behavior. As a result, when the average bet amounts grow, the player shares and total bet counts (instances) tend to decrease.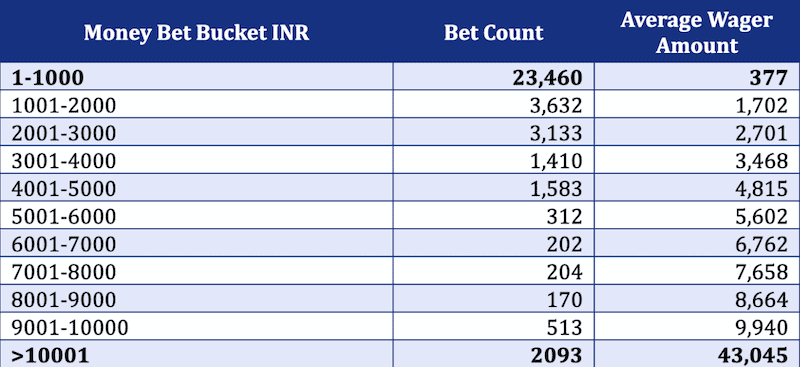 Still, we see that 5.7% of all bettors wager regularly amounts above INR 10,000. A more careful examination of available data reveals that, within this group, a small number of high rollers is responsible for raising the above average sums into spending ranges that seem unthinkable for most (INR 43,000 ~ EUR 500 per bet).
Live Bets Dominate the Scene
From 1 January to 4 November 2021, Purewin has registered 4099 individual players placing 93014 bets, adding up to a turnover of slightly over EUR 3.6 mln (INR 28.8 crore). Within the same timeframe, aggregate datasets show an average bet per player of EUR 36.14 (INR 3094), or a total of slightly over EUR 820 (INR 70,000) per player over the period in question.
Naturally, betting patterns and player activity distributed these bets unevenly. Analyzing the periods of the year (and even times of day) that saw more bets placed, we can pick out important market trends and behavioral traits of desi bettors.
While the BI unit segments all data streams, including Casino, a simple ranking of monthly activity reveals the weight of sportsbook within the online gaming platform. Cross-referencing patterns of total active players from a certain state within a given month shows that 5 were the peak sportsbook months. The below table illustrates a selection of leading Month/State traffic volumes (with Casino games omitted and sorted by descending active player count):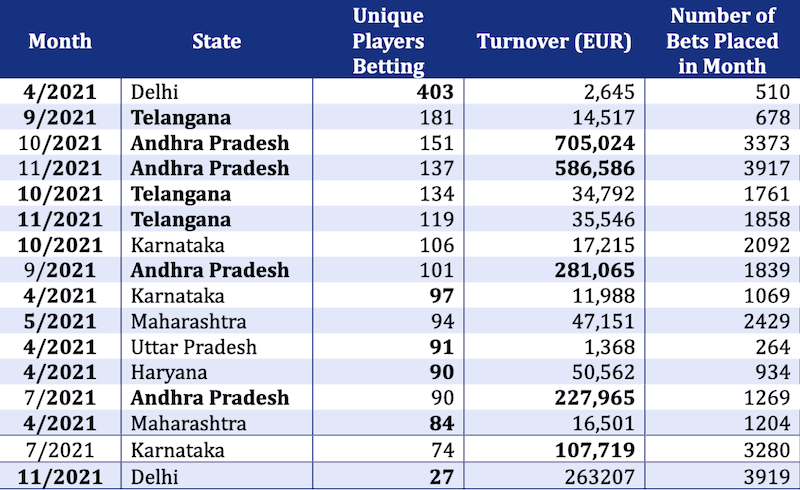 Source: Purewin Analytics data
Furthermore, we have some clear winners in regional and temporal activity. At first sight, Andhra Pradesh and Telangana contest between them the overall top spot in total player counts, with Delhi close behind. However, AP is the outright winner in recorded revenue, with 6 out of the largest 7 monthly turnovers (and 9 out of the top 14) coming from that state. Delhi rates well in both terms, while Maharashtra and Haryana report very high player values (and total revenues) despite low user registrations.
As anticipated, the months covering the IPL saw the most activity: April, late September and early October. We are reminded that the IPL was initially programmed for April and May 2021. It was suspended by Covid-related concerns, only to resume in September and October with all remaining matches played out in the UAE.
IPL-related betting peaks are followed by a surge in betting interest in October and November due mostly to the T20 World Cup. July (and August to an extent) appear higher up in some player and turnover rankings but this should not be a surprise – July saw a lot of international football (European Championships, Copa America), tennis (Wimbledon), basketball (the NBA Finals), as well as the Tokyo Olympics which carried over into August. All these are events that gather substantial following, represent some global stars and are naturally reflected in online betting trends as well.
If we narrow down our analysis to the most important part of cricket season, we can see the recorded activity patterns over a six-week period below: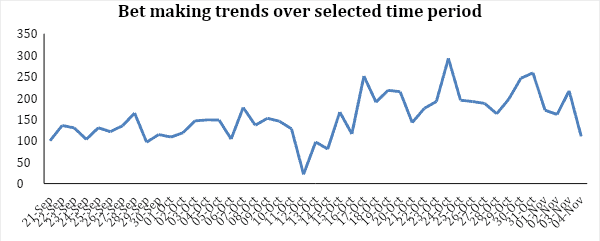 Source: Purewin BI data
The period in question saw certain high-profile cricket matches that dictate such behavior. As discussed above, the later stages of the IPL and the T20 World cup are certain media and betting market magnets:

Many bets have been placed before these games and even before some of the series started. Repeat bettors and semi-professional gaming enthusiasts follow schedules, do their research in advance and prepare their bet-slip accordingly.
However, statistics are clear on this particular market split – 79 percent of all bets were placed live. This is especially true of high-profile games such as the ones above, with international cricket a prime example. Two- to three-hour matches of this caliber gain sufficient mass-media attention and online visibility to urge occasional bettors to join the game. As reported above, casual bettors are estimated at almost a quarter of a billion. Contests lasting several days or even weeks certainly gather ample public interest, while big games (and names) do the rest, especially when Team India is playing.
On average, active players registered 39 bets during the 6-week period in question. This amounts to slightly under a bet per day, enabling punters to place a wager on every single important cricket match.
A further perspective into the nature of desi betting is provided by an analysis of the times when bets are usually placed. The average distribution of daily betting activity is represented by the below graph.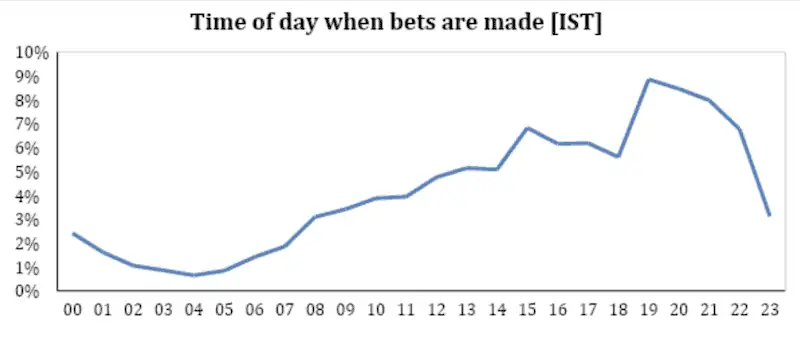 Any meaningful conclusions about these dynamics need to take into consideration the timing of contemporary cricket events. Historically, the sport relied on daylight and most games were played between 10 a.m. and early afternoon hours. The so-called "day-night" matches were introduced about a decade ago and started gathering popularity in the mid-2010s.
Nowadays, cricket matches tend to start mid-afternoon and end by "dinner time". A growing majority of games begin around 14:30 or 15:00. Thus, spring and autumn encounters end up being played (or at least completed) under floodlights. A notable example – the IPL Final on October 15 started at 19:30 IST.
A natural consequence is that a third of all bets were made between 15:00 and 19:00. Roughly half of the total count was placed after 17:00. This is not only indicative of cricket, in the end, but also points to substantial interest in other leagues and live events around the World, particularly in European time zones.
Bettor Profile
Aggregate profile data and registration details of players allow us to exemplify a number of essential bettor characteristics and consumption traits. Starting with basic demographics, we see Maharashtra and Delhi lead in overall user volumes.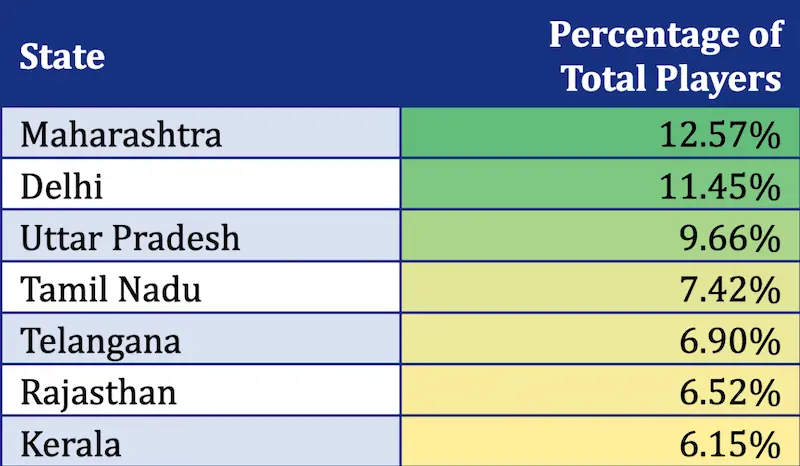 While these shares also include players on the Purewin casino platform, some players chose both game categories. Then again, available data allows us to shift our focus to those who exclusively chose sportsbooks over casino.
The States that consistently provide high sports betting demand are listed below. The table contains an indication of the relative weight of sportsbooks compared to the total real-money gamingtraffic from the territory in question.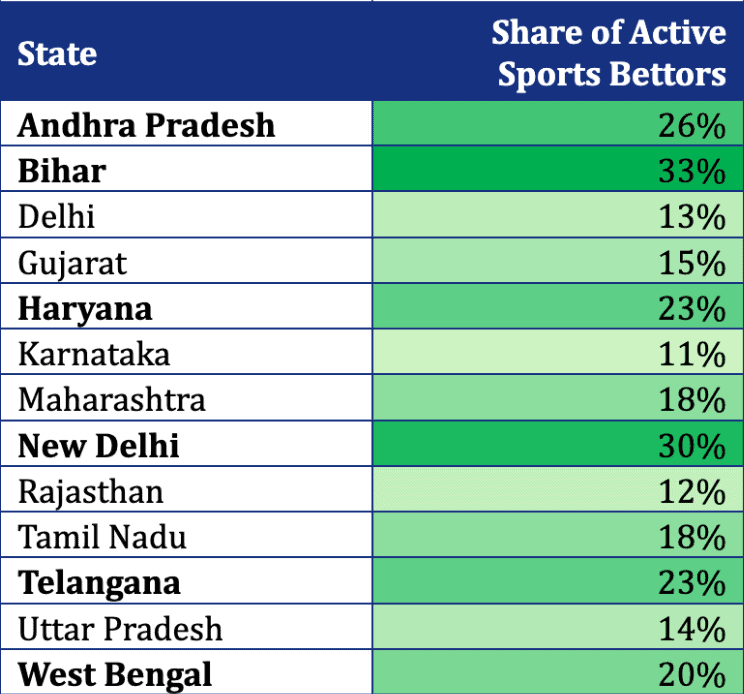 Source: Purewin.com proprietary datasets
In Bihar and NCT Delhi, as we can see, about a third prefer sports betting to any other gambling category. These are followed by Andhra Pradesh, with slightly over a quarter of all gamers reported as regular players and bettors.
When considering game favorites according to the biggest turnover per player, sportsbook remains on top only in the State of Bihar. Evidently, it is extremely popular among regular punters in this 100-million State (and third-largest by population). Interestingly enough, the State emblem contains two swastikas, the ancient and widespread Hindu symbol "conducive to wellbeing" which symbolizes prosperity and good luck to this day.
If the same data is segmented by the number of players who report back the biggest turnovers in any particular gaming genre, we are once again able to deduce which type of gambling is favored on a state-by-state basis among active platform users.
From this perspective, Sportsbook is overall the single most preferred real-money game type in 11 states – Andhra Pradesh, Bihar, Chandigarh, NCT Delhi (and New Delhi City), Gujarat, Haryana, Maharashtra, Tamil Nadu, Telangana, Uttar Pradesh and Uttarakhand.
Moreover, big data can be grouped into age buckets according to user registration details. Consequently, players' age segments can be highlighted in sports betting alone, as we continue narrowing down bettor profiles.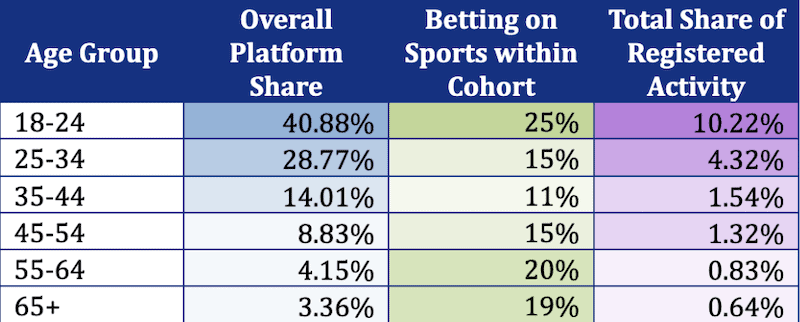 While almost 70 percent of real-money gamers are under 34, this includes casino players as well. This changes the weight of the age group only relatively, as we will see moving further along the segmentation process.
Provided with sports betting shares within the separate age cohorts, we can see that engagement slightly dips in young middle-age users, only to recover as age goes up. This trait is most likely related to personal (family) and/or occupational dynamics, as well as the combination of available time and disposable income that normally changes with a person's age.
In general, marketing strategies recognize disposable income as the crucial component in "premium" consumption categories such as betting. In that context, current trends are mostly positive for the business, since India's upper-middle income households are expected to grow to 168 million by 2030 (44 percent of all desi households projected at the time).
Previous industry research confirms that the largest online betting communities are found mostly in metropolitan areas (i.e. Delhi, Mumbai, Bangalore, Chennai among others). Inevitably heterogeneous – linked by their common interests – these consumer groups are composed largely of younger males who dominate the online betting scene and statistically define most of the relevant market demand. All of the above findings are in line with a 2018 ICC survey claiming that 34 is the average age of the typical cricket fan (with 61% reported as male). Considering that 90% of all fans of the sport are found in India, these demographics are mainly determined by them.
In turn, these bettor groups come with their typical consumption habits and needs, including the types of devices they use. Purewin data reveals that a smartphone is the device of choice in "only" 62 percent of all bets made, while desktop stands at 36.63% (and tablets responsible for the rest). The share of computers is, indeed, somewhat higher than expected. At present, Indians use over 750 million smartphones, an increasingly affordable device. Consoles, computers and any peripheral devices have less penetration for financial (and practical) reasons. Previous research had found that online gaming for money is mostly done through mobile phones, posting an 87% share in the segment.
The discussed financial and technical means influence both the access of the main bettor groups and the impact they have on average betting activitydynamics. We saw that daily betting starts to rise in the early afternoon, considered still office hours for many young professionals – the same who have the necessary disposable income. This adds to the factors that see desktop get a somewhat larger share in Purewin betting sessions.
Xiaomi is an expected leader among mobile devices, followed by Samsung. All iOS devices, combined, add up to a 4.6% share (the rest are Android-based). Google's Pixel 5 shows a rise in popularity beyond its current market share in India. Over three-quarters of all bettors access the platform through Chrome. Firefox and Opera hover around the 5% mark.
Fantasy and eSports – the Future of Sports Betting
While "classic" sports betting gets most of the attention in statistical reports and public discourse, there is a betting alternative that has been growing consistently for the past few years. Innovative wagering schemes are increasingly based on video games, virtual simulations and interactive player engagement. Considered exclusively skill-based and therefore legitimate across India, genres like fantasy sports and esports have gained considerable visibility. Sponsorship deals and public visibility have made them a natural element of more participatory and modern sports experience.
Betting on eSports is almost in direct competition with betting on real-life sports events. Played on mobiles, desktops or other consoles, eCricket matches allow human players to join AI teams, and tournaments gather pace and media exposure. Competitions include leagues, one-off matches and other series with professional or semi-professional competitors.
These events try to position themselves in times of the year (and the day) when there is no other relevant match, e.g. old 10 a.m. slots or summertime months when it is too hot to hold similar competitions in India. They also tend to be shorter, making their following a more manageable experience.
Matches are organized on global gaming platforms (e.g. the Esports Gaming League) and are played on leading esports video-games and apps (e.g. Real Cricket 20). While actual contestants compete for cash or material prize pools, betting enthusiasts increasingly follow these events and bet online on their outcome.
Desi sports fans are famous above all for their passion for cricket. However, present-day gamers and bettors have brought online and mobile gaming to the forefront of economic and social attention. These alternative and virtual worlds, in turn, have contributed to opening up new horizons for betting enthusiasts, including eFootball (i.e. FIFA and PES), eBasketball (NBA) and much more. Growing viewership made these events a profitable industry for a number of industries and marketing segments, with World Cups and Grand Prix series held on a regular basis.
Fantasy sports comprise another self-standing segment. Their immense visibility started with – and goes hand in hand to this day – with sponsorship deals with global stars and partnership deals with leading teams and franchises. Fantasy leagues garner sufficient media interest at this point, so much so that the market leader (Dream11, India's first gaming unicorn) holds the IPL title sponsorship.
Fantasy sports involve the creation of custom teams from real-life athletes and, as a result, a points contest based on their actual match performance. They do need a real-world event to propel a league or a series, but desi gamers increasingly look to sports outside of cricket for that purpose – football or basketball, again, as well as kabaddi among other professional sports. Similar to esports, fantasy competitions distribute cash and other prize pools based on rankings and wins.
Time and again, fantasy gaming companies have defended this hybrid real-money genre in courts as a legitimate skill-based solution. Research, knowledge and a turn-based strategy justify spending money and wagering on players' performances. Admittedly, gamer engagement shares many of the motivational dynamics of classic sport betting (i.e. monetary wins, thrills, etc.), yet fantasy is the one formally and openly legal in all states.
Younger generations have shown to appreciate the flexibility and immersive nature of online fantasy sports. While in 2018 there were around 40 million fantasy gamers in India, presently they are estimated at over 100 million. As a result, fantasy genres have become a potent engagement tool for a variety of sports entertainment and gaming cross-overs. Related revenues streams range from advertisement and contests to straightforward betting schemes. The network effects of fantasy sports are much more appreciated than the direct economic effects of the money wagered on fantasy leagues and teams.
Simulated Reality Leagues – a New Kid on the Block
Simulated Reality Leagues (SRL) are the latest addition to the world of hybrid real-moneygaming genres based on sports. This novel genre was first introduced through some of the European football leagues – the English Premier League, the Italian Serie A and the Spanish La Liga. Over the past couple of years, as a number of events were postponed or canceled, the window of opportunity for more simulated fixtures became more obvious as the supply of traditional betting chances was almost non-existent.
In simple terms, SRLs offer a virtual simulation of match results without the full-scale video-rendering of eSports. The experience of reality in following a textual live score on a website with results is sufficiently supported by ball-by-ball statistics and tracking methods. All simulations are based on algorithms that take into consideration all sports rules and real-world factors like previous track records and statistics (team and player), professional history, player form and psychological state (based on known events), real-time weatherconditions and any other elements that might influence a game outcome.
SRL tracking does not differ perceptibly from a real cricket match result tracking. Offered among other leagues on some betting platforms, SRLs started with a simulated IPL and, as we can observe from the above statistics, it rated quite well (with 2% of total betting volume). It was followed by international cricket simulation, with the Super Sixes SRL featuring six prominent cricket nations – India, Australia, England, South Africa, Pakistan and New Zealand. As the numbers show, the latter series also received sufficient betting interest to warrant a return to the market.
Although SRL is an artificially "created" betting product, it appears to be rendered, executed and supported very well as an event. The algorithms provide pre-existing yet dynamic betting odds based on a body of information which should be available to bettors as well, for the most part. Based on this line of reasoning, SRL could arguably fight for legal recognition as a skill-based game and fill some of the off-season holes in the sports calendar.
There are a couple of aspects and traits that real-money gamers and bettors have in common across all target demographics – the monetary element and the thrill that derives from wagering. Behavioral features vary to an extent with age, family and professional status above all. More importantly, 2021 surveys have proven that India stands out (even among other emerging markets like Brazil or Indonesia) in gamers' responses to common motivationsfor betting on sports, fantasy and esports.
The emotional charge and appetite for betting is largely the same across those genres, provided a weighted estimation is made based on product awareness and consumption habits. This proves that bettors need a multi-faceted, immersive sports experience and real-money wagering is practically an indispensable part, albeit in different degrees. Much of the emphasis falls on the element of skill, resulting in competition and even bragging rights among contestants. But inevitably an all-around sports entertainment product (provider) needs to take into consideration the fact that novel sports have gained much traction. And the fact that all of them have the potential to bring fans monetary returns is a cornerstone asset in the eyes of the most important consumer groups.
India's Betting Market Prospects
An important premise is due: many of the above conclusions are influenced by certain particular dynamics of a pandemic-stricken biennial period. Full bet slip details may be unavailable to track back before and after a longer period of time, even with contemporary digital tools. However, the significance and general direction of most forces that shape the market and its transition are there for industry analysts to see and highlight.
Due to legal controversy and unstable regulatory climate, betting in India is channeling a notoriously low share of its total player market towards legitimate and reputable platforms, even with current online possibilities. In that context, offshore operators have taken the initiative to offer quality to what seems like an immense yet constantly expanding volume of online betting demand.
Digital technologies have brought novel betting opportunities to the market, with fantasy and esports becoming almost synonymous with the sports themselves. Their massive increase is also due to the convenience of mobile access and the fans' desire to be (a rewarded) part of the glamorous world of sportsstars. As a result, many cross-over business opportunities have managed to convert desi users from a passive audience to active consumers.
Motivations for wagering tend to overlap and complement each other in the overall experience – ranging from money to excitement and the pleasure of showing one's sports knowledge. Younger generations fuel the growth of virtual and digital sports betting, and this is particularly true for India as the youngest and biggest emerging global market.
A mid-term perspective is not only about hybrid betting becoming a mainstream gaming option. Expanding market interest points to a growth in popularity of non-cricket sports leagues from India and abroad.
While the legislative climate prevents the industry from any long-term plans and investments, many experts are hopeful that the above transformations will lead to a viable and politically persuasive legal alternative to a completely unregulated market that is dominated by underground betting. Offshoreoperators are certain to volunteer to self-regulate and prove their worth in a well-structured and transparent market. However, until Central and State authorities decide to impose requirements on consumer protection, privacy, digital and financial security, the overall strategy of the industry will remain fragmented, leading to vast differences in quality and efficiency from the point of view of the Indian sports betting community.