The present review of the most relevant gambling jurisdictions seeks to evaluate the effectiveness and quality of the real-money gaming licenses they issue and accept. A descriptive and comparative insight into measurable indicators (duration, coverage, costs) and intangible attributes (reputation, trends) will lead to a weighted position on benefits and arguments against offshore gambling licenses and strong national regulation of the sector.
Certain licenses grant casinos, betting exchanges, and lotteries more freedom and acceptance in the international legal climate. Many are accessible in unregulated national jurisdictions, needing only proper customer support and reliable payment options to guarantee a smooth gaming experience.
Case studies suggest that it is in the interest of gaming operators to maintain high standards of product performance and consumer protection as convincing proof of the efficiency and effectiveness of locally regulated gambling licenses. The industry is at an inflection point and needs to capitalize on the advantages licensed online gaming has delivered for operators, players, and the public sector.
A Background on Licensing Regimes for Gambling
Gaming businesses and end-users are often in a similar position regarding licensing systems: needing to carry out a more or less professional study into the legality of available platforms and the coverage (or absence) or locally applicable rules. In many cases, intelligence reports need to be repeated at frequent intervals as national and international gaming regulation evolves dynamically.
On the industry side, gambling compliance challenges involve operators, providers, and consultants dealing with regulatory conformity on responsible gaming, advertisement, taxation, anti-money laundering procedures (AML), payment platforms, and sports integrity (reporting) mechanisms.
In historical and economic terms, the leading markets have different degrees of clarity on how regulatory frameworks aim to affect the business climate and social balance. Considerations on morality and profitability have always been in the policy mix that delivers gambling laws. Empirical proof that games for money are practically inevitable in most democracies has also left a mark on legislative tradition.
In such contexts, gambling prohibition has largely shown to be unfeasible in the long run. Complete liberalization, however, also comes along with a number of equivocal impacts on social and economic stability. While there are states on both ends of the spectrum, the role of a national-level stance on balancing these benefits and risks is beyond doubt. Regulating an existing social practice (that has an expression as a business demand) requires clear rules and protection mechanisms for all actors involved.
As a rule of thumb, gambling is universally considered a special economic activity. Regulations of prohibitions have traditionally dealt with it within country borders, according to national ethical standards and economic paradigms, since both have rarely coincided with the views of neighboring or competing markets. This is one of the reasons, for example, why even fully or partially federalized jurisdictions (e.g., the United States and the European Union, respectively) have not imposed a harmonized regulation on their Member States. However, both still require their composing units to conform to a framework regulation on issues like consumer protection, financial transparency, accounting standards, and influence on subject integrity (seen as reporting obligations on any direct or indirect impact on game ethics ranging from corruption in sports to technical specifications like random-number generation mechanisms, RNG).
Countries considered mature markets – with a high Human Development Index (HDI) and advanced post-industrial legislation on services and socio-economic relations – have come to appreciate the importance of flexible yet clear regulation of gambling licenses and practices. Traditionally, larger nations adopt necessary amendments more slowly, waiting on bureaucracy and court decisions. Smaller jurisdictions are quicker to react to contemporary trends and reach social consensus on what is currently more beneficial for their territory (e.g., Caribbean and Asian economies driven by tech innovation).
Historically, most markets have started with a monopoly on the supply of gambling services. State lotteries and limited land-based facilities represent a starting point for gaming regulation, largely surpassed by market demand and societal expectations. On the other hand, national-level control bodies are still the norm with Gambling Commissions and Control Boards (e.g., in the UK, American States, elsewhere) proven as the most efficient form of dedicated direction of the sector. Some countries choose to have specific units to control separate forms of gaming; others oversee operations through a single entity.
However, an undeniable trend is on the cards for all markets, both budding and well-developed – the pervasive availability of online gaming services has impacted product innovation and attractiveness irreversibly. Land-based gambling is not dead yet but is severely stagnant, with ease of access the determining factor of any recent and future market growth. Offshore gambling and betting platforms can also offer a richer product, catering to a broader market, boosting their market shares, and challenging national operators and jurisdictions. Predictably, this has led many policymakers to reconsider legislative standards and current gambling codes.
In Europe, for example (EU, EEA, and the UK), all but four countries have chosen to adopt a multi-licensing model for online gaming. This translates into both private and public entities being able to obtain a gambling license, making it the "clear and preferred basis" for online gambling regulation. As the Brussels-based European Gaming and Betting Association (EGBA) reports, a few monopolies remain (e.g., Norway, Finland), and they regard mostly online lottery services.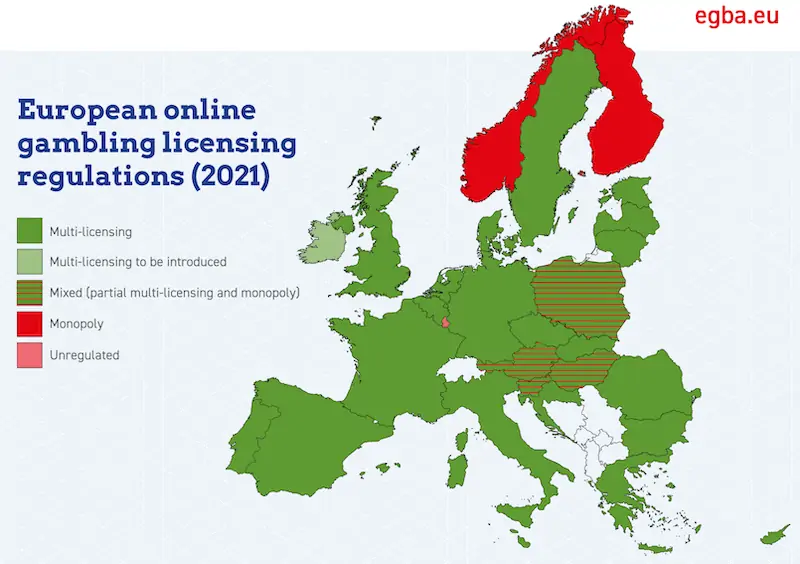 Liberalization of Online Gambling Regulation in Europe. Source: EGBA, 2021
The EU imposes no sector-specific legislation on gambling services. Countries remain autonomous in choosing a regulatory regime, as long as they comply with certain fundamental freedoms of the EU Treaty, including trans-border operations and the absence of geo-blocking of similar services – with both aspects crucial for online markets. However, when national legislators impose local requirements and standards, it leaves companies with several distinct choices – obtain individual country licenses (even multiple ones, e.g., Malta, Sweden, extra-EU, US), operate only in declaredly liberal markets (via offshore licenses), cease operations or proceed illegally.
Gambling in emerging markets is, on the other hand, quite often less precisely regulated. Lacking some functional and legal essentials, the sector is, therefore, more vulnerable to illegal operations, both within and offshore. This is the case of Brazil, India, and large parts of South-East Asia, for example.
Nevertheless, these jurisdictions are more forward-looking when it comes to contemporary trends in online technologies and digital operations. With casino, betting, and casual real-money gaming moving decisively online (and on mobile) for the upcoming generations, emerging markets have the opportunity to seize the moment, skip a phase or two and move directly to cashless, decentralized, and dynamic services.
Post-pandemic trends have confirmed initial analyses: South-East Asia and other emerging markets are decisively "game-friendly" and are turning into focal jurisdictions for the industry. The growth in mobile use, internet coverage and speed, and the popularity of hybrid genres like fantasy sports and social gaming have facilitated monetization and opened up legalization possibilities where previously the gaming sector had failed to make a breakthrough.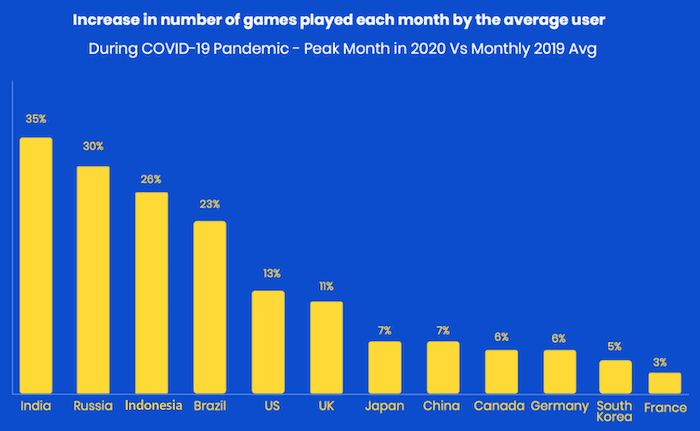 Source: InMobi, 2021
In a pragmatic view on gambling laws, it is not only gaming operators and affiliates that depend on relevant legislation. The regulatory climate affects anyone from payment gateway services (physical, virtual, mobile push payments, etc.), business providers (horizontally or vertically related services), general advertisement, media channels, accounting, legal services, and many other enterprises that precede and surround the final gaming consumer. This has led many large business conglomerates and consultancy companies (e.g., the Big Four) to plan for profound and frequent compliance reviews on jurisdiction trends and regulatory changes related to gambling licenses and AML.
Gambling Licenses by Platform Type – Online and Offline
With the above dynamics in mind, we have to also comprehend the vast range of different gaming operations and types of related services that are changing the face of the sector. In Europe alone, there are reportedly around 42 thousand companies registered under the Eurostat NACE code R.92 "Gambling and betting activities." Even in established markets, legislators are struggling to keep up with the pace of innovation in the gaming ecosystem.
There is substantial competition in the digital and fintech sectors that influence online and mobile gaming directly. There are also hybrid gaming genres that are currently especially challenging for most regulatory frameworks – such as Fantasy, e-Sports, and many casual mobile real-money games that apply innovative monetization strategies.
While illegal financing and money laundering are traditionally tied to cash-intensive businesses, many gambling practices have found a way to build a virtual shadow economy, propagating new forms of irregular labor and corruption. In a 2018 study called "mapping the risk of organized crime infiltration" in European businesses, experts conclude that today, offline activity is just a fraction of illegal gambling. VLT and Slot machines (both within dedicated premises and non-characteristic locations) join various bingo rooms and gambling dens in propagating "old-fashioned" criminal activity.
More importantly, AML laws and gaming regulations are frequently targeting those types of businesses. Yet, it is online gaming that has emerged as a strikingly vulnerable business sector where cashless payments facilitate tax evasion, and the absence of consumer protection is causing more damage to the economy and society than traditional (offline) black markets. The above report quotes Italy, Romania, Malta, Austria, and Spain as being particularly targeted by criminal activity in online gaming, with licenses issued by the likes of Panama and the Dutch Antilles.
Calls for regulation of online gambling above State levels are not infrequent, with proven good practices easily applicable as a general principle in other jurisdictions. While this is the case of the US and the EU, it is also the case of countries with various levels of federal integration – from mature markets like Germany (recently having updated their National-level legislation) to emerging economies like India or Brazil. The reasons for fragmented legislation are there for everyone to see – social, cultural, political, and economic features justify the use of one regulatory principle or another. But top-down guidelines, at least, nurture the concept of subsidiarity under common rules, be they economic or ethical.
In the current liberalization climate – nurtured by technical innovation – legislative fragmentation has not proven to be a successful strategy in monitoring economic activities and eliminating illegal and non-compliant businesses. A 2011 review of online operators in Europe established that more than 85% of gambling sites in Europe were operating without a proper license (whether for a particular jurisdiction or as a whole). Nowadays, communications regulators and IT supervisory agencies have the technical means of pursuing a stricter observance of national online gambling requirements. In 2019, the share of grey operators was brought down to 26.5%. However, the sheer competition puts pressure on legislators for a clear, contemporary, and efficient regulation of online gambling as the dominant future version of real-money gaming.
The above chart showed the growth of online and mobile gaming in many prominent markets during and after Covid-19 changed consumption patterns. While emerging economies were quicker to react in volume, established markets succumbed to the drop in total gambling revenues (for private businesses, public monopolies, and exchequers). The overall decrease in Europe (by 23%) has been partially compensated by the growth of online gaming, as seen in the revenue figures below.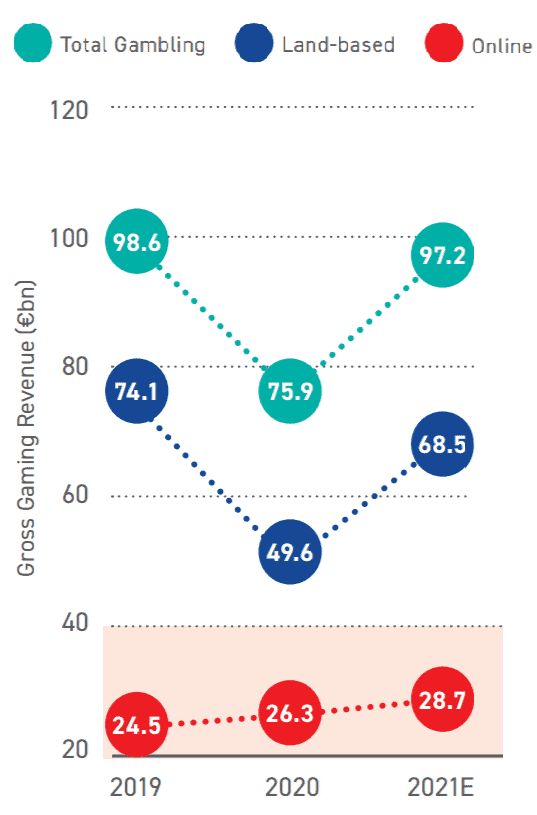 Gambling market revenue, EU and UK. Source: H2 Gambling Capital
It is not surprising, in these circumstances, that regulated online gambling has been growing. While in 2019, online gambling markets had reached transparent channeling rates of 73.5% (see above), the EGBA claims that by 2022 this share will surpass 80% and remain stable in their mid-term projections.
With the above considerations in mind, even though there are (often) different license types for online and offline gambling, we will primarily explore laws and practices related to online gambling.
Gambling Licenses by Product Category – Casino, Sports Betting, and Other
Within online gambling, there are many different types of games and related services: casino games (table, card, etc.); sports betting (and other betting exchanges, e.g., events); slots; lotteries; racing bets (where not regulated as sports); tribal gaming; fantasy sports, and others.
Over in mature markets, sports betting occupies the biggest market share, followed by casino game types. Notably, sports betting was the type of gambling that recently (2018-2019) was used to liberalize the US market (see below country profile). In synergy with innovative gambling possibilities and hybrid betting genres (i.e., Fantasy sports, above all), new-generation sports and fantasy leagues were the gateway to higher consumer involvement and facilitated acceptance or real-money gaming by society, political and legislative factors.
The EGBA reports that about a third of all sports betting is already online, and half of that is only done via mobile devices. As a representative association of some of the leading gambling operators licensed in Europe, it published a report assessing the most important global markets. Although dealing mostly with sports betting (and in general with betting exchanges), it presents a comparative vision of the online betting scene on a country-level. The study conclusions also give an account of gambling policy in these same jurisdictions.
The chosen indicators deal with regulation, product quality, diversity, business climate and integrity, and success in channeling towards legitimate operators and platforms.
A total of 100 points can be gained via criteria like "Regulation and Licensing" (30 pts – strength, online-offline licenses, costs, user protection, enforcement); "Taxation" (20 pts – model, indirect taxes); "Product" (20 pts – range and types); "Integrity" (15 pts – reporting requirements for suspicious betting, international cooperation); and "Advertising" (15 pts – guidelines, services, capacity, promotions/bonuses, sponsorships, events).
Below is the ranking of current performance and projected developments of some of the most relevant gambling markets and jurisdictions.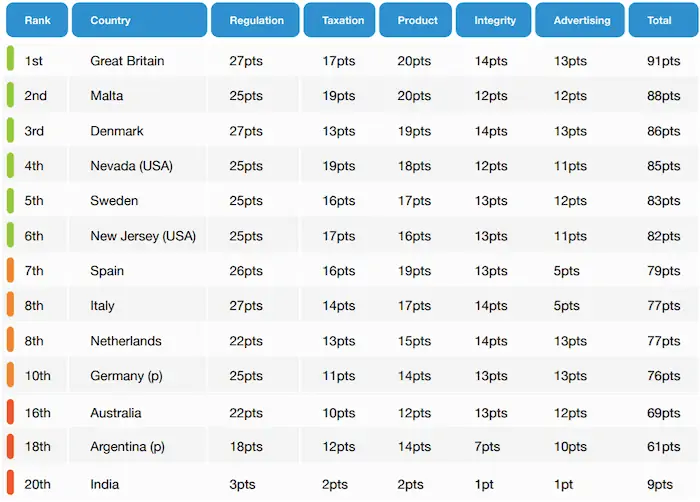 Jurisdiction market assessment synopsis, Source: EGBA, 2021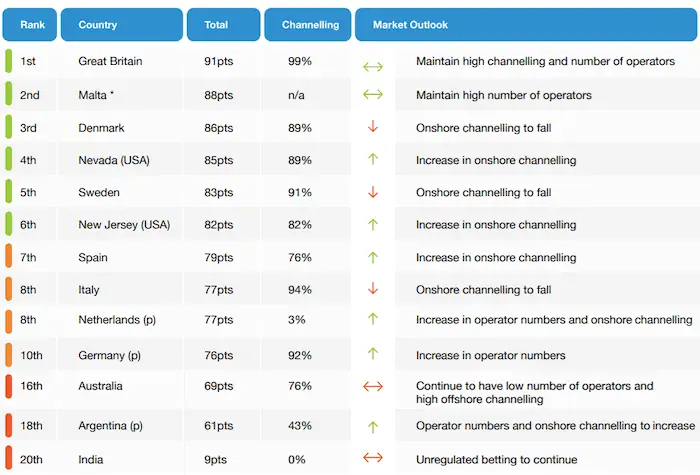 Jurisdictional market forecast synopsis, Source: EGBA, 2021
We need to emphasize that "channeling" refers to legitimate "interactive and online betting" channels. The Malta case (*) is particular since its local population is negligible compared to Maltese companies' trans-border operations.
We can see that established, mature markets rate well in most aspects. Brazil, Argentina and India are emblematic cases of big emerging economies. The Latin American countries rate well in recent regulatory attempts and product supply, and those are slowly expected to improve operator quality and legal online channeling.
India, however, is rock bottom in this ranking, where only a couple of States have provided some form of credible regulation for online betting and gambling. In a nation where the fundamental distinction between legal and illegal is mostly based on the presence of skill or chance, even traditional games are not clearly regulated as one or the other (if the industry is to be guided by conflicting State legislation or repetitive litigation practices).
Bharat is also one of the few (emerging) markets where unregulated betting is expected to continue, with no clear perspectives of its development in any planned direction in the near future. Evaluated by EGBA experts on the above standards, below is the Union betting market overview:

India market assessment matrix. Source: EGBA, 2021
Offshore Licenses: Scope, Benefits, Jurisdictional Validity
Offshore licenses are used by all kinds of gaming companies and their business partners – from shell businesses to real hospitality businesses (land-based but offering remote services). But most operators and suppliers of gambling products use offshore licensing to deliver online gambling. As a general principle, these licenses are valid and open to player markets anywhere in the world where local jurisdictions do not expressly forbid users to access them or negate the remote access of the services, to begin with.
Our study seeks to stress the reasons which make online operators choose an offshore jurisdiction for their licensing. The main beneficial aspects are related to:
Initial and Maintenance costs

– Naturally, operational costs matter. From licensing to renewals to indirect or occasional expenditures – one of the main strengths of offshore jurisdictions is their low licensing fees. Such business costs are particularly relevant for

starting

,

niche,

and

low-volume

operators.

Double Taxation Treaties

. The existence of double taxation (avoidance) treaties with the chosen country of jurisdiction is crucial. Not paying tax on income from your target market (when rates there are higher) makes offshore operations extremely beneficial.

Privacy and Confidentiality standards and requirements

– Public regulators have varying demands on information sharing, personal and fiscal privacy. Offshore jurisdictions are, by definition, more lenient.

Corporate / Business Climate for long-term sustainability

– A multi-faceted consideration, this takes into account laws and regulations

beyond immediate licensing

procedures.  From accounting requisites to asset management facilities, corporations and small businesses look at capital requirements, filing rules, disclosure obligations, timing, auditing, compliance mechanisms, and many others.

Economic and Political Stability

– Also a straightforward reasoning with the due nuances of evaluation. An unstable political system might end up altering long-term business plans and short-term operations alike. Social and economic predictability facilitates banking, accounting, negotiation, contracting, and litigation.
Ultimately, certain countries do not allow or accept licenses from foreign and offshore jurisdictions. While some nations restrict access to local markets via internal requirements, others completely prohibit gambling (e.g., mostly Arab League countries).
In addition, offshore jurisdictions also explicitly state which markets they do not serve and are not responsible for operations on their territory. In general, almost all avoid the US market and any other country with a local license requirement. Notably, Curaçao does not serve other Caribbean nations, Australia, the UK, or the US. Neither does it serve France, Spain, or the Netherlands within the EU.
Standard licensing requirements of most offshore jurisdictions include the economic presence of the company in the country of registration (in terms of a physical office, some employees) and basic compliance mechanisms for AML and anti-terrorism.
Typical application packages include a business plan; a formal description of the games; technology certificates like proof of RNG and return-to-player (RTP) algorithms where applicable; AML policy including proof of funding origin.
Application and renewal timings extend from several weeks to a few months. While initial application and renewal fees are in the range of tens of thousands of Euro/US Dollars, annual fees are usually more consistent.
Malta
The license granted by the Malta Gaming Authority (MGA) is considered a first-rate international gambling permit. Although part of the European Union, Malta has historically taken a permissive and progressive stance on gambling and related business burdens and has, therefore, always been considered an offshore jurisdiction.
Recently (2018), the legal framework was almost completely overhauled, with a new Gaming Act seeking to simplify licensing requirements and procedures. The introduced flexibility on new game offers was a response to technological and genre evolution. The current regulations imply:
High level of

reliability

but

longer

procedures (~6 months);

Minimum authorized

capital

is now 100,000 Euro; Bigger, more detailed

list of fees

;

Application

papers include a business plan, site policies, funding origin, game certificates;

B2C

gambling licenses cover slots, poker, roulette, and lotteries, among other online products;

Separate licenses

for betting, games, advertising, other related remote operations;

Gaming tax

is only

5 percent

of revenues; there is also a

compliance contribution

(between 0.4% and 2.0%).
Initial costs are around 25,000-30,000 Euro. After the reform, B2B licenses are needed for game developers and other software providers. In turn, operators are required to use only licensed software.
The new legislation has maintained and raised the levels of AML and responsible gambling policies. As a result, online casino and betting operators rely on MGA's reputation to operate in unregulated markets. Recent news that Germany no longer recognizes the MGA license was not an evaluation of its standards – it merely meant that German Federal and State authorities had made a fresh attempt to regulate their own online gambling markets (see below country profile).
As a response to any possible concerns over the integrity of sports betting, the MGA has also made amendments to reporting requirements, including suppliers and linked parties. Suspicious bets were already reported since the start of 2021 by operators as an obligation.
Over the years, the industry has accounted for up to 12% of Malta's GDP, attracting global players and smaller operators. Taxation and management incentives had drawn in hundreds of B2B licensees, creating conditions for a fertile gambling ecosystem. Incentives include tax exemptions on patent income, tax relief and refunds for businesses and professionals, as well as relocation benefits for top talent (i.e., the High Net-Worth Individuals Scheme and the Global Residence Programme).
The iGaming (remote, online) segment had already shown its potential in the mid-2010s, posting years of strong growth. Malta-based licensed operators surpassed 600 in 2017, one of the highest ever reported numbers by an EU Member State. Currently, Malta has over 300 licensed online operators.
Curaçao
Another one on the list of prominent international licenses is Curaçao. Formally a part of the Netherlands, the Caribbean jurisdiction offers thus the benefits of free access to EU markets, gaining the initial trust of businesses and players.
One of the oldest regulated gambling jurisdictions (since 1996), the sheer number of online companies registered in Curaçao has upheld its reputation in the industry over the years. Incentives and benefits include:
The license is

cheap and easy

to obtain, making it suitable for

smaller operators

;

The

Curaçao Gaming Control Board

(CGCB)

allows the so-called

private licensing

by

a master license holder

. Holders of a "master license" can simply

sublicense

their activities to other businesses. It makes for a

flexible

and

fast

setup of (online) operations;

A

premium IT offer

includes working under an "IP blanket

"

(allowing operations from safer and more secure hosting networks), private cloud servers, and dedicated high bandwidth;

An

all-inclusive license

for several different services and products: sports, casino, bingo, etc.;

Quick license issue

(2-4 weeks) with the possibility of introducing the necessary

amendments

to comply with requirements.
The CGCB does not have a reputation for being active and involved in B2C disputes, relying on third-party services for problem-solving.
There are more than a hundred gaming companies licensed by Curaçao. And while bigger operators agree to higher fees and seek top-level standards, modest gaming businesses and niche operators tend to overlook any small shortcomings and operate quite well with a Caribbean license.
Alderney
The third largest of the Channel Islands, this jurisdiction is not part of the UK. Alderney is whitelisted by the UK Gambling Commission (UKGC), making operations possible within all British Isles, yet it holds "no ties" to the UKGC.
Alderney's own Gambling Control Commission makes sure online gambling is conducted "honestly and fairly" and "in compliance with good governance." The latter implies that management will be free from criminal influence, and the remote gambling operations will be properly regulated and monitored. Alderney offers:
Different license types

for various gaming vertical companies;

A reportedly "

relaxed approach

" to application and compliance vetting. Recent updates on guidelines and requirements are more closely related to online operations, aiming for

simple regulations

but with

fewer loopholes

;

Extremely

favorable tax laws

–

no taxation on winnings

for players and no

income tax

for companies.
These have persuaded over 300 companies to become part of the Alderney Licensing Agreement. The network includes industry giants like PaddyPower, Sky Gambling, and Coral Games.
Isle of Man
Yet another Channel Island, it targets similar types of gambling markets (mainly British territories). The Isle of Man authorities maintains a strong regulatory body that upholds high standards, making it another popular online gambling jurisdiction. Local gaming businesses have experienced gambling regulation since the early 1960s, while online gambling rules were formally introduced in 2001.
Applicants need to have some

local physical presence

– a company registered on the island, a couple of local directors, and a bank account is standard practice;

The documents for obtaining a license are traditionally a business plan, game descriptions, and tech certificates (e.g., RNG).
Panama
The Ministry of Economy and Finance of Panama has been issuing remote gambling licenses for about two decades. The main reason for choosing Panama as a base for online gaming operations is the almost full tax exemptions. Other advantages include:
Cheap licensing

procedure (first year $40,000; annual renewals $20,000);

The existence of

Master licenses

and

Sublicensing

(see Curaçao) for an annual $20,000 fee;

Simple and

limited accountability

;

Top-level ICT networks;

Almost full tax exemption means only

10% gross revenue charges

(paid monthly).
Due to its proximity and business relations, Panama-licensed casinos are often focused on the US market. One particular: locals cannot bet on any of the platforms registered in their own country.
Antigua and Barbuda
Another jurisdiction that dedicates its licensing regime to the North American market is run by the Directorate of Offshore Gaming (DOG) of Antigua and Barbuda (AB). DOG is part of the Financial Services Regulatory Commission (FSRC) and is responsible for overseeing the entire offshore gaming industry based in this Caribbean island nation.
Gambling licenses there have been in use since 1994, and Antigua and Barbuda have a reputation for hosting gambling events like poker tournaments. It was also possibly the first offshore jurisdiction to license online operations.
The AB license is relatively cheap and easy to obtain, allowing companies to operate globally and pay low taxes locally. A one-time application fee is due, as well as an "insignificant" percentage of taxes on net gambling revenue.
Licensing takes around

3 months

and costs $25,000;

An annual

development contribution

is also due, set at $100,000 irrespective of company performance;

AB certificates are divided into

Interactive Gaming

(covering online casino, poker, roulette, slot machines, video slots, lotteries,

and other gambling); and

Interactive Wagering

intended for bookmaking offices.
Since Antigua and Barbuda also has a substantial e-commerce business sector, authorities are mostly concerned with the security of remote operations, transactions services rather than the ethical principles of gaming.
The DOG of Antigua and Barbuda has a Memorandum of Understanding with the Kahnawake Gaming Commission (see below).
Kahnawake
The Kahnawake Gaming Commission (KGC) regulates a territorial jurisdiction that is a small area within Canada and belongs to an indigenous tribe. Like some of the Caribbean licenses, the local "permit" is affordable and comes with no corporate tax on earnings. Applications are subject to:
Registration and maintenance of a

company

in Kahnawake;

Four separate categories of licenses:

Gaming

;

Client Provider

Authorization;

Inter-Jurisdictional

Authorization;

Key Person

;

No capital requisites;

Timings

around 2 to 4 months; Initial

costs

of $25,000.
The KGC has been issuing permits since 1999 and is reputed as quite reliable. It carries out checks via approved agents like eCOGRA, Quinel, Gaming Associates, and iTech Labs. Until 2016 it was licensing casinos to accept US players, making it quite relevant on the North American market. For the past few years, the KGC has been granting permits for online gambling and offline casinos.
Gibraltar
The Gibraltar Licensing Authority (GLA) is also considered trustworthy and local licenses have been popular for decades. Operating under the Gaming Division of the local Government, it appoints a Gambling Commissioner that ensures licensees conduct operations under the Gaming Act and uphold the jurisdiction's reputation. The GLA also uses independent test houses for cyclical quality checks on gaming standards.
The licensing requires that applicants are based in and operate from Gibraltar. They also need:
A proven

reputation

and

experience

in the gambling industry;

A business plan, in addition to a

license in another jurisdiction

;

Banking

and other directly related financial operations based in Gibraltar;

Wait about

6 months

for the initial application;

Adhere to strict controls on

advertisements

.
Gambling sites operating with a GLA license are quite precise in stating their game offer as per their license. Some of the industry's best-known brands have a base there – William Hill, Ladbrokes, BetVictor, 32 Red, 888, Betfred, and Betfair. Consequently, around 12% of Gibraltar's workforce is reportedly employed in online gambling and bookmaking.
Why Are Certain Offshore Gambling Licenses Considered Superior to Others?
Based on purely technical aspects, strict licensing procedures, frequent testing, and independent QA are the reasons why some Gambling Regulators issue licenses that are more reputable in the online gambling industry. This also translates into better customer protection and responsible gaming policies, payment terms and security, and anything else that might interest the end-user and public authorities (as leading stakeholders outside the business circle).
Offshore regulators try to ensure their reputation is not tarnished with quality issues and unresolved disputes of a certain proportion. Malta quite possibly still takes the top position among offshore gambling jurisdictions, being both part of the EU and a territory with many business and operational incentives. Curaçao and Gibraltar are immediately following, well-established, and experienced in maintaining high standards, as testified by the local incorporation and licensing of some of the industry's biggest actors.
Why Not Simply Play at Unregulated Casinos?
Investigations into the infiltration of organized crime groups have repeatedly proven that even some mature markets are subjected to illegal online gaming. The business is experiencing constant growth in demand, and IT capabilities are creating more digital opportunities for online black market operators. Operations are increasingly difficult to trace (and prove subsequently), and the licensing jurisdiction remains the only stable anchor of quality.
The absence of consistent player protection, responsible gaming, and AML policies is a direct consequence of unlicensed operations. Niche markets and novel operators are hard to distinguish, with illegal sites increasingly coming up in destinations like Cyprus or other Eastern European jurisdictions. Even when these are regulated markets, players need to be able to spot the absence of relevant policies and QA, yet that is not always a straightforward task. Some well-conceived black market operators are also active with online offers in mature markets like Denmark, France, and the Netherlands.
Recently, Sweden has also seen a growth in unlicensed casinos, especially after introducing limits on gaming operations. While these limitations have been reasonable restrictions on bonuses, deposits, and loss limits (per week) in light of Covid-affected consumption patterns, some players have not appreciated tracking methods (i.e., login times, advance statements). Gaming operators that avoid them have begun gaining user bases, offering an easier gambling experience although operating illegally.
Regulated Gambling Licenses
According to gambling industry criteria, locally regulated permits are the main alternatives to international offshore licenses. Many countries seek national regulation of (online) gambling within their borders to have more control over this particular economic sector.
Generally speaking, mature markets have the practice of imposing government-regulated licenses via specially designated authorities. The dedicated administrative body enforces and monitors a gaming landscape envisioned by legislators and, ultimately, by local societal expectations.
In pragmatic terms, even though an operator might not be incorporated in that jurisdiction, they will have to pay taxes there and abide by all relevant local rules. Residents of that particular jurisdiction can register and play on such platforms whenever a proper license is present. This allows for a lot more consumer protection and attention to details related to territorial and cultural specifics.
Data sharing, privacy, and responsible gambling policies act in synergy in some regulated markets and require platforms to alert players of their winnings and losses, play duration, or other behavioral aspects of notice. Regulations often postulate efficient links to professional problem gaming support and advice on self-limitation and exclusion mechanisms.
In this context, gambling preference data is used for commercial purposes and for actual quality improvements in products and policy mechanisms to uphold higher average standards. Big data on gambling statistics (i.e., trends) is used for automated recognition and prevention of fraud and illegal operations – e.g., from underage gaming to sports betting manipulation.
Sweden
Sweden has a gambling tradition that was initially confined to a state monopoly until 2019. Transitioning to a regulated market, national authorities imposed a licensing regime controlled by the Swedish Gaming Authority/Inspection (SGA or Spelinspektionen). Licensing is subject to:
Duration limits up to

5 years

;

Subject to review

at any given time;

Private operators can offer online

casino

,

poker

,

slots

,

betting

(on sports, racing, virtual events),

fantasy sports,

and

lotteries

. Separate licensing is required for gambling and betting.

Unlimited licenses issued; Taxes up to

$100,000

for

combined licenses

with first renewal.
The current regulation places importance on the national self-exclusion program; on the obligation of placing responsible gambling buttons on all gaming pages; the elimination of fast-play on slots; no VIP and loyalty programs; and limits on bonuses to one per player per operator.
The major changes concern mostly foreign-based gaming companies. Key elements enforce responsible gaming and consumer protection, something which was not observed rigorously by operators without a Swedish license. The government's intent is to provide access to the local market in exchange for more responsibility. Exemplary measures include SGA-imposed weekly deposit limits, particularly relevant during lockdown times.
Stockholm University researchers explain (in 2018-2019, on the cusp of the recent regulatory changes) that authorities needed non-licensed companies to turn behavior tracking and monitoring into an active role in preventing harm. According to the SGA, informed choice is not sufficient, and the new Gambling Act stresses the importance of relatively easy licensing with much stricter regulations.
Gambling advertising is to be held within "reasonable limits"; the national self-exclusion list ( "Spelpaus") is mandatory for all to be connected to so that problem gamers can stop receiving direct marketing material from the industry. The SGA has the authority to impose fines and penalties, with the last resort being license revocation. The regulator also has the power to block unlicensed sites regardless of whether they are targeting Swedish residents or not.
Other measures include:
Cheating

(and

match-fixing

) have been introduced as new offenses;

Players specify

a maximum spending

limit;

Panic buttons

for immediate self-exclusion;

No gaming

on credit

;

Blocking payment

transactions to

unlicensed

operators; ISP are asked to enforce warning messages as filters to such sites;

Illegal gaming and promotion

penalties

were raised;

Licensed company profits are taxed at 18%;

public interest

and

State games

are tax-exempt (i.e., offline, lotteries, bingo);

Player winnings are only taxed if made on unlicensed sites (!);

In Sweden,

gamblers

do not pay tax

on their game winnings.
Denmark
Denmark regulated its online gambling market in 2017. Licenses are provided by the Danish Gambling Authority (DGA or Spillemyndigheten).
Remote

gambling means online

casino

,

poker,

and

betting

under a license;

Separate licenses

for casino and betting;

fantasy

sports fall under betting; 

Online

lotteries

,

bingo

,

scratch cards,

and

keno

remain within

State monopoly

.
Denmark presents many of the good practices seen in the case of Sweden. In fact, when Swedish legislators were drafting national regulations and SGA powers, many successful policies from Denmark were directly implemented. National self-exclusion mechanisms lead to a Register of Voluntarily Excluded Players ("ROFUS").
Italy
The Italian gambling market is regulated by the Agency of Customs and Monopolies (ADM). Online gambling sites have been able to obtain ADM licenses since 2018. Italy has a long history of gambling practices and regulations. Occasionally, political considerations have pushed leaders to outlaw one form or another, ban advertising or restrict other supporting services.
The iGaming business is running more or less smoothly at the time of writing. Officially, there is still a ban on gambling advertising, but the national regulators do not actively enforce it. First of all, because of certain questionable provisions passed by a largely transitional government; moreover, there have been formal and legal loopholes. While there are no new ad and sponsorship contracts, there are extensions of existing agreements, obligations, and partnerships. Contents produced before 2019 are valid, and campaigns involve old media material, recycled and edited copyright messages. New forms of hybrid journalism include messages, gaming odds, platform visuals, and much more.
Overall, despite the high level of requirements and restrictions, Italy is a mature and profitable market:
There were

initially 40

online gaming licenses available;

New license applications are announced regularly during specific

legal windows

;

Starting price of

€2.5m per license

(as of 31 December 2020);

Even other EU operators must obtain an Italian license to offer services within its jurisdiction;

Licenses are valid for

nine years

and cannot be currently renewed;

Players should be able to self-exclude themselves and set individual responsible gambling limits.
United Kingdom
The United Kingdom Gambling Commission (UKGC) is responsible for regulating and licensing casinos in the country. The UKGC oversees both online and land-based gambling outlets, in addition to the National Lottery (the latter under State monopoly).
Regulation emphasis falls on responsible gambling and honest advertising. This translates into offers and promotions with lengthy Terms and Conditions to allow for full transparency and "honesty" on behalf of operators. In December 2020, a review of the 2005 Gambling Act was launched with the intent of making it "fit for the digital age." The review primarily covers UKGC's powers and online marketing offerings.
During the series of Covid-induced lockdowns, the UKGC imposed additional restrictions, i.e., bans on gaming with credit cards, stricter age verification, and less segmentation in terms of VIP and high-roller offers. The current regulations also include:
British residents are to be targeted only via a UKGC license;

Stricter

AML

and

consumer protection

protocols;

High(er) licensing

fees

, high(er)

sanctions

for infringements;

revocation

is a distinct possibility;

A

21% consumption tax

is levied on company profits originating from the UK.
Overall, the UK is one of the more sophisticated markets, with high-degree horizontal and vertical integration. Consumer protection and mediation companies like ASA (Advertising Standards Agency) and the ADR (Alternative Disputes Resolution) are independent third parties. They filter information considered relevant to the UKGC and invoke subsequent action whenever needed.
Ireland
Another established market with its own specifics. Although considered mature in terms of (online) gambling, Ireland currently offers no national licensing regime. Authorities recognize the importance of modernization in the sector and have remained more flexible in their regulatory definitions.
Betting is governed by the Betting Acts, and other real-money games and lotteries (save for the National Lottery) are dealt with in the Gaming and Lotteries Acts. Both laws have not been updated to take into account online gaming. Therefore, Ireland accepts operators that are licensed overseas if and when other Irish laws do not govern contract relations. A temporary Amendment (of the Gaming and Lotteries Act) in 2019 states that a new General Scheme for gambling services will be introduced in late 2021.
Other current requirements include:
Sports betting

is the only kind of gambling open to

private

operators;

Card

and

casino

games are

not licensed

in Ireland;

Lottery

will remain a national monopoly.
In mid-2021, Irish opposition legislators passed legislation banning credit cards for online and retail betting. The Betting (Prohibition on Use of Credit Cards) amends the Betting Act and seeks to encourage responsible gambling.
Germany
The Federal Republic has also seen some recent dramatic changes in its regulatory landscape. In 2020, Germany adopted a national licensing regime for online sports betting. After some court delays, licenses are already being issued.
In mid-2021, the States that make up Germany agreed to a reform that would allow operators to apply for online slot and poker licenses. Restrictions are to include deposit limits, maximum wagers, and ad limits. The move is a significant divergence from historical opposition to online casinos.
The new Interstate Treaty on Gambling entered into force on 1 July 2021 and left other online casino games to be regulated separately by States. Although a Joint Supervisory Authority is established, specific games are subject to different rules and monitoring bodies.
Betting is

only permitted on sports

(including horse racing); both single events betting (during a game) or a combination of events is now possible;

The Regional Council of

Darmstadt

manages sports betting license applications;

Online poker

licenses are available nationwide, but other card games are currently illegal;

The gambling authority of

Saxony-Anhalt

licenses online poker operations;

Saxony-Anhalt also manages

online slot

licenses;

States are

free to decide

whether to grant additional gambling licenses to private operators.
Table games and live casinos are presently reserved for land-based facilities with local licenses. This makes many online casino operators unable to stop offering such services. Some are developing dedicated platforms. The above restrictions are the cause for Malta licenses being inapplicable to the German market, in addition to the new local sports betting permits.
Even the word Casino will be eliminated from German sites, opting for "Spielbank" or "Spielhalle" (Game Hall), stressing the arcade experience rather than its gambling side.
Spain
Spain expressly prohibits any gambling activity not regulated by the Directorate General for Gambling Regulation (DGOJ, part of the Ministry of Consumer Affairs). The DGOJ handles licensing, compliance standards, and enforcement mechanisms. Important licensing aspects include:
Online gambling

open to licensing –

betting

(sports, horse racing, fixed odds, live events) and

exchange betting

;

contests and raffles

;

slots

; "other games" category comprising

poker

,

roulette

,

baccarat

,

bingo,

and

blackjack

as main options.

Lotteries

are still run by the

local monopoly

operators (SELAE and ONCE);

The

regions

of Valencia, Castile-Leon, Murcia, Navarre, Madrid, and the Basque Country can issue their

own online gambling licenses

covering local markets, considered

compatible

yet

independent

of national licenses;

Fantasy

,

skill,

and

social gaming

for money have not been regulated so far.
During Covid lockdowns, the Government imposed a prohibition on incentives and offers via email and social media. The DGOJ also imposed tighter requirements and restrictions on general gaming ads and sponsorships, reportedly with little effect so far.
France
Boasting a long history of gaming traditions, France has enriched the gambling industry with Roulette, pari-mutuel betting, and some card games. The 1980s saw a wave of land-based games being legalized, while in 2010, France opened up to online gambling. The industry regulator is the ANJ (National Gambling Authority, known until 2020 as ARJEL). Other public authorities (i.e., on Competition, Audiovisual, and IT) address data handling, consumer protection, competition, and various digital issues.
PMU is a State operator handling horse racing bets (pari-mutuel or pool betting) which previously was a monopolist. FDJ (privatized in 2018) still holds the monopoly on the French lottery, while it also runs sports bets.
The ANJ makes unlimited new licenses available for three gambling products only – poker, horse betting, and sports betting. The particular approach adopted by the French regulator requires operators to have the gaming software approved rather than the platform. This makes gaming companies include all suppliers and service providers in the application, including contracts and technical specifications. Reportedly, only 15 licenses for online gambling operations have been issued so far. Other specifics include:
Separate licenses

are requested for each product (game) type;

Operators' HQ must be

located

within the

EU

or

EEA

and adhere to strict

AML standards

;

Canonical

consumer protection

rules apply (no minors, self-exclusion mechanisms, weekly spending, and time limits);

Licenses have a

five-year

validity and are subject to checks throughout the period.
The United States
In general terms, gambling in the United States is legal under federal laws, but it is subjected to numerous restrictions, state and national prohibitions depending on platform or product. The most significant limitations, historically, have been imposed on interstate and online gambling.
Currently, each State is understood to be free to regulate (or prohibit) gaming practices within its jurisdiction. Although 2020 saw a first market contraction since 2014, the US still has nearly 1000 active land-based casinos (in all but 5 States) worth an estimated $260 billion of economic impact. However, there are substantial differences between commercial casino gaming (land-based), tribal gambling (in brick-and-mortar facilities), and online platforms. The first two still have an overwhelming advantage in revenues and visibility. However, online gaming is gathering speed.
The reason for this is the landmark US Supreme Court decision on a sports betting case from New Jersey. In 2018, the Court struck down the "Professional and Amateur Sports Protection Act" (PASPA) as unconstitutional, siding with States' rights to regulate the matter. Previously, only sports betting in states with laws adopted before PASPA (1992) had the right to offer sports betting, namely Nevada.
After establishing the individual States' prerogative in regulating gaming, some jurisdictions were quick to legalize sports bets – New Jersey, Delaware, Mississippi, Pennsylvania, Rhode Island, and West Virginia. Pennsylvania and New Jersey went further and regulated mobile and online sports betting, with Rhode Island opting for new land-based casino licenses. New York is also on the verge of regulating sports betting licenses.
More importantly, five States – Pennsylvania, New Jersey, Nevada, Michigan, and West Virginia – went on and legalized online casinos after several months. The first two regulated online poker rooms as a separate product offer.
Despite the evident trend of growing regulation and market liberalization, limitations remain. The Wire Act governs businesses across State or international borders and is still applicable to iGaming. Therefore, State jurisdictions insist that they issue licenses for intra-state operations. On the other hand, the "pioneers" – New Jersey and Pennsylvania – have already started seeking licensing and market access agreements with other US jurisdictions.
Americans in six States quickly summoned special referendums to approve local gambling reforms, with New Jersey notably voting to allow bets on New Jersey college teams, greatly expanding product horizons and stressing the strong demand for regulated sports betting and iGaming. The American Gaming Association (AGA) noted that despite a challenging 2020, the industry has overcome some significant changes and welcomed emerging verticals with enthusiasm. Experts anticipate that budgetary pressures will make a further "6 to 14 States" look favorably at adopting local gaming regulation and licensing.
Surprisingly, the North American market remains behind on some technical aspects – slowly adopting online gambling and mobile gaming. There is still a discussion of cashless options for casinos going on while digital payments and consumer protection mechanisms are the foundation of remote gaming around the world. Still, with the constant expansion of regulated jurisdictions, State by State, and with some promising commercial agreements, the US will soon take its rightful place among well-established online gambling markets.
Other Notable Markets and Jurisdictions
Australia is unusual in using poker machines as its main form of gaming. It actually has 18% of the world's poker machines and is placing them in non-gambling venues ("pubs and clubs"). Yet, popular gaming genres like online poker and online casino are prohibited under the Interactive Gambling Act. The Australian Communications and Media Authority (ACMA) issues licenses for online sports betting, e-sports, lotto, bingo, fantasy, horse racing, and skill games for money. It also monitors and enforces current national regulations. Single States and Territories are also empowered to license operators locally.
The Japanese market is characterized by pachinko gaming. In 2015, the slot-like machines were reportedly commanding a market worth more than that of Las Vegas, Macau, and Singapore combined. But grey markets had much influence and profit in the old regulatory regime, forcing the Government to pass new laws in 2017 legalizing casino gambling. The decision was mostly intended to stimulate integrated resorts, considered to have great potential. Still, fiscal estimates place pachinko gaming as 20 times more profitable (at ¥25 trillion, over 4% of Japan's GDP). Online gaming for money is not foreseen at the time of writing.
In the Netherlands, new laws were approved in 2019 to liberalize the market, with a further Remote Gambling Act coming into force in mid-2021. The Netherlands Gambling Authority (NGA) takes a proactive and strict approach towards enforcement of these regulations against operations conducted in violation of the "prioritization criteria." In practice, this means that the Government expects Dutch residents to play only on locally licensed casinos – with emphasis on safe play and problem gaming support. Currently, there have been only ten licenses granted out of 30 applications, due to the high standards for potential applicants.
Gambling in Cyprus is a true pillar of its economy, as admitted by government officials. However, it is primarily intended to serve as a complementary service to the island nation's hospitality sector, offered only offline. Sports betting is the only legal kind of online gambling in the country, excluding even horse racing.
The Role of Central Regulators (Gaming Commissions, Gambling Control Boards)
In most jurisdictions, recent developments constitute a significant departure from years of prohibition. Most consumers would prefer verified, officially licensed casinos. And yet, regulations also have a downside, "creating" a grey market for offshore and even unlicensed casinos. This is simply because whenever there are high standards and requirements, some businesses (and players) take them as restrictions on their offer (and choice, respectively). Even mature markets, like Sweden, might end up accommodating a host of unlicensed operators that are unwilling to observe limitations on deposits, timing, collecting, and sharing of personal information for a more secure gaming environment. On the other hand, it is taken as a complication and a limit on the gambling experience by players.
This is where Central-level regulators come in indirect contact with consumers in most cases, requiring and imposing certain levels of standards. It is not, however, the only type of supervisory role they have. Where existent, they research and recommend the regulatory mechanisms (later adopted by legislators), handle licensing procedures, monitor, enforce and adapt existing laws to market realities, including technological and product trends.
Most Gambling Control bodies are members of the International Association of Gaming Regulators (IAGR). They also have to be transparent about the rules, procedures, and monitoring they issue and enforce in fields like technology, finance, operational capacity and mechanisms, and other legitimacy requirements. These dedicated public authority bodies are usually delegated with the power to impose fines, renew or revoke licenses and much more.
Consumer Protection
The above framework works mostly to the benefit of consumers. The recent regulatory paradigm in most mature markets has shifted from data protection to gambler protection, especially given the rising importance and frequent elusiveness of online operations.
While Gambling Control bodies rarely have the responsibility to respond and negotiate in consumer complaints, they create and promote the guidelines for the competent reference points, procedures, and agencies – e.g., Consumer protection agencies, local or national associations, professional or public mediators, and channels.
The practically unlimited list of risks that players are exposed to create potential weak points in the system where negligent, fraudulent, or criminal operators and organizations might seize the chance to act. Gaming services of inferior quality, transparency, and legality lead to unfair loss of funds, odds tampering (e.g., improper RNG or low RTP), and even real-world event manipulation (e.g., match-fixing).
Emerging technologies make it both easier for gaming platforms to (try to) mask nonconforming operations and for regulators to follow up and verify. Consumer protection moves along precisely these intersection points – examining and enforcing higher levels of standards that shield users from excessive financial losses, fraudulent services, or problem gaming.
Until recently, even well-regulated markets like the EU excluded gambling activities from the scope of Consumer Protection Law. Gaming also lacks coverage in many national legislations elsewhere or is barely noticeable. This highlights the importance of Central regulator bodies tasked with follow-up of market specifics and bottom-up recommendations for mechanisms that are effective in controlling excesses.
The "non-problematic" supply of gambling services excludes by definition harmful player practices. It rather goes toward upholding gambling for its potential to financially support social objectives like sports, arts, charities, and other public functions. Even where this results in legally non-binding documents, they encourage jurisdictions to step up licensing standards and subsequent regulatory checks.
In this context, formal recommendations to safeguard consumers, minimize individual economic harm and wider social consequences also include prevention of minors from real-money gaming; data minimization for commercial purposes; and privacy protection laws (with the European General Data Protection Regulation, GDPR, as a leading example of contemporary legislative trends in data protection).
In the optimal operational scenario, consumer profiling is used in business terms to the extent it accomplishes legally permissible goals of improving user experience and providing meaningful product quality feedback. Data minimization also means profiling only to the extent that this would help protect gamblers and their data (i.e., recognizing risk gaming). Naturally, this presents an intrinsic tension between businesses and regulators, with user profiling and two-way communication holding potentially clashing interests in commercial terms. However, the level of consumer protection that regulated markets have achieved over the past decade is much higher than offshore operations, where there are no specific requirements and accountability for local market access.
Problem Gaming – Control and Mitigation
Problem gaming in itself is a form of player protection. Leading practices in responsible gaming are made up of a mixture of some of the following:
Self-exclusion

procedures – easy enlisting, accessible registers, and efficient time-out mechanisms;

Operator obligations to check

and

exchange

data on problem gamers among new and existing users – including for commercial communication and game offers;

Black lists

– including those gamers that are excluded by law (e.g., receiving financial or legal aid, bankrupt, other prohibitions); Similar lists are made for professional gamblers or those found to cheat or commit other related criminal offenses;
Challenges to similar sharing of consumer data have been declared irrelevant in most mature markets. The UK Gambling Commission, for example, still adheres to the GDPR (principles) even after exiting the EU, while it also enforces the policies of its "Single Customer View" (SCV). A holistic view of consumer behavior is permissible when used to reduce gaming harm.
Other national regulators impose self-limitation levels of daily, weekly, or single transactions, login times, or other similar measures. This is precisely why having no similar requirements on behalf of local jurisdictions makes it harder to control, collaborate and litigate with operators accessing markets with no local license.
Licensing Increases Reporting of Fraud, Privacy Issues, and Problem Gaming
A frequently asked question in the industry is "can a casino operate without a license" – both by businesses and end-users. There are, indeed, a number of online casino operators that act without any gaming license. Some operate out of Costa Rica; others do not reveal their corporate and technical base. As a general rule, however, these operate in unregulated but profitable markets, like Brazil and India.
Naturally, this exposes players and presents risks to the entire business vertical. They are under no obligation to report questionable activity and uphold consumer protection standards against operator fraud, glitches in RNG (or game-rigging), payment issues; fake bonus offers; non-payment of winnings, or any other problems. Wherever no regulation is present, unlicensed operators take the chance to offer unverified gaming services that open up possibilities of match-fixing, odds manipulation, and other cyber crimes like personal data phishing.
Achieving Market Maturity – from License to Regulation
As seen from the above in-depth study, there are generally two types of licenses –international (known as offshore) and local. Countries and jurisdictions that want to exercise more control over their gambling market generally decide to regulate it thoroughly, allowing operators to apply for a license to operate and be accountable for their business on their territory. Most developed economies and traditional markets (referred to as mature) are all regulated – notably Europe, Australia, the UK, and the US.
Other jurisdictions are regulated to a lesser extent (or none at all), like India, Brazil, Chile, Peru, and Malta. These territories allow casinos with a general international license to operate in the country (or State). Even when authorities have not expressly consented to such operations, they have fewer means of controlling and imposing sanctions given the absence of legal regulations.
Some Asian markets are becoming less supportive of technological innovation (China recently), but most South-East Asian nations have observed a rapid growth in their gaming markets. Demand and digital opportunities have allowed offshore operators to penetrate such markets, with unregulated commercial relations open to B2B and B2C conflict points.
Any given jurisdiction has to account for local societal opinions, trends, political and cultural ideology, religious beliefs, and court judgments. It is rarely a simple matter of financial or business interests. However, given the constant evolution that (virtual) markets have promoted in global consumer choices, most countries, states, and jurisdictions have chosen to review outdated policies and are increasingly in favor of regulating online gambling so that they have more control, benefits, and protection mechanisms against raw market forces.
Legal experts observe that even in complex markets such as the United States – where operators have always been careful not to tread on State or Federal toes – in a matter of a couple of years, sports betting, fantasy, and even casino gambling have quickly become legal in more than a dozen states. Other national and state jurisdictions have started sharing liquidity – allowing player access across markets, jurisdictions, and licenses. Naturally, this necessitates complex agreements between jurisdictions and gambling regulators but is yet another sign of advanced market and regulation logic.
On the other side of the fence, the online gambling industry faces a continuously evolving legislative environment, which it needs to monitor to ensure compliance. Gambling verticals need to make the best out of new technology to push boundaries, improve services and be relevant and innovative while staying legitimate.
Crucially, global digital markets have proven their ability to fill unregulated "holes" and consumption niches in a lightning-quick manner. Where outright prohibition is impossible or technically improbable, operators always find ways to reach consumers under the radar whenever any monitoring is even present. Even in well-policed jurisdictions (e.g., China and the US), black networks and informal operations reach an immense pool of consumers, offering entertainment and games, taking bets, and linking businesses with poorly "insulated" or regulated liquidity.
National jurisdictions have two choices essentially – rein in online gambling for the benefit of consumers and exchequers; or engage in an endless pursuit with black markets and offshore licenses. Most mature markets have generally moved beyond this debate, decidedly in favor of legalization. Other jurisdictions may also follow suit sooner or later.
Choosing the kind of regulatory framework is also jurisdiction-specific. Most mature markets have gradually reduced the scope or completely ended the practice monopolies in favor of more open access markets. This is seen precisely as a means to ensure oversight and control on illegal operations – the necessity to set up tools to monitor gaming compliance makes legislators more diligent in analyzing market needs and responding to industry specifics.
India is a particularly emblematic case of similarly impending regulatory needs. The prohibition of betting is widely seen to have been ineffective. In such contexts, certain authority recommendations cannot be overlooked. The Committee on Reforms in Cricket (in 2015), the Law Commission of India (in 2018), and recent court judgments (including by the Supreme Court) have suggested that betting should be regulated and taxed.
In a nation with widespread illegal betting and gambling (reportedly worth well over $100bn annually), criminal activity has had the chance to flourish and continues to engage public resources and law-enforcement efforts. Emerging markets (Brazil and India in particular but not only) will benefit from creating their own Central regulatory framework, a Gambling oversight body, and a Consumer Data protection regulation.
As a recent publication points out, the key reasons to regulate the gambling market aim to transform risks and missed opportunities in public benefits and a better-controlled environment:
An important

existing industry

is exposed to risks;

The public interest has much to gain from

taxes

,

consumer protection,

and

job creation

;

Sector

transparency

will stimulate stable

investor interest

;

The ability to

eliminate undesirable effects

is enhanced by

supervisory agencies

,

monitoring

tools, and

information

campaigns.
With technological evolution in mind, gambling standards need to allow for certain flexibility and regulatory upgrades. However, initiating reform to adopt a Central policy will allow for timely capacity-building in national and state authorities in terms of knowledge, assets, technology, trans-border, and inter-industry cooperation. In the end, the fundamental (and initial) regulatory needs are similar for all jurisdictions:
Transparent ownership and

funding

;

Clear

licensing

and subsequent

standard compliance

;

Cyber expertise

to monitor, test conformity, control or block;

Legal grounds

to investigate and prosecute illegal operations.
The goal of growing yet unregulated markets should be to achieve high consumer and public interest protection levels through modern legislation. Local jurisdiction licensing and legal channeling has proven as the most efficient means of achieving such ambitious long-term benefits.