Brazil is a huge market, and to establish which operators have the biggest visibility in Brazil, we've conducted a Share of Voice case study.
The "Share of Voice" (SOV) of a brand tells how big the market share of that brand is when looking at the ways it markets itself. While SOV can include the share of paid advertising, it can just as well include digital marketing and advertising ranging from social media engagement and overall brand asset traffic to keywords.
Due to our scope being SEO, our case study is exclusively focused on keywords divided between branded and generic searches, with the generic searches focused on categories like casino and specific game categories based on monthly search volume.
The tool we use to measure the Share of Voice is Wincher.com. Our measurements are based on results collected over one month, a long enough timeframe to ensure fair data samples.
Generic Searches Show Casino and Roulette Taking the Lead
Generic visibility heavily depends on a website's SEO efforts, as reaching top positions in a search engine for popular keywords is unlikely without at least some basic Search Engine Optimisation.
In other words, older websites with a high volume of optimised content will more often show up in top search results than newer websites with little or no optimisation towards these keywords.
To find the queries with the highest search volume, we used Mangools.com, finding the most popular generic searches in Brazil over a timeframe of three months: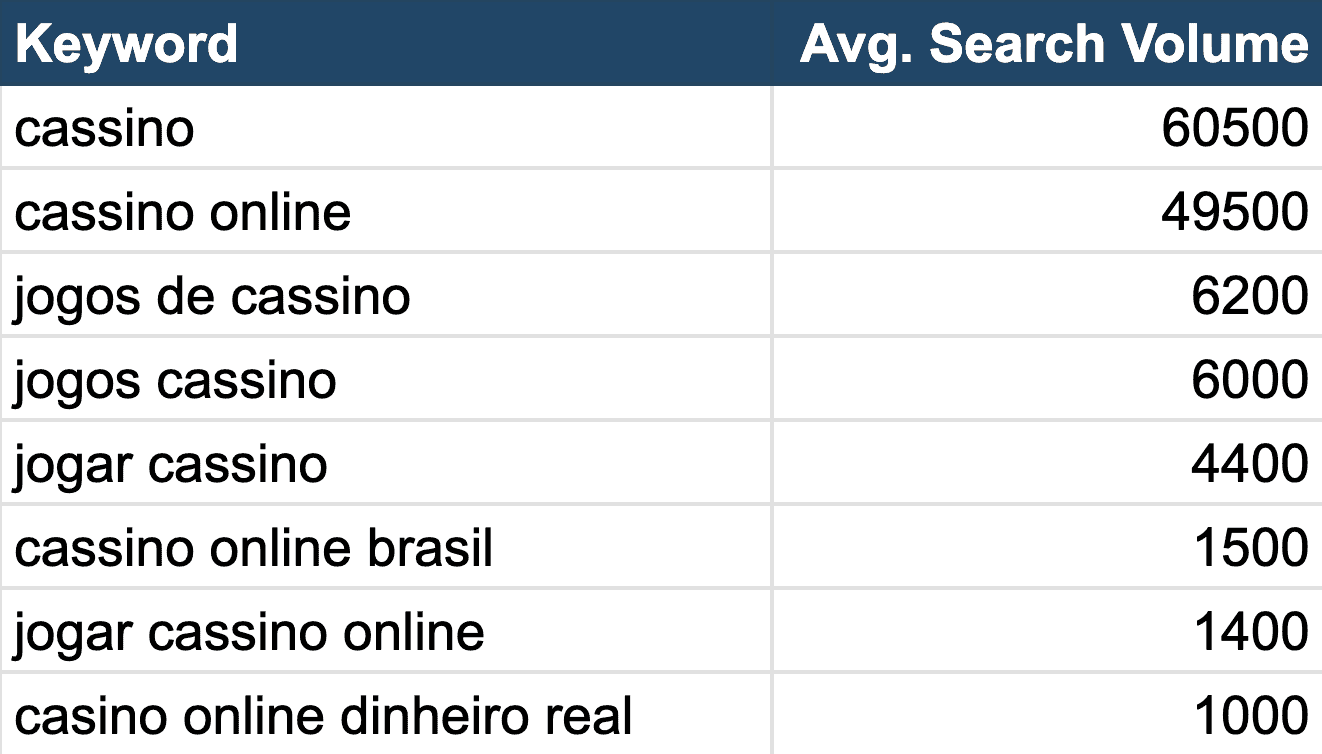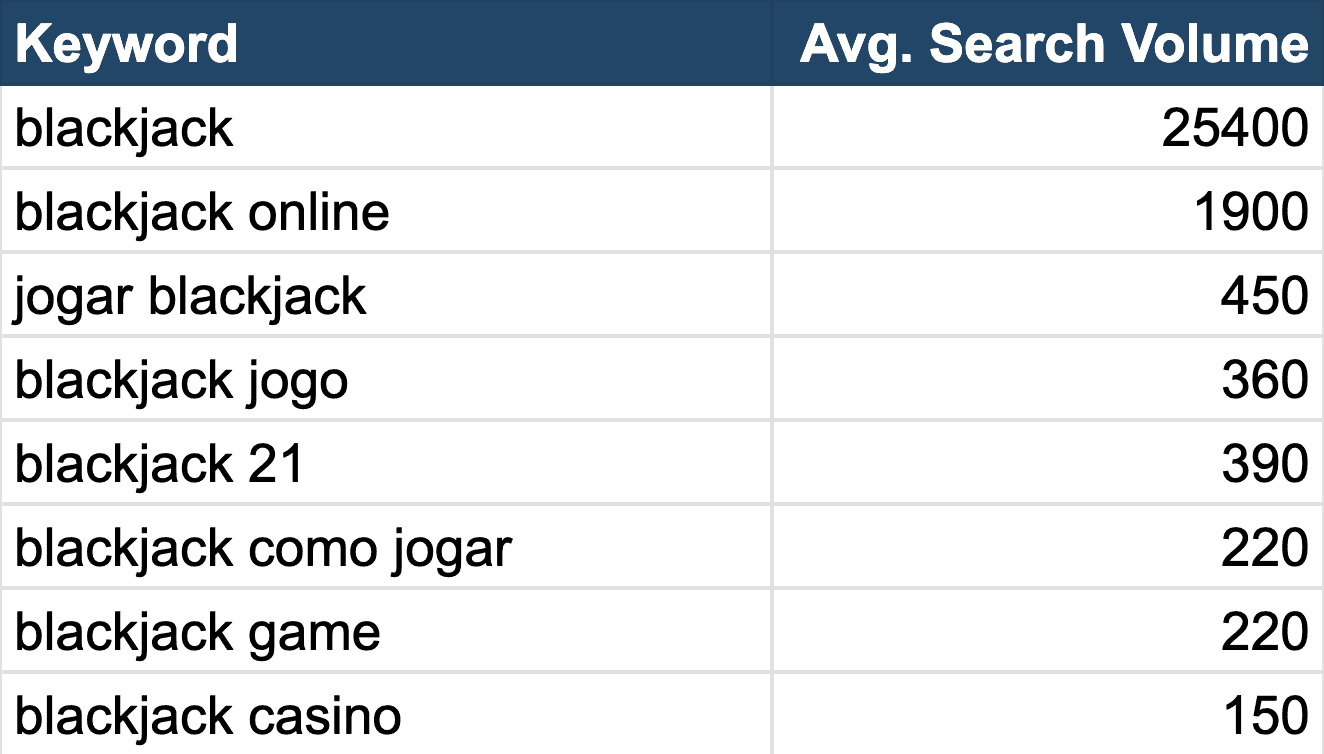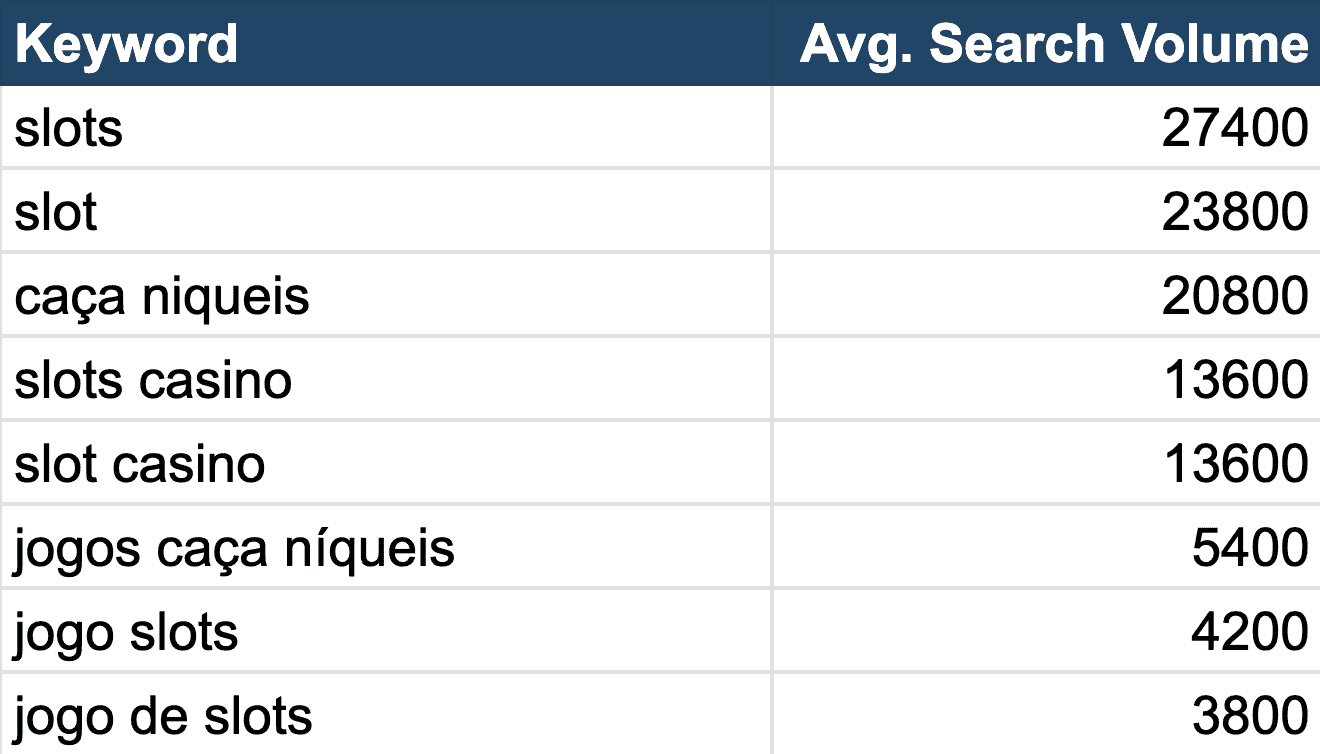 It's clear that very generic short tail keywords such as "cassino", "roleta", "blackjack", "slots", and "cassinos" contribute to the highest search volume, closely followed by the "online" variation of the same.
Analysing these keywords also tells us that users are more likely to search for specific casino games than generic ones, as the "jogos de cassino" keyword only holds 6200 searches.
Further, we can see that finding somewhere to play online roulette is much more popular than finding an online blackjack table, as search volumes for all roulette keywords are in the thousands, compared to just a few hundred searches for most longer blackjack-related keywords. This indicates that operators with roulette games and who have optimised their keywords toward this game are more likely to appear higher up in the SERP.
Overall Share of Voice Based on All Generic Queries

Casino.betfair.com (13.65%) and www.pokerstars.com (10.45%) dominate the overall share of voice when looking at all generic queries. Betway.com is in close third place with 9.59%, with the rest of the operators struggling to reach the 1% mark, with only kto.com (0.96%) being close to exceeding that number.
Seeing as Betfair was first launched in the year 2000, and PokerStars just one year later, both operators have over 20 years of online presence, which is one explanation why their Share of Voice is much larger than the rest.
Share of Voice in Casino-Related Queries

For casino-related queries, yet another broad query, we can see betway.com (14.86%) and casino.betfair.com (11.46%) lead the pack among Brazil's operators. Where www.pokerstars.com held a larger share of overall queries, they now landed at third place with 6.71%.
That Betway takes the lead among these operators makes sense, considering their qualitative casino product and optimised casino page. www.betsson.com (2.28%), www.leovegas.com (1.87%), and kto.com (1%) all hover between 1-3%, while other operators still struggle to reach that 1% mark.
Share of Voice in Roulette-Related Queries

Looking at roulette-related queries, the SOV becomes more even, where casino.betfair.com (8.03%) takes the lead over betway.com (5.46), with the two being the only operators exceeding 2%. PokerStars, LeoVegas, and KTO Casino are yet again operators within 1-3% SOV, joined by br.betano.com (1.08%).
Share of Voice in Slot-Related Queries

Slot-related queries divide the group, where some brands succeed way better than others in obtaining Share of Voice. Betway.com is at the top with 20.57%, closely followed by www.pokerstars.com (17.43%). It's only these two brands that are successful in grabbing slot queries.
It's important to keep in mind that slot-related queries in Brazil include both "slot" and "caça niqueis" keywords. This is the only keyword category that uses both the English and Brazilian terminology for the game, so operators with SEO efforts in both will have a clear advantage here.
The remaining platforms hold a very minimal share, with sportingbet.com, br.parimatch.com, and blaze.com all missing shares for this query.
Share of Voice in Blackjack-Related Queries

As with the roulette keywords, casino.betfair.com takes the lead for blackjack-related queries with 13.65%, followed by www.pokerstars.com (10.45%) and betway.com (9.59%). The remaining platforms all fall under the 1% mark, where br.parimatch.com and blaze.com, yet again, fail to gain any SOV at all.
Branded Searches Puts Bet365 at the Top
To find out the awareness of each Brazilian brand, we have analysed brand-specific searches on a monthly basis. Most recognised brands in Brazil have been collected for this review.
It's important to keep in mind here that the number of searches isn't unique, meaning that some of them are recurring searches by the same users finding the page through Google.
Interestingly, Betano is the winner among Brazil's brands in search volume, with almost 34 million searches monthly, closely followed by Bet365 30 million and almost 7.5 million for Blaze.
While Betano and Blaze manage to grab some SOV with generic queries, Bet365 isn't reaching any SOV in Brazil through generic queries. A lack of content focus on the website could be why they fail to grab exposure that way.
However, as mentioned, a brand's Share of Voice covers many other aspects of acknowledgement and awareness, and Bet365 is one of the world's most well-known gambling operators, much due to its ambassadors, sponsorships, and advertisements.
Established Operator Platform Grabs Share of Voice in Brazil
Overall SOV, measured using generic queries, is dominated by casino.betfair.com and www.pokerstars.com, brands that are reaping the rewards from their long-standing online presence.
Segmented SOV analyses across different query categories showcase betway.com's leadership in casino and slot searches, while casino.betfair.com holds the lead for roulette and blackjack.
Betano stands out as the most recognised brand in Brazil when looking at branded searches alone.
It becomes clear that SOV is multifaceted, requiring synergy between SEO and broader marketing strategies to shape gambling operators' visibility in the Brazilian market.